Simone Biles' Yurchenko double pike vault and other career-defining moves
No wonder she's the GOAT!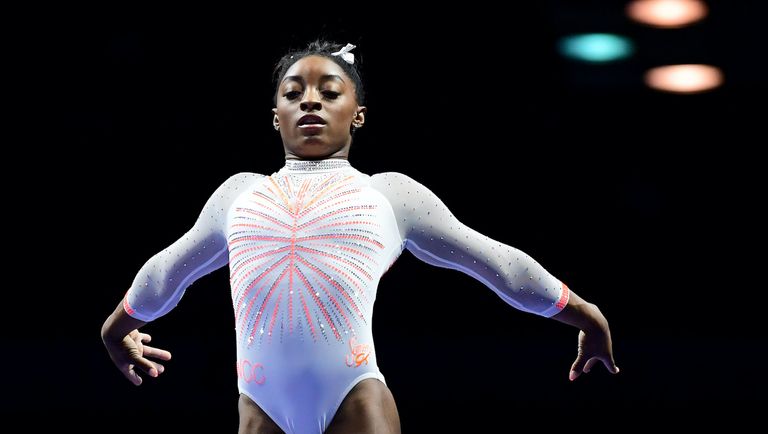 (Image credit: Getty Images)
The Olympics haven't even begun, and already Simone Biles' Yurchenko double pike vault attempt during podium training is turning heads. Naturally! 
The stunning gymnast—often hailed as the Greatest of All Time—is no stranger to defying the odds. Check out the best of her jaw-dropping moves ahead of the Tokyo Olympics 2021. 
---
---
Simone Biles' Yurchenko double pike vault 
The 24-year-old is considered the first woman to land the Yurchenko double pike vault, which she debuted at the 2021 GK US Classic. Truthfully, this is just one of the many impressive facts about Simone Biles. 
Should she land the move while competing in Tokyo, the move will be named after her, a fifth eponymous skill to add to her resumé. (We have a strong feeling that fans are in for another historic moment from the beloved athlete.)
The NBC Olympics Instagram page cutely captioned the slow-motion video as: "@simonebiles just casually bringing her Yurchenko double pike vault to podium training!"
Signature Simone Biles moves named after her
Personally, we have enough trouble doing a cartwheel! We're more than happy to stand on the sidelines and cheer Simone Biles on (virtually in 2021).
1. The Biles
The iconic double back layout with a half twist was first named after Biles when she performed it during the 2013 World Championships, per NBC. 
2. The Biles (on the vault) 
In 2018, Biles conquered an impressive vault move, which was also coined The Biles. It's a roundoff on the springboard connected to a half turn onto the vault with two full twists. We're exhausted just typing it!
3. The Biles 2
No stopping this queen! At the 2019 Gymnastics World Championships, Biles debuted this move—a double backflip with three twists, per CBS—and got another sick trick named in her honor. Rightfully so! 
4. The Biles (on the beam) 
Is there anything this gymnast can't do? Definitely not. The double-double dismount off the balance beam was named in her honor in 2019. 
With a combined total of 30 medals across the Olympics and World Championships, Simone Biles is the most decorated American gymnast of all time, a highly impressive feat.  
Five years ago, people took notice of her performance in the 2016 Olympics. While competing in Rio de Janeiro, she became the first female U.S. gymnast to win four gold medals at a single Games, and the first gymnast to win three consecutive world all-around titles. 
Wow! Although it's too soon to tell where she'll stand at the 2020 Olympics in Tokyo, she'll certainly be somewhere on the podium.
Aside from being an amazing athlete, we love that Biles is just like any other 20-something—she has a big heart and is known for selfies with her football player boyfriend, is an adorable dog mom, and is no stranger to a strong Instagram game. Simone, we're certainly anxious to see what it is you do next!
Danielle is a news writer for woman&home and My Imperfect Life. When she's not working, you can find her experimenting with new recipes or sitting on the couch with a good book and a cup of coffee.