What is the slugging skincare trend? Everything you need to know
It's doing the rounds on Reddit and TikTok, but what exactly does slugging skincare involve? We asked the experts so you don't have to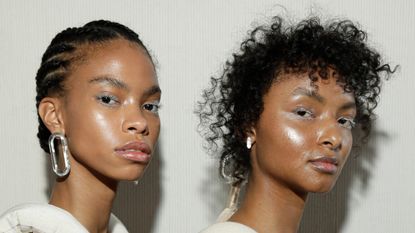 (Image credit: Getty Images)
Slugging skincare is having a moment and is trending pretty much everywhere. But if you're not into skincare TikTok and wondering what on earth this involves, fear not, as we're here to clear the fog. We're good like that.
TikTok is, of course, a gold mine for viral beauty trends – with rice water for hair, Ariana Grande's 60s liner and this beauty product expiry date hack all going off in the last month alone – and now slugging is in the spotlight.
What is slugging skincare?
Firstly, it's important to point out that this process doesn't actually involve any real slugs (thank goodness). Hailing from the K-beauty world, you apply your regular skincare routine before a layer of Vaseline or similar occlusive product.
Using an occlusive like petroleum jelly is the important factor here (more on that later). Slathering on Vaseline leaves you looking and feeling a bit slimy, hence the name "slugging".
The idea is that you then wake up with plump and glowing skin – and that's the dream, right? So, what to the experts have to say?
Is slugging good for your skin?
Now for what you really want to know: Is this process actually going to benefit my skin? We asked Dr Sophie Shotter, medical doctor and founder of the Illuminate Skin Clinic, to shed some light on the method.
"Petroleum jelly is an occlusive substance, which when applied to the face will form a barrier between your skin and the environment," she tells us. "We know that at night our skin loses more water than it does during the daytime – a process called transepidermal water loss.
"The layer of petroleum jelly will stop this process from happening, explaining why your skin will feel very hydrated and moisturised in the morning."
As your petroleum jelly will lock everything in, Dr Shotter also stresses you must "layer it only on top of non-comedogenic skincare products."
That all sounds gravy – but this method isn't for everyone.
@ymorbeauty

A 100% occlusive can change your skin. I like @cerave and #aquaphor. any ingredient can cause a reaction so patch test! #skincare #slugging

♬ Nobody.knows - Brenky
"I would be especially cautious [of this method] in acne prone skin and oily skin types," Shotter adds. "Because the petroleum is occlusive, it will not allow the skin to clear toxin or oil from the skin, meaning you could wake up with more spots."
So in short, slugging could be a match made in heaven for your dry or dehydrated skin, but is perhaps one to avoid if you struggle with breakouts or acne.
Will you be giving this one a try?
Lucy is a beauty journalist who has written for titles including Marie Claire, Cosmopolitan, OK!, woman&home and Women's Health, as well as regularly contributing to My Imperfect Life. Her work covers everything from skin and haircare tips to trying and testing the latest beauty launches, and interviewing celebrities and experts. A certified dog person, her other interests include mental wellbeing, books, piña coladas and not getting caught in the rain.