This rice water hack for shiny hair has taken over TikTok
A viral TikTok rice water hack shows users with shiny hair—but what do experts say about the method?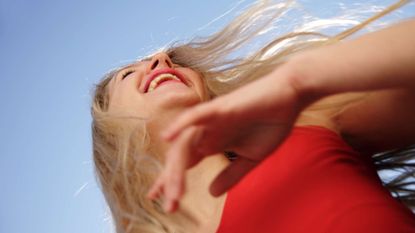 (Image credit: Getty Images / Fotosearch)
The link between rice water and hair is fairly well known, with lots of anecdotes floating around the internet from people who swear by the method. So, if you're looking for some visual proof of what it can do for your hair, a new viral TikTok rice water hack is just the ticket.
TikTok user Bekkii Vosper shared the results of using both rice water and apple cider vinegar on her hair, and there's no doubting its serious shine. In fact, so shiny was it that the video went viral, racking up more than 302,000 views and 20,000 comments.
Olaplex No 8—an honest review and complete guide to how it actually works
After washing the rice in cold water, Vosper added the rice to a mason jar with more water before shaking. She then tipped this into a spray bottle with a little apple cider vinegar.
Describing her hair as "super damaged and dry" beforehand, she spritzed the mixture all over after shampooing and conditioning her hair, rinsing it after 10-15 minutes.
Regarding the impressive results, she said: "Oh my god, my hair looks so good. It's so silky and so shiny, I can't believe it!"
Is rice water good for your hair?
While some findings support the benefits of rice water for hair, more research is needed. However, research conducted by the International Journal of Cosmetic Science says that the Japanese practice originates from the Heian Period. Court ladies would comb their floor-length hair daily using Yu-Su-Ru, or water left over from washing rice.
The IJCS found that Yu-Su-Ru did yield results like reducing surface level friction and improving hair's elasticity—but it was only when "extracts" of the water were used that it didn't cause flaking of the hair surface.
According to Medical News Today, rice water understandably contains many of the vitamins and minerals found in rice, including amino acids, which make up proteins. It's for this reason that washing in rice water is a bit like a DIY protein treatment.
If you're wondering how to repair damaged hair it's well known that protein treatments are excellent at helping to restore moisture. But it's important not to overload the hair with protein as it may cause more breakage and shedding. Yes, you really can have too much of a good thing!
Many TikTok users warned Vosper of this in the comments, but she confirmed this would be a job for only once every two to three weeks.
Will you be giving the technique a try?
Lucy is a beauty journalist who has written for titles including Marie Claire, Cosmopolitan, OK!, woman&home and Women's Health, as well as regularly contributing to My Imperfect Life. Her work covers everything from skin and haircare tips to trying and testing the latest beauty launches, and interviewing celebrities and experts. A certified dog person, her other interests include mental wellbeing, books, piña coladas and not getting caught in the rain.