7 small room ideas for decorating tight spaces like a pro
These clever small room ideas will help you maximum space AND style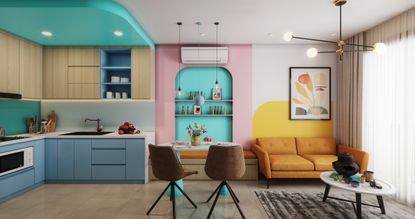 (Image credit: Getty)
In the era of alternative truths, here's one fact nobody can deny: small rooms are damn-tough to decorate. Whether it's a small room in a spacious house or a studio apartment (a.k.a. one big room that needs to function as a series of micro rooms), a tiny space can stump even the most prolific starchitects and design juggernauts around.
But here's the real kicker: sometimes the cramped square footage isn't even the biggest issue. Just when you've wrapped your head around what furniture goes where and narrowed down the best desk chairs to perfectly fit your puny WFH space, you might run into a number of structural restrictions—especially in older buildings—like immovable radiators and odd-angled corners that will continue to hold your decor dreams hostage. Fear not, friends! There is still hope for solving your design dilemmas, no matter how tight the space is.
We've tapped interior designer Michelle Pereira, founder of NYC-based Innato Interiors to help set you free from the grip of small-room syndrome. Pereira's studio tackles projects that range from high-end residential to luxury hospitality around the world, but the Puerto Rican designer's very own two-bedroom apartment on the Lower East Side required some innovative solutions to become the breezy retreat of her dreams.

We promise, with these tried-and-true tips, you'll be able to realize your Pinterest fantasy no matter how compact or downright cave-like your room might be.
7 small room ideas to try at home:
1. Prioritize furniture with storage
If you don't have ample closet room to stash your clothes and other valuables, shop for furniture that has storage built into the frame, like a sectional sofa with compartments hidden underneath the cushions.
Bedroom furniture might be your best bet for efficient storage. "Try to find a bed that has drawers underneath, or if you really want to maximize the space in your bedroom, BredaBeds makes attractive stowaway Murphy Beds so you can skip the millwork," Pereira says. "Don't forget you can easily change the hardware around your house (from brands like Buster + Punch) to make it your own."
Pereira adds: "I also like sourcing jute baskets and vintage trunks from a flea market—both allow you to hide things like bath towels and sheets in plain sight."
2. Go for neutral or light tones
When it comes to painting your space, Pareira recommends sticking to brighter hues since light will naturally bounce off and make the room appear bigger.
"I have an exposed brick wall at my place, so there's already a dark element," she says. "So I painted all the other walls with neutral, earthy colors."
Pro tip: If you have a radiator, use heat-resistant radiator paint (like this one from ECOS Paint) to disguise it or turn it into an accent piece with Krylon High Heat paint.
3. Mirror mirror on the wall...and the floor?
An abundance of mirrors will immediately open up any space since they immediately create an illusion of extra space. However, don't take that as a green light to turn your room into a funhouse. Consider hanging one large mirror on a wall that faces a window so it can reflect light. No wall space? "I have several floor mirrors that I just lean onto the wall and smaller ones on my fireplace mantle," adds the designer.
4. Accessorize with restraint and texture
Any good designer will tell you that less is always more, and this is especially important when you're styling a small space. Instead of thick and heavy fabrics, go for breezy natural materials, like sheer linen curtains in the living room. ("Keep blackout shades in the bedroom," Pareira says.)
Embrace blank walls and don't be tempted to overcrowd with inspirational wall art or photography. "You want your walls to breathe. Investing in one larger artwork that acts as a centerpiece is a good way to go," Pereira explains. "Adding textured throws, pillows, and other textiles is a nice, affordable way to decorate a space. Plus you can swap them out whenever you get bored!"
5. Sub daring lighting with striking pieces
It's surprisingly easy to replace the ceiling light that came with the room with a more elevated semi-flush mount or pendant light. And if you've got real estate on a side table or window sill, lamps are also worth considering.
"I'm super into ceramic lamps crafted in organic shapes because they effortlessly add more grounding, earthen features," says Pareira. "Cym Warkov Ceramics is a higher-end brand I love for inspiration, but there are also a lot of artists on Etsy that are doing something similar at a much lower price point."
6. Roll out the right rug
If you're proceeding with a neutral color palette overall, it's totally okay to choose a bold rug that adds refreshing visual contrast.
"A rug is another important piece that allows you to customize without much legwork," Pareira adds. "If the majority of the room is covered in earth tones, I would go with a rug that is stark black or has a cool pattern."
Size-wise, opt for a larger rug that won't break up the floor space while serving as a dramatic (or subtle!) anchor to the entire room.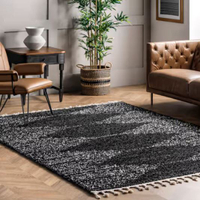 Rugs USA, Black Moroccan Diamond Pinstripes Tassel Area Rug | $49.80-$513
If your space is mostly neutral, give it a bit of edge with this black shag rug, decked out with a geometric diamond pattern.
7. Bring in the greenery
Finish off any decorating project with some plant-scaping. "Plants are another easy decorative element that makes a space feel like home," explains Pereira.
Don't bother with fleeting trends like air plants or green walls. If you have ample floor space, a tall rubber tree or fiddle-leaf fig in a large planter is a great idea. Otherwise, the best houseplants are smaller, handheld options, like a low-maintenance snake plant on a countertop or bookshelf, which work double-time as eye-pleasing objects that naturally filter the air.
After all, who says small spaces can't be big on style?
Paul Jebara is a New York City-based freelance writer and photographer. He covers travel, architecture, design, and style for a number of publications including Condé Nast Traveler, Architectural Digest, Men's Journal, and more. When he's not chasing the sun year-round, he loves to binge true crime documentaries, hit up the farmers' market, study the cosmos, and (try to) learn new languages
With contributions from