Inspirational wall art: pictures and posters to uplift and motivate
Need pick-me-up? Hang one of these positive inspirational wall art prints in your home for a mood boost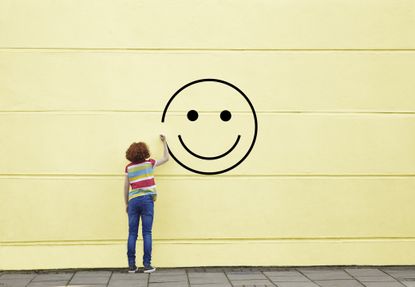 (Image credit: Getty)
After a year of looking at our four walls, it's time to stock up on inspirational wall art. Not only will it bring those blank walls to life, but an uplifting quote or phrase that resonates with you will bring a smile to your face and fill you with positivity.
With so much choice out there, wading through pages of artworks can be a little overwhelming, so we've done the hard work for you and found five designs that tick all our boxes for top-quality style and a motivational message.
Whether you let your print fly solo on a wall, prop it on a shelf with your favorite trinkets and the best scented candles you've got, or incorporate it as part of a bigger gallery wall with lots of other inspirational images, make sure you put your chosen design somewhere you'll see it every day to enjoy its positive message.
---
---
The best inspirational wall art to add to your home
1. It Always Seems Impossible Until It's Done Framed Art
A modern framed design at a great price
Do a bit of manifesting with this textural artwork that arrives framed and ready to hang. Having a hard day? This design is sure to spur you on and would be perfect in a home office area or as part of a larger gallery wall. We love its relaxed brush lettering design by artist Jen Lee, and the hand-cut deckled edges of the paper.
It also comes with a certificate of authenticity, plus the frame is a high-quality non-warping design with two hooks on the back for hanging. Repeat after us, nothing is impossible!
2. Be a Fruitloop in a World of Cheerios Print
A fun rainbow print to brighten your day
Need some cheering up? This colorful print will make you smile day after day. A happy slogan in a rainbow watercolor art, it's ideal as a quirky print to liven up a plain wall or propped on a shelf.
Hand-finished using fade-resistant pigment ink on giclée archival paper, the frame isn't included but that allows you to choose your own—will you go for a colorful frame or let the print shine through with a white design?
3. Desenio Always Hope Poster
Ideal for adding a bit of leafy lushness to your home
Calling all botanical lovers: how can you resist this leafy green print? With a backdrop of lush banana leaves on a white background, the words 'There is always hope' appear centrally in ornate gold, creating an inspiring quote that's subtle but luxe in design.
The dreamy photo gives us all the tropical feels and we'd probably pair it with other botanical prints for a full-on green display.
4. Inspirational Quotes Magnetic Frame Poster
Makes a great gift for yourself or others
This colorful print will be your biggest cheerleader, your very own pep talk and motivational speaker all in one.
Hanging on a magnetic frame made from natural solid wood, the poster features lots of inspirational words to make you feel great about yourself—we also think it makes a good gift for anyone in need of a confidence boost.
5. Throw Kindness Around Like Confetti art print
For a pretty pop of rose-gold design
Stylish design? Check. On-trend? Check. Motivational wording? Triple check! Yes, this ultra-girly art print easily makes it to our top five. Designed by Digibuddha, this poster is made with luxe rose-gold foil and a premium blush-pink matte card, and encourages us to be kind—an important message in today's climate.
The frame isn't included, but it's easy to buy one to fit the poster's 5-by-7 inch size—after all, once this arrives you'll just want to put it straight up, so you can admire it at your leisure.
Where to hang inspirational wall art
There's nothing worse than a print that looks lost on a large wall, or one that's squished into too small a space, so make sure that your inspirational print is going to hang somewhere it can really shine.
Another thing to note is that because it has wording on it, you'll want to be able to read it easily, so don't hang it so high that you have to strain your neck to see it. On the other hand, if it's going in a room where you're likely to be sitting down, consider that you'll want to see it at eye level and hang it accordingly.
Keep your inspirational wall art cohesive
Worried your inspirational wall art won't fit in with existing prints? A good rule of thumb is to focus on either the artworks themselves or the frames they're in when it comes to creating a united display—with bright or colorful prints, opt for the same style and color frames, while with monochrome prints you can afford to vary the frames.
If you've bought more than one print and want to create a gallery wall, go for a mix of sizes and shapes to make it interesting and less formulaic. Start by hanging the largest design as the focus and use this as the base from which to hang other frames around. If you prefer a symmetrical or measured display, you may want to invest in an even number of artworks of the same sizes, so your display appears more balanced.
Laurie Davidson is a Surrey-based freelance interior stylist and writer, who also dabbles in travel, craft and lifestyle content. She has over a decade of publishing experience and spent five years as the Homes & Interiors Editor on Style at Home magazine.