What happens when you book a solo travel holiday purely based on your star sign?
Could your next solo trip be written in the stars? Radhika Sangani finds out...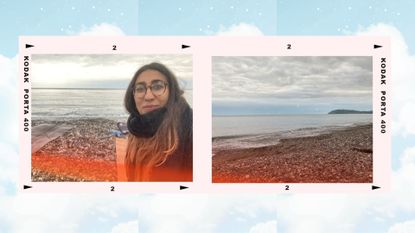 (Image credit: Radhika Sangani)
Curious about Solo Travel? We teamed up with Francesca Specter, author of Alonement: How To Be Alone & Absolutely Own It, for a week dedicated to celebrating the joys of Solo Travel. Here, award-winning journalist Radhika Sangani goes on a solo trip based solely on her astrologer's advice...
---
I'm lying face-down trying not to cry. My entire body is so relaxed that my mind has managed to follow suit, and for the first time in months, I feel truly at peace. Every knot in my body is being expertly undone by the massage therapist standing over me, and with the calm music in the background and the scents of orange and neroli, I could be anywhere in the world.
But actually, I'm in Dublin. More specifically, I'm at the spa of The Merrion Hotel, where my pent-up worries and tensions are being massaged right out of my muscles.
Ireland's capital is not the first place I would have chosen for a relaxing solo minibreak. The last time I was here—over a decade ago—my trip consisted mainly of sampling local whiskies and pub-hopping after daytimes wandering the urban center. But this time I'm here on the orders of my astrologer, for two nights of peace and healing.
"Ireland's where you ned to be," Francesca Oddie told me when I asked her for suggestions for a solo trip this summer. "Dublin would work. Your Jupiter-Chiron line is going through there, so it's the perfect place to heal. I'd recommend lots of yoga, relaxing therapies and eating well. Anything Cancerian, so there are lots of themes of belonging, connection and feeling nurtured—which also applies to nurturing yourself. Anyone you meet, even waiters or yoga teachers, will be warm. It's whatever nourishment means to you. You're less likely to feel lonely there traveling alone. Go to Dublin."
So I did. The idea behind Francesca's theory is based on astrocartography, which shows how the placements of the planets affect the energies we feel in certain places, depending on when and where we were born. My birth chart is mapped out onto the globe with various lines (showing planetary trajectories) symbolizing different things and it enables an astrologer to see how traveling to different places will affect you. Francesca tells me to go to my Jupiter line, which is all about expansion, connection and sun, but because it's in Cancer and it's in Chiron, it becomes about healing. "It's all about the joy derived from self-care. Give yourself what you need—you'll have an insatiable appetite for comfort."
I'm not entirely sure what to expect. When I get to Dublin, will the stars automatically guide me straight to what I need? Will things flow more than they do when I go on holiday without consulting my astrologer? "You do need to seek out what you're looking for," says Francesca. "But by going to Dublin, you're honoring Jupiter so there will be an increased sense of flow."
I feel oddly relaxed on the plane. For once, my trip doesn't just rely on me sorting everything out, and I feel like bigger energies are at play. And when I arrive at the airport, I'm told I've missed the next bus and have to wait half an hour. But then, within minutes, someone else comes over to tell me there is space after all. I'm straight on the bus to my hotel.
The flow continues when I arrive at The Merrion—a beautiful hotel converted from several Georgian townhouses. I'm booked in for an afternoon tea later that day, but as my room isn't ready, I can have it right now. It's the perfect lunchtime alternative, and I feel luxuriously extravagant as I sit alone in the drawing-room with my tower of sandwiches, pastries and cakes.
It's the first time I've ever had a solo afternoon tea and I'm nervous. I've brought a book to accompany me, but it turns out I don't need it. My tea is themed around the hotel's extensive art collection, with delicacies inspired by the art around me—William Scott's Frying Pan, Funnel, Eggs and Lemons (it's become a dainty vanilla biscuit with orange curd) and Patrick Hennessy's Roses And Temple (now a perfect rosewater and orange mousse column). I take my tea seated next to a portrait of Stella Steyn's Seated Man, and I feel like I'm in an art gallery gazing at a painting, only this time I get to do it with Earl Grey and a salmon sandwich.
Francesca has warned me off booze for the trip—"what you need right now is clarity"—so pub crawls are out of the question. Instead, I head to Killiney beach that evening for a full moon meditation, yoga flow and sound bath with 'Awaken With Jess', a spiritual coach. It's not what I associate with a Dublin city break, but it's so much better. The beach is calm and grey, and the moment I join the circle of mats surrounding gongs and bowls, I instantly feel at peace.
We journal through our intentions before starting our yoga and meditation practice, and by the end, I feel like I've let go of all the tensions I've been holding onto. It's nothing like doing yoga in a studio—the sound of the sea crashing into the shore and the sharp fresh smells make it a fully embodied experience and I end up making friends with other attendees. Suddenly I remember Francesca's words: "I think you'll end up meeting someone there who'll help you figure out the rest of your trip."
Right on cue, my new friend Gemma gives me a list of suggestions, and I spend the next day smelling roses and watching deer in Phoenix Park, after visiting Eathos —a café that promises 'thoughtful, wholesome food that makes you happy'. It's a different side of the city I've previously visited, and by the time I visit the cooling spa below The Merrion, I'm well and truly relaxed.
I'm no stranger to solo travel, but in the past, I've really noticed the absence of a plus one. I have a moment in my hotel suite when I think how lovely it would be to share the tranquil Georgian-inspired surroundings with a partner. But then I realize how lucky I am to be able to take up all this space alone, in my king-size bed, at the immense breakfast in the morning, and in the city itself.
There's a real freedom in giving myself (and my Jupiter) a whole three days of self-care and I dine alone at award-winning Sole—a seafood restaurant in the center—before heading back home for a night in. It might not be the most exciting holiday plan, but I decided to celebrate myself by breaking Francesca's booze ban with a glass of champagne in my room. Curled up in my bathrobe, I treat myself to slices of Battenburg, feeling like a modern-day Marie Antoinette reveling in my solo luxury like the pleasure-seeking Taurus I will always be.
My trip might not have been the world's most eventful—I didn't party all night or do any wild activities—but the truth is that it was exactly what I needed. If it wasn't for my astrologer, I doubt I would have given myself so much self-care, from the beach yoga to the stress-busting massage or just the general flow of walking around the city allowing my instincts to take the lead. But thanks to my stars, I'm coming home feeling relaxed, nourished and yes, healed, after my (semi-)sober solo minibreak to Dublin.
Radhika Sanghani is an award-winning journalist and author of 30 Things I Love About Myself. Her two previous YA novels—Virgin and Not That Easy—were published in 13 countries worldwide. She regularly writes features for The Daily Telegraph, Daily Mail, The Guardian, Grazia, Glamour and Elle magazine, writing on everything from travel and wellness to social issues. She is also an influential body-positive campaigner and founded #SideProfileSelfie, a movement to celebrate big noses, which has reached millions. She has given a TEDx talk on self-love, regularly appears as a commentator on TV and radio news shows, and runs an anti-loneliness initiative with Age UK where she gives manicures to the elderly. She was on BBC Comedy Writers Room 2020 and is now working on developing her own TV shows whilst writing for CBBC's Malory Towers.