Penguin onesies and Harry's Finsta: 13 surprising things we learned from Harry and Meghan's new documentary
Penguin onesies, finstas and a BIG Halloween party...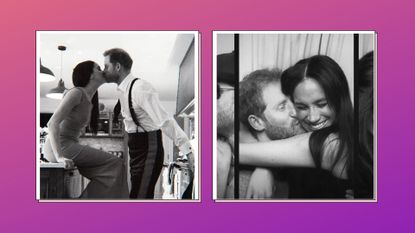 (Image credit: Netflix (courtesy of Prince Harry and Meghan))
Harry and Meghan, Netflix's new documentary about the Duke and Duchess of Sussex, has finally hit our screens and we've been glued to the TV since it dropped.
The three episodes (roughly one hour long each) document everything from the first stages of their relationship up to just before their wedding day, with commentary from Harry and Meghan themselves, sharing what it was really like for them as it was all happening.
So whether you haven't watched it yet or you need a recap, here are the biggest revelations from the first three episodes of the docu-series...
What we learned from Harry and Meghan's new documentary
1. Harry and Meghan actually met through Instagram
We all thought Harry and Meghan's relationship timeline started with a blind date set up by a friend but now we know that's technically not true. Harry actually spotted his current wife on a friend's Instagram story (a story taken using the dog ear Snapchat filter—yes, really!) and asked said friend: "Who's that?!"
Said friend (who people think might be US-based fashion designer Misha Nonoo) then told Meghan, who agreed to be put in touch with him and they then arranged to meet up all by themselves! We also got see many of the couple's first pics together—and lust after Meghan's gorgeous sunglasses...
2. Prince Harry had a secret Instagram account
While telling the story of how they first met, Meghan also revealed for the first time that Harry actually had a private Instagram account. Turns out that before agreeing to be introduced to Harry, Meghan took a peak at his private Instagram account to see what he was all about... Good thing she liked what she saw.
3. Prince Harry was late for their first date
Things didn't get off to a perfect start on their first date, as Harry was half an hour late. He was texting Meghan to apologize while stuck in traffic but she nearly walked out because she was starting to get the wrong impression, revealing in the documentary that she thought he was the kind of guy who thought women would just sit around and wait for him.
But when Harry walked in a 'sweaty, red mess', she realized that he wasn't like that at all.
4. They had a big Halloween night out before news of their relationship broke
In the documentary, the couple explain how they managed to keep their relationship under wraps for around four months (they started dating in July and news broke in late October). When Harry's press secretary told him that news of the relationship would be breaking the next day, Harry and Meghan decided to go out for one last night of fun in the 'real world', to a Halloween party—accompanied by Princess Eugenie and her then-boyfriend, now-husband Jack and Meghan's friend Marcus.
5. Meghan called her friend Jess just before getting proposed to
When describing the night of the wedding proposal, we find out that Meghan was so excited when she suspected Harry was about to get down on one knee, she called a friend while he was setting up the surprise. We get a glimpse of Meghan's call to her friend, as we hear her whisper: "Oh my God Jess, Jess, it's happening, it's happening. He told me not to peak."
6. They had a secret engagement party dressed in... animal onesies
In what might actually be the cutest revelation of the series so far, one of Meghan and Harry's friends revealed that the two had an engagement party (before the news of the engagement was shared with the world) where everyone had to dress up in animal onesies.
Meghan and Harry went dressed in penguin onesies because penguins mate for life... Our hearts!
7. Meghan has a very close relationship with her niece
In the midst of Meghan's family drama with her dad's side of the family, we missed the fact that she has a very close relationship with her niece, Ashleigh Hale. Ash is the daughter of Samantha Markle, Meghan's half-sister who was quite vocal about Meghan when the media started gaining an interest in her.
Ash features in the documentary and explains how she was raised by her paternal grandparents (and was even formally adopted by them) but reconnected with her mum when she was older. Meghan started chatting with her shortly after via email and the two hit off and became great friends, going on trips and nights out together.
8. Meghan loved her first Royal Christmas and sat by Prince Phillip
Despite having half-siblings, Meghan grew up as an only child and her parents separated when she was only two years old, so longing for a bigger family is something she talks about in the docu-series. Speaking about her first Christmas with the royal family at Sandringham, Meghan said she loved being surrounded by people all the time in what felt like the big family she never had. She even sat next to Prince Phillip during Christmas dinner and had a great time.
9. Prince Harry talked about the Nazi uniform incident
When the topic of race and educating oneself comes up, Prince Harry makes a point that people should be striving to learn from their mistakes and become better people. That's exactly what he tried to do after he dressed up in a Nazi uniform for a private party in 2005.
"It was one of the biggest mistakes of my life. I felt so ashamed afterwards. All I wanted to do is make it right", Harry says in the new documentary.
He revealed that he spoke to the chief rabi in London, went to Berlin to speak to a Holocaust survivor and learned a lot from it.
10. Meghan was advised not to invite her niece to her wedding
It's a known fact that Meghan's only family present at the wedding was her mother Doria, but we didn't know she was advised against inviting someone she would have liked to see on the day—her niece. The guidance apparently came from their royal press team, who said it would be difficult to explain how her half-sister Samantha would not be invited but her daughter Ashleigh would.
At the time, Meghan broke the news to her niece on the phone together with Harry, explaining the reasoning behind it. Speaking about it in the documentary, Ashleigh said that while she understood, it was painful to know that because of her biological mother (who she no longer has a relationship with) she might lose her relationship with her aunt, something that was very special to her.
11. Meghan's mom Doria finally speaks out
Meghan's mother's life changed drastically too when her daughter's relationship began and this was the first time we heard directly from her about what that was like.
"I felt unsafe a lot. I couldn't just go walk my dogs, I couldn't walk to walk, there was always someone waiting for me, following me. I was being stalked", she said.
Doria also says she was shocked to find out that Meghan's father had joined the 'media circus' at the time it was revealed he collaborated with photographers for set-up pictures.
12. Meghan found out her dad was not coming to the wedding via TMZ
The first time Meghan heard that her dad would not be traveling to the UK to be by her side on her wedding day was via TMZ, after her dad spoke to them. She kept calling and texting him but figured out that his phone had been 'compromised' when his texting patterns didn't match how he previously texted her.
13. Harry feels responsible for Meghan's estranged relationship with her father
"If Meg wasn't with me, he would still be her dad", Harry says, saying that he 'shoulders' the fact that Meghan has an estranged relationship with her dad.
The first three episodes of Harry and Meghan are now available to watch on Netflix, with more set to drop next Thursday, December 15.
Mariana is Editor of My Imperfect Life. She has previously worked for titles including woman&home and Goodto, covering all aspects of women's lifestyle — from beauty and fashion to wellness and travel. She was nominated for AOP Digital Journalist of the Year in 2020, and for New Digital Talent of the Year at the 2016 PPA Digital Awards. She's mildly obsessed with reality TV (Love Island memes included) and spends far too much time checking her horoscope and figuring out the perfect curly hair routine.