Who is Taylor Russell? Get to know the 'Bones and All' star
Taylor Russell stars alongside Timothée Chalamet in a cannibal romance—which means she's about to be *everywhere*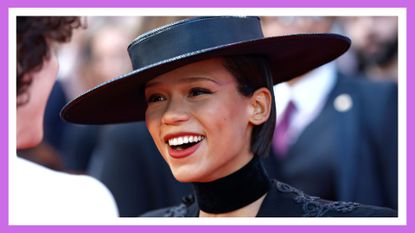 (Image credit: John Phillips/Getty)
The name on everybody's lips is gonna be...Russell. Taylor Russell, that is.
The actress has been making the rounds for years with buzzy roles and red carpet fashions but she gets a true star vehicle in the new Luca Guadagnino romance Bones and All opposite Hollywood's hottest leading man (and Russell's rumored real-life love interest) Timothée Chalamet, which hits theaters in a limited release on Friday, November 18 before opening wide on Wednesday, November 23.
But what do we know about the actress and where have you seen her before? Here's the 411 on Taylor Russell.
Who is Taylor Russell, 'Bones and All' star?
Taylor Russell is a Canadian actress hailing from Vancouver, British Columbia, who has been performing professionally for the past decade. Performing runs in the family, as her father is an actor, a career path that resulted in the family uprooting 16 times during her childhood.
"I didn't grow up in a wealthy family," Russell said in a 2019 Elle interview. "My parents struggled; we were on welfare. Things changed a lot, so there was always an opportunity for reinvention, to create something new."
In Bones and All, Russell—who already won the Marcello Mastroianni Award at this year's Venice Film Festival and has received a Gotham Award nomination for Outstanding Lead Performance for her work—plays Maren Yearly, a cannibalistic teen who comes upon several fellow "eaters," including Chalamet's Lee, during a road trip in the 1980s American Midwest.
"What struck me about her initially is that she's this kind of creature who feels like there's something off with her, like a picture frame that's slanted," Russell said of her character to Variety. "And I wanted to work through that exercise of 'If there is something inherently wrong with me, is there a way to break through that?'"
She continued: "The intention was always that we were hopefully doing justice to the reality of these people's lives."
Are Taylor Russell and Timothée Chalamet dating?
Along with the buzz of their roles, some of the loudest talk surrounding Bones and All is about whether its costars Taylor Russell and Timothée Chalamet are dating IRL or not.
Despite DeuxMoi fanning the flames with a recent blind submission that read "a rising movie superstar renowned for dating his fair share of [nepotism] offspring and co-stars had a brief relationship with his co-lead during the making of their latest movie," neither Chalamet nor Russell have publicly confirmed or denied the dating rumors. (For his part, Chalamet has dated famous offspring including Madonna's daughter Lourdes Leon and Johnny Depp's daughter Lily-Rose Depp, and was most recently spotted smooching model-influencer Sarah Talabi at Coachella.)
Regardless of whether the romance leaked out into real-life or not remains to be seen, but it's clear that the actors shared a connection onscreen at the very least, with Russell telling Indiewire: "From the beginning with Timothée, he made a point to make me feel like I deeply belonged with this group of people, that nothing I could do would be bad, and if I felt any sort of insecurity I could talk to him and he could comfort me. There's a safety net we shared where there was no judgment."
Taylor Russell age: how old is she?
Born on July 18, 1994, Russell is currently 28 years old. (And she's a Cancer, if you're astrologically curious.)
Taylor Russell movies and TV shows
Since making her acting debut in 2012 with a bit part on The CW medical drama series Emily Owens, M.D., Taylor Russell has been working steadily across both TV and film, notably in titles like the Netflix sci-fi series Lost in Space, 2019 critically acclaimed family drama Waves—for which Russell won the Gotham Award for Breakthrough Actor and the Hollywood Critics Association Award for Star on the Rise—and the horror film franchise Escape Room (2019-2021).
Taylor Russell Instagram: what's her handle?
You can find Taylor Russell on Instagram at the handle @tayrussell, where she boasts more than 420,000 followers. There are only 20something posts at the time of publication, but she offers behind-the-scenes glimpses of projects she's working on as well as evidence of her considerable fashion game (that Schiaparelli fit though).
Taylor Russell ethnicity: what's her background?
Taylor Russell is the daughter of a Black father and a white mother. "A lot of identity issues come from that and I dealt with identity issues growing up because I didn't grow up with my dad's side of the family. My dad is Black and my mom is white and we grew up mostly with her side," the actress told The Grio.
"I grew up in Vancouver which is beautiful but very Caucasian. When I moved to Toronto there were a lot more Black and mixed people. I have always had people who wanted to touch my hair and Black girls not accepting me because I'm too light-skinned to fit in with them and white girls who rejected me because I was different than them too," she said. "It can be so confusing and I think race in Canada is so different than it is in America. It's complicated and in Hollywood, I have had some instances where people said things like I'm 'too tropical.' I don't even know what that means or what they were trying to say with that critique, but that just made me laugh because it made no sense."
She continued: "I want to be cast because I'm the right person for the job, not because I fit with what they're looking for someone to look like...I hope I continue to get roles that represent strong, smart, powerful girls."
Catch Taylor Russell in Bones and All, in theaters starting Friday, November 18.
Christina Izzo is the Deputy Editor of My Imperfect Life.
More generally, she is a writer-editor covering food and drink, travel, lifestyle and culture in New York City. She was previously the Features Editor at Rachael Ray In Season and Reveal, as well as the Food & Drink Editor and chief restaurant critic at Time Out New York.
When she's not doing all that, she can probably be found eating cheese somewhere.