'The majority of my solo trips are to Black-majority countries—this is why'
'Merging into the background of black-majority countries during my travels was the wake-up call I needed.'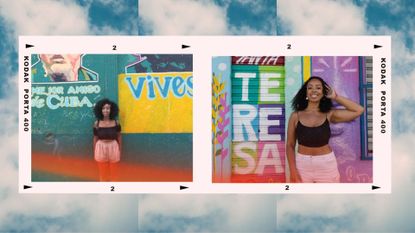 (Image credit: Georgina Lawton)
Curious about Solo Travel? We teamed up with Francesca Specter, author of Alonement: How To Be Alone & Absolutely Own It, for a week dedicated to celebrating the joys of Solo Travel. Here, Georgina Lawton, author of Raceless, tells us how traveling alone to Black-majority countries helped her find her identity again...
---
My interest in exploring the world was piqued long before I ever took my first trip abroad alone. As a child, I was lucky enough to holiday around Europe with my family, twice a year during the school holidays. Wet and wild summers on the west coast of Ireland where my mother is from. Sunbathing in Spain and France. Scaling monuments with my brother and father in Italy and Austria. But as a Black child in an all-white family, with no explanation as to why I didn't look like anyone, each trip affirmed that visually I stood out in these spaces—just as much as I did at home.
The amazing memories I had with my parents at home and abroad were coated in silence about where I'd inherited my afro hair and dark skin. It was simply not discussed. At age 22, after my father's death, I finally uncovered the truth about my identity through DNA tests after a lifetime of questioning. They proved that my Irish mother had an affair with a Black man she'd since lost contact with. My world was cleaved in two. So much of what I thought I knew about myself dissolved overnight, like salt in warm water. I looked for an escape or an antidote and found that it came in the form of travel.
After decades of having my heritage denied by those around me, I yearned to make up for lost time. I wanted to travel to spaces where my image would be reflected back to me wherever I turned. I wanted to find myself in a heaving metropolis where the air hung heavy with music and traffic and bright with light pollution, and where I could get my hair braided for the first time and try foods that were never found in my house in the suburbs of London.
I dreamt of getting lost in a sea of brown bodies slicked with sweat during salsa-filled street parties. But most of all, I wanted to understand my connection to the fragmented African diaspora of which I finally saw myself as part of. These desires fuelled my year of solo travel, when I went to Colombia, Brazil, South Africa, Zimbabwe, Nicaragua, Costa Rica, Morocco, Ecuador, Cuba and the Dominican Republic. But the most soul-shaping moments of all took place in more diverse communities than I was used to. Walking with black rhinos—literally beside them—with a local guide in the tall reeds of Zimbabwe's Serengeti plain. Hitchhiking through Cuba in a rattling 1950s car and almost getting arrested in the process when the car was checked by police and they overheard my English accent, discovered my 'Lonely Planet Cuba' book and took us to the station as it was illegal for Cubans to pick up tourists.
My home was loving and stable but a place untroubled by spice or rice, so I learned to broaden my palette and try cuisines that I'd previously shunned. As I traveled with an African-American friend I met in Nicaragua, I also learned about the many points of connection that unite Black female travelers on the road; missing our (very) complex families back home, safety tips shared between us, the similar stories of misogynoir from white men in hostels. Away from the suburbs in which I was raised, I created a new version of myself; far richer in confidence and knowledge and empathy than before. Travel diluted many of the identity issues that once cast dark shadows over my life and also helped me heal and find pride in who I was.
I wrote widely about my experiences, landing my first few travel writing bylines and working with brands. I worked remotely and attracted the attention of agents and publishers back home. As a writer in black spaces, I learned that my appearance offered me camouflage, which felt like a superpower at times. It helped me connect with those who weren't used to communicating with outsiders. I hopped onto buses reserved for locals in Havana, slipped into spaces undetected in Moroccan markets and paid less than other tourists for street food in the Caribbean-infused, paradisiacal Corn Islands in Nicaragua.
Being able to move as an observer, while taking notes for my book and my travel article was a huge plus—but also a steep learning curve. Looking like a local at times, meant I was treated like a local. I saw how European occupation and influence had ravaged the Caribbean and South American nations and how colonialism scarred black communities, leaving entrenched racial and class hierarchies. And my 'privilege' as a Black woman with white heritage and a British passport was obvious to many. Even though I was surrounded by people who looked like me, I saw quickly we were not structurally positioned in the same way. Being a black traveler, I found, was also something of a rarity. I was mistaken for a prostitute on more than one occasion and sometimes treated very differently to the white female travelers around me. I learned to shrug off questions about whether or not I could really be British if I wasn't white, but more importantly, I learned how my British accent was a badge of protection at times, restoring my status from local to foreigner.
The carnival parties in Colombia and Brazil were a highlight. I marveled at the detail of the costumes and the speedy footwork of the salsa and samba dancers and felt grateful to celebrate life after having lost so much. I recalled how my father had never got the chance to leave Europe, and how exploring the world on my own also meant exploring it for him, too. I also unlearned a lot of harmful thoughts about my body, thoughts that were the result of living in an all-white world for my whole life. Being in spaces in which beauty standards seemed far more inclusive than back home, where jiggle, wobble and overspill were seemingly forgiven and brown bodies of various hues swayed in the searing heat did wonders for my mental health.
Merging into the background of Black-majority countries during my travels was the wake-up call I needed. I learned to embrace a part of me that had been denied for so long and forced myself to re-examine everything I'd been taught. From the ashes of my old life, I rebuilt a bigger, bolder me. Travel imbued me with the kind of self-love I'd been missing all my life and brought me back home more at peace with myself.
Georgina Lawton is a 'twentysomething' journalist, speaker and author of Raceless, a non-fiction book on race and family secrets, which was published in February 2021 to critical acclaim by the New York Times, Sunday Times, Bustle and i paper. Black Girls Take World, her second book, is a global travel bible for black women with a case of wanderlust and came out in June 2021. Georgina is also a Guardian journalist and columnist and writes for a number of other publications such as The Independent, i paper, Evening Standard, Stylist, gal-dem, Travel + Leisure, VICE, Time Out London and more. She graduated from the University of Warwick and also works as a broadcaster. In 2021, Georgina created and presented the Audible podcast, The Secrets In Us, which looks at DNA tests and identity and won bronze for Best Documentary podcast in the 2021 British Podcast Awards. Georgina writes on travel, identity, work, women's issues and culture