'The Marvelous Mrs. Maisel' season 5: we (finally!) have a trailer for the last season
What will happen between Midge and Lenny in 'The Marvelous Mrs. Maisel' season 5? We'll happily find out soon!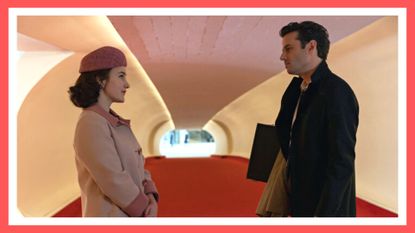 (Image credit: Philippe Antonello/Prime Video)
If you're like us, we immediately turned our attention to The Marvelous Mrs. Maisel season 5 the second those fourth-season credits started rolling. Now after a year since the last batch of new episodes, the wait for more Midge is nearly over.
The final two episodes of season 4 of Mrs. Maisel aired on Friday, March 11, and viewers who want to see more from Rachel Brosnahan's Miriam "Midge" Maisel, her will-they-won't-they romantic interest Lenny Bruce, wise-cracking manager Susie Myerson and the rest of the show's colorful characters have had their fingers crossed that another season will come sooner rather than later.
Though these shows like The Marvelous Mrs. Maisel will help tide you over in the meantime, here's what we know so far about Mrs. Maisel season 5.
*Warning: spoilers ahead!*
'The Marvelous Mrs. Maisel' season 5: what we know
Happy news, Maisel fans! The series was picked up for a fifth—and, alas, final—season on February 17, just a day before the first two episodes of season 4 premiered.
"This series has meant so much to Prime Video and the effects of its success will be felt long after its final season," said Jennifer Salke, Head of Amazon Studios, in a statement about the renewal.
Salke continued: "I can't wait for fans and our worldwide Prime Video audience to savor each moment as we embark on the culmination of this groundbreaking and unforgettable series."
Of ending the series with a fifth season, creator Amy Sherman-Palladino told Glamour: "A lot of things went into that decision. Amazon has a great say in it. They write the checks, so when they call, you have to pick up the phone, apparently. The minute that we found out that was the path forward, we really took a lot of time and a lot of care to make sure that we stick the landing because the most important thing to me is to make sure that Midge gets the send-off and the full treatment that she deserves."
Sherman-Palladino continued: "While we have not written the final episode, we know what the final image is. I have always liked doing that, the whole weird, last four words of Gilmore Girls that became this weird sort of Sasquatch urban legend thing and all anybody wanted to talk about for a long time. But for somebody like me, I need to know what my endgame is…I know a lot of what's going into the last episode, but we have a lot of people to service here. These characters deserve proper send-offs whether it's good, bad, and/or different."
Watch 'The Marvelous Mrs. Maisel' season 5 trailer:
On Monday, March 20, Prime Video gifted Mrs. Maisel fans the official trailer for the show's fifth season:
When is 'The Marvelous Mrs. Maisel' season 5 release date?
Mark your calendars: the official release date for The Marvelous Mrs. Maisel season 5 is Friday, April 14.
Production on the fifth season kicked off February 2022, according to an Instagram post from series star Rachel Brosnahan.
"A few days ago we started shooting Season 5 (!) of The Marvelous Mrs. Maisel. It's bittersweet. The band is back together again and we can't wait to share season 4 with you starting tomorrow…it's also going to be our last rodeo," Brosnahan captioned the February 17 post, which featured a snap of a Mrs. Maisel script (plus a yummy-looking cookie).
Brosnahan added: "Rest assured our tits are up and it's going to be a hell of a final chapter. Stay tuned."
Who will be in the 'Mrs. Maisel' cast for season 5?
There are a few key players that you can put money down will return for The Marvelous Mrs. Maisel season 5. Firstly, Mrs. Maisel herself, duh, Rachel Brosnahan.
Along with Brosnahan's Midge, you can also bet on seeing Alex Bornstein (Susie), Luke Kirby (Lenny), Michael Zegen (Joel), Marin Hinkle (Rose), and Tony Shaloub (Abe).
The show has regularly rolled out fantastic guest stars, from Wanda Sykes to John Waters to regulars of the Amy Sherman-Palladino universe, and some of those folks will return for season 5, including Gilmore Girls alum Kelly Bishop. Also returning in amped-up roles are Alfie Fuller, who plays Susie's receptionist Dinah Rutledge, and Jason Ralph, who plays talent booker Mike Carr (and is also Brosnahan's real-life hubby!).
The cast has also added newcomers including Peter Friedman (Succession), Eddie Kaye Thomas (American Dad!), Michael Cyril Creighton (Only Murders in the Building), Austin Basis (Supernatural), Josh Grisetti (Nurse Jackie), Chloë Kerwin (Asleep in My Palm) and Lucas Kavner (The Jim Jeffries Show), so look out for them as well.
What happened in 'The Marvelous Mrs. Maisel' season 4 finale?
Okay, the big news first: after four seasons' worth of excruciating sexual tension, Midge Maisel and Lenny Bruce finally consummated their relationship. But more about all that in a sec.
The end of the penultimate episode of season 4 sees Midge's ex-husband Joel Maisel tell his father Moishe that his girlfriend Mei is pregnant and Asian—facts that seemingly shock Moishe into having a heart attack. Moishe spends the majority of the finale in the hospital, with each member of the extended family dealing with it in their own unique way.
Believing Moishe will die, Abe writes a heartfelt, if premature, obituary for him for The Village Voice. Moishe's wife Shirley promises Abe that she'll be there for him if Rose were to die before he does. And Midge channels the grief and worry into a stunning stand-up set at The Wolford, the strip club where she performs, ruminating on the strength of women in the face of the loss of men. Thankfully, Moishe makes a full recovery, though he does tell Joel that, while he's happy for him and Mei, she will have to convert to Judaism before they tell Shirley about the pregnancy.
Lenny Bruce pays Midge a backstage visit at The Wolford after her gig, apologizing for his rude, hungover behavior in episode six. To make up for it, he has recommended Midge to replace him as the opening act for Tony Bennett, since Lenny will be playing Carnegie Hall the same night. But they're interrupted by a police raid, so they flee to Lenny's lavish hotel room where, yes, the chemistry cranks way up and the clothes come way off.
It's all post-coital bliss until Midge finds drug paraphernalia in Lenny's travel case, which he brushes off. Having turned down the Tony Bennett gig because she wants Susie to book her headliner-only jobs, Midge attends Lenny's crazy-successful Carnegie Hall performance. But Lenny isn't happy that Midge is seemingly throwing huge career opportunities away out of stubbornness. "If you blow this Midge, I swear you will break my fucking heart."
Midge leaves in the midst of a horrible snowstorm. In the blizzard, she mistakes a billboard saying: "Go Forward." It really is an advertisement for The Gordon Ford Show. Will Midge go the talk-show route next season? Only time will tell!
You can rewatch all four seasons of The Marvelous Mrs. Maisel on Prime Video.
Christina Izzo is the Deputy Editor of My Imperfect Life.
More generally, she is a writer-editor covering food and drink, travel, lifestyle and culture in New York City. She was previously the Features Editor at Rachael Ray In Season and Reveal, as well as the Food & Drink Editor and chief restaurant critic at Time Out New York.
When she's not doing all that, she can probably be found eating cheese somewhere.