The 'other' Dubai: Swap luxury for outdoor adventure in Hatta
There's a lot more to the Emirates than pool parties and skyscrapers...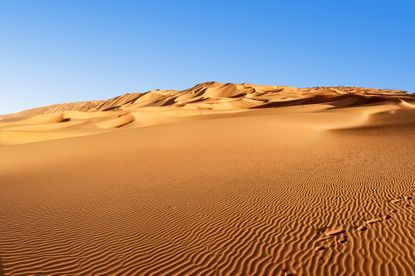 (Image credit: Getty Images)
When thinking about Dubai, you probably think skyscrapers, one-of-a-kind luxury hotels and insane amounts of money, right?
And while that's definitely the case in Dubai city itself, there is another, completely different side to this Arab emirate, one which I was keen to explore when I embarked upon a recent bonding mini-break with my mother.
Hatta is an enclave of Dubai, an hour away from the bustling city itself, high in the Hajar Mountains. It's fairly unknown, but as we discovered, spending time there is a great way to add some outdoor activity into a holiday that could otherwise have ended up almost entirely poolside.
Where to stay in Hatta
Landing in Dubai after a seven-hour flight, it was a short cab journey to Hatta Wadi Hub, an activity centre like no other thanks to its endless choice of things to do. It's also home to the new Damani Lodges resort.
Set on the rugged mountainside, there are 20 lodges, spaced out, each showing off a metal, rustic design that allows them to blend in perfectly with the surroundings.
Our lodge was stylish but simple – a large shower, comfortable beds and plain wooden interiors, as well as a balcony overlooking the activity centre down in the valley. It's cosy, and you feel like you could be in the middle of nowhere.
When we weren't getting active, Mum and I enjoyed time lounging on outdoor beanbags, reading and catching up without any pressures of daily life.
What to do in Hatta
When it came to exercise, we were spoilt for choice here.
Hikes
If hiking's your thing there are some great guided tours on offer, with new routes being added all the time. Be warned though, some are pretty challenging. My mum is fairly active and enjoys walking, but she did have to take the odd pit stop, although this isn't such a problem when a pit stop can involve looking out over miles of empty mountain-land.
Also, without one of the experienced guides we would have been clueless as to our whereabouts – each guide knows the area like the back of their hand. So be sure to book one.
Another word of advice – even at 9.30am, temperatures are soaring and the sun is strong, so high SPF, a full bottle of water and a sun hat are essential.
Activity sports
If you're an adrenaline junkie, this is definitely the place for you, with guided mountain biking tours, go-karts and a range of water sports on the Hatta dam ranging from kayaking – great for an upper body workout – pedal kayaks and even the classic pedalo. Most activities come at an extra cost, so we were selective.
There is also a host of free activities on site, with options from huge zip wires to trampolines. If you need suggestions on what will work for you and your group, the super-helpful staff at the resort will go out of their way to advise you.
Feeling particularly brave one morning, Mum and I agreed to take part in a Zorbing session. If this is a new one to you, just imagine rolling down a steep hill in a huge, inflatable, clear ball, partially filled with water. It might sound terrifying, but it was hilarious and Mum (surprisingly) absolutely loved it!
Not for the faint-hearted is free falling – essentially a less-intense bungee jump, but still a heart-in-mouth moment as you step off a high platform attached to a bungee, with nothing below you other than flat ground.
Eating in Hatta
The focus here is very much on the outdoors rather than fine dining. There are some simple but tasty outlets at Wadi Hub – mostly from a selection of street-food style vans and a café.
If these don't float your boat, there are healthy takeaways in the vicinity, which can be delivered to the door of your lodge.
Damani Lodges at Hatta Wadi Hub cost from £136 per night based on two people sharing. Visit visithatta.com. Return flights to Dubai with Emirates cost from £332 pp and can be booked at emirates.com. Please check COVID-19 restrictions before booking.
Lucy is Health and Fitness Editor at various women's magazines, and also Editor of Woman&Home Feel Good You. She has previously written for titles including Now, Look and Cosmopolitan. She lives and breathes all things fitness; she works out every morning, and mixes it up with runs, weights, boxing and endless box jumps. She is also a Level 3 personal trainer and teaches classes at various London studios, primarily Digme Fitness. Lucy is pre- and post-natal trained and helps new mums get back into fitness after the birth of their baby. Lucy claims that good sleep, plenty of food, and a healthy gut (seriously, it's an obsession) are the key to maintaining energy and exercising efficiently. Saying this, she's partial to the odd Negroni on the dance floor with her friends.