This is how long it takes to fall in love with your partner, according to research
...and when they'll actually admit it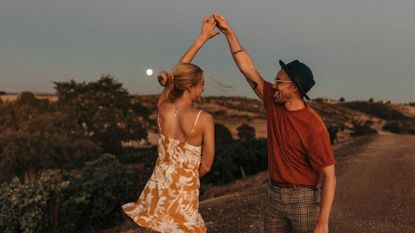 (Image credit: Kyle Kuhlman / 500px / Getty Images)
How long does it take to fall in love?
So, you've moved past the tedious hesidating phase and the anguish of dating burnout has come to an end. But now you're facing another conundrum: when to drop the L-bomb.
Though it's not always easy to pinpoint the exact time in which you should spring an "I love you" on someone, science has decided to uncover when those warm and fuzzy feelings are likely to emerge, and the results might surprise you.
How long does it take to fall in love?
According to scientific research published in The Journal of Sexual Medicine, it only takes one fifth of a second to experience feelings of love towards someone. (Yes, you've read that number correctly. No, that wasn't a typo.)
However, that doesn't mean you should declare your love immediately. Though you might get butterflies in that fifth of a second, it'll take a little longer to actually fall in love with someone, and understandably so.
Previous research from Gala Bingo suggests that 43% of Brits fall in love within three months of dating their partners. Even still, they're not necessarily declaring their love—18% wait an additional three months to say it out loud. Lots of waiting, folks!
A spokesperson from Gala Bingo said, "There's nothing quite like being in love, but the journey itself can be quite turbulent and, unfortunately for us, there are no set rules or guidelines."
The findings also indicate that 63% of Brits surveyed are truly smitten by the six-month mark. But even when people do feel ready to tell their partner, there's still confusion, as 16% refuse to utter those three little words until their partner says them first—with women (23%) more guilty of waiting than men (5%).
Then you have the eager mcbeavers: 14% of those surveyed confessed that they said "I love you" immediately after they realized it. D'aww!
"Our research shows everyone's journey is different, and that's probably what makes love so beautiful; no two relationships are the same," the Gala Bingo rep added.
Be sure to have a look at our expert-backed online dating tips and first date tips to help yout get one step closer to that L-bomb (whenever you feel like dropping it).
Sagal is a journalist, specialising in lifestyle, pop culture, fashion and beauty. She has written for a number of publications including Vogue, Glamour, Stylist, Evening Standard, Bustle, You Magazine, Dazed and Wonderland to name a few.