Britney Spears' attorney has requested that her temporary conservator becomes permanent, replacing her dad
The pop star is still in an ongoing court battle with her father, Jamie Spears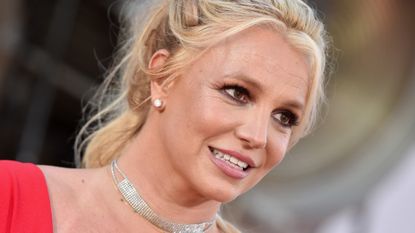 (Image credit: Getty Images: Photo by Axelle/Bauer-Griffin/FilmMagic)
Britney Spears' lawyer has filed a petition to make the singer's current "care manager" and temporary conservator, Jodi Montgomery, a permanent one, according to her court attorney, Samuel D. Ingham III.
Montgomery, who took over the role as Britney's professional conservator in 2019 when her father Jamie Spears was forced to step down due to health issues. This new petition, which will be addressed during a court hearing on April 27, will request to have Montgomery appointed as the permanent conservator of Spears' person if this is granted by the judge.
A lot of fans have been concerned about the popstar's safety due to her ongoing conservatorship situation. Those fears were increased following the release of a New York Times documentary titled 'Framing Britney' which aired on Saturday 6 February.
The documentary is a collaborative film by a team of journalists from the publication and examines the relentless way in which Britney Spears was scrutinized by the media throughout her career as well as looking at the #FreeBritney movement.
It comes after it was announced in October 2020 that Britney lost an ongoing court battle to have her father removed as conservator of her estate, BBC reports. At the time, the US court rejected Britney's plea, despite the singer's lawyer arguing that she was "afraid" of him, and that she would not be allowed to perform so long as he remained in the role.
As the documentary highlights, every aspect of Britney's life for the past 13 years has been under control by her father, who got a conservatorship for his daughter following her heartbreaking meltdown in 2007, which resulted in the star being hospitalized and checking into rehab after years of being tormented by mainstream media.
Since the incident, which involved her shaving her head and attacking paparazzi, Britney has dealt with endless stigma surrounding her mental wellbeing despite making multiple comebacks in her music career and other business ventures, including her popular fragrance line. However, loyal fans have long been worried about the 38-year-old singer and her living situation for years, convinced that she herself feels taken 'hostage' and needs saving from her father.
Their growing concerns led to the #FreeBritney movement, where fans used social media to make a strong case for why it is time for the world to help get Britney out of her conservatorship by not only sharing theories, but using the eagle eyes to to find discrepancies within her case.
While the movement has been going on for years, it resurfaced last year because of an episode of the Britney's Gram podcast, in which an anonymous lawyer, who claims to be a former member of the firm that oversees Britney's conservatorship, expressed concerns over Britney's team and how her father was running her life.
'Framing Britney' goes into further detail about this, including interviews with lawyers who worked on the case and a paparazzi who followed Britney around for years. Paris Hilton also makes a short cameo, whilst #FreeBritney activists and the hosts of the Britney's Gram podcast also feature.
Following the documentary's release, many - including celebrities - have reacted in horror to the way Britney was treated, highlighting the complete disregard to mental health awareness and the damaging effect of fame. Paramore singer, Hayley Williams expressed her frustrations on Twitter, tweeting: "The Framing Britney Spears doc holy f***. No artist today would have to endure the literal torture that media/society/utter misogynists inflicted upon her."
She continued: "The mental health awareness conversation, culturally, could never be where it is without the awful price she has paid."
Britney Spears' conservatorship: how does it work?
According to California Courts, a conservatorship is when a judge appoints an individual or organization to care for another adult who is deemed unfit to care for themselves or their finances. In Britney's case, this means that her father is the designated individual who cares for her as the court deemed her unable to care for herself back in 2008.
While Britney hasn't made any direct comments about her conservatorship or the #FreeBritney movement, she did release a statement via her lawyer stating that she supported her fans being vocal about her situation on her behalf, according to TMZ.
FreeBritney.net, a dedicated website to the movement that was launched in 2009, released a statement explaining their concerns: "During the twelve years of Spears' conservatorship she has repeatedly toured the world, released multiple albums, and worked on a variety of television shows.
"Her conservators decide whether or not she works, as she cannot enter into contracts for herself because she is legally not her own person. Britney Spears needs permission from her conservators to leave her house or spend any of her own money."
During lockdown, Britney posted a series of videos of herself dancing on TikTok and Instagram, causing many to worry for her mental health and wellbeing. Especially when a video surfaced of her wearing a yellow top, shortly after a fan had asked her to wear a yellow top to signal whether she needed rescuing.
Britney has been going back and forth with the court on petitions in attempts to amend her conservatorship for years. However, she has now lost the case as her father's lawyer argued that he always acted in the best interests of his daughter. The judge explained that she could appeal the case in the future, so something tells us this isn't quite over yet.
Sagal is a journalist, specialising in lifestyle, pop culture, fashion and beauty. She has written for a number of publications including Vogue, Glamour, Stylist, Evening Standard, Bustle, You Magazine, Dazed and Wonderland to name a few.