Tom Holland and Zendaya: a relationship timeline of the co-stars turned couple
We're eternally swooning over Tom Holland and Zendaya...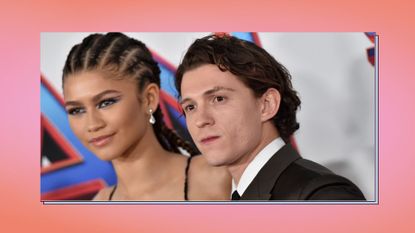 (Image credit: Getty Images / Axelle/Bauer-Griffin/FilmMagic)
After playing love interests in Spider-Man: Homecoming, Tom Holland and Zendaya have fallen for each IRL. The pair have seemingly been dating now for over a year now and just get cuter every time we see or hear from them. Most recently following Zendaya's beautiful Emmy speech and historic win, she revealed exactly how she broke the news to him...
Fans first started speculating about the two in 2017, but the fictional Peter Parker and Michelle MJ Jones never copped to it. In fact, they even flat-out denied being romantically involved.
But at long last, they have finally confirmed all our hope and dreams—which we see in an Instagram post where Holland refers to the actress as "My MJ". It's the ultimate friends-to-lovers story (well costars to friends to lovers story) that has melted hearts everywhere.
Let's dive into the Tom Holland and Zendaya relationship timeline, from how it all began to the most recent developments...
2016: Tom Holland and Zendaya are cast in 'Spider-Man'
The now 25-year-old Zendaya and 25-year-old Holland first met after landing roles in Spider-Man: Homecoming. They made their friendship Instagram official in July 2016, when Holland posted a photo of himself, Zendaya and a friend enjoying pool time together.
The Euphoria actress threw social-media love right back at Holland with a snap of their shared cover of The Hollywood Reporter. She captioned the image: "Amidst all the chaos and sadness...this one good thing did happen to me today. Honored to share it with the very best...Spider-Man himself @tomholland2013 🙏🏽".
Holland would also post the THR cover with a similarly complimentary caption: "Over the moon with my first cover. So grateful that I got to share it with the one and only @zendaya. Thanks mate for helping me out 👊🏻"
2017: Are Tom Holland and Zendaya dating?
While the twosome was hot on the press tour for Spider-Man: Homecoming—during which Holland and Zendaya were frequently seen together for both professional and personal outings—People published an article confirming their romance.
"They started seeing each other while they were filming Spider-Man," a source revealed to the mag. "They've been super careful to keep it private and out of the public eye, but they've gone on vacations with each other and try and spend as much time as possible with one another."

An insider added: "They're both really ambitious and they challenge each other—but, most importantly, they make each other crack up. They seem to have a really similar sense of humor and love joking around together. They have great banter back and forth."
However, the day that People's report hit the internet, the duo downplayed their relationship. Zendaya tweeted: "Wait wait...my favorite is when it says we go on vacations together HA! I haven't been on a vacation in years! hbu @TomHolland1996???" Holland replied: "Does the press tour count?"
But they were seen smooching in Holland's Audi in LA after spending time with Zendaya's mom, so ...
Less than a month later, Zendaya further denied the dating rumors in an interview with Variety: "We are friends...He's a great dude. He's literally one of my best friends. This past how many months we've had to do press tours together. There's very few people that will understand what that's like at 20 years old."
2018: Are Tom Holland and Zendaya Instagram official?
Though both actors maintained their platonic friendship, an Instagram comment from Kiya Cole, the mother of Zendaya's close friend Skai Jackson, got #Tomdaya shippers up in arms.

A JustJared birthday post for Zendaya in September was captioned with "Zendaya celebrates her birthday in style with friends and family in London. Her #SpiderMan costar and rumored real-life boyfriend Tom Holland was there for the special day!" reported Elle.
Cole replied to the post with: "Yes. It's true. They have been on the low for a while." The comment was deleted quickly after posting, and Cole later claimed that her account had been hacked and she didn't actually post the comment. Hmm.
The couple in question pretty much ignored the whole hullabaloo, however, Holland posted his own birthday message to Zendaya with the caption: "Me, myself and the birthday girl. Happy birthday mate - keep killing it and paving the way for the rest of us ♥️"
2019: Zendaya and Jacob Elordi
In June 2019, Holland told Elle that he was not romantically involved with anyone, Zendaya or otherwise, but did say that he's "definitely a relationship person." "I'm not the fleeting type at all; it's not my way of life."
That September, Holland spoke of his co-star in British GQ, saying: "I've been so lucky that I've had friends like Zendaya where I can really kind of confide in them, 'cause they've been through it before."
In that same interview, Holland was asked about paparazzi photos of him out and about with a "mystery blonde" (decidedly not Zendaya) in London's Hyde Park. "If you do a Google search, I'm not a tabloid person. I don't like living in the spotlight. I'm quite good at only being in the spotlight when I need to be. Um, so…uh…it just was a bit of a shock to the system."
That "mystery blonde" would turn out to be Olivia Bolton, a family friend that Holland reportedly dated for nearly a year. They allegedly split in April 2020.
While Holland was cozying up to Bolton, romantic rumors were swirling around Zendaya and her Euphoria costar, Jacob Elordi. A few months after season one premiered, the pair were spotted on vacation in Greece in August 2019 and later traveled to Elordi's native Australia together over Thanksgiving.
2020: Tom Holland and Nadia Parkes
An insider told Us Weekly that Zendaya and Jacob Elordi were official in February 2020, but by September, the actor was seen canoodling with model Kaia Gerber, sparking breakup rumors. COVID-19 lockdown had reportedly kept Elordi in Australia while Zendaya was in Los Angeles.
On his end of things, Holland goes public with his girlfriend Nadia Parkes—an English actress who's appeared in TV shows like The Spanish Princess and Doctor Who—in July 2020, posting a caption-less snap of the blonde.
The couple reportedly began dating in May 2020, having been introduced by Joe Jonas and Sophie Turner. They were rumored to have been quarantined together with Holland's brother in London. Parkes made several cameos on Holland's Instagram, including shots of the two golfing together.

Though no public announcement about a split with Parkes was ever made, Holland did discuss the art of breaking up with Esquire in March 2021.
"If you were to break up with that person, people will have their own opinions as to why you broke up or whose fault it was," Holland said. "And me being a famous person and having people that love me around the world, if I were to break up with a poor girl, they might think it was her fault. And I wouldn't want that pressure to be on someone because of me."
2021: Tom Holland and Nicki Minaj
No, Tom Holland and Nicki Minaj never actually dated, but don't tell the internet that. For years, a meme has been going around social media jokingly depicting a love triangle between Holland, the "Super Bass" singer, and YouTuber James Charles. (Yeah, we're confused, too.)
So when Minaj announced that she was expecting her first child with husband Kenneth Petty, the web went wild with posts about how Tom Holland was the father of her baby. Holland even commented on the rumors, telling Esquire: "This actually really stressed me out. And then I saw it was Nicki Minaj, and then I realized I'd never met Nicki Minaj, so that was a big relief for me. Because I'm not ready to have kids. I'm not even ready to have a dog, properly!"
October 2021: Zendaya opens up about Tom
In an interview with InStyle, Zendaya spoke about Holland for the first time.
She said: "In an actor way, I appreciate that he really loves being Spider-Man, it's a lot of pressure—you take on the role of a superhero wherever you go."
"To the little kid who walks by, you are Spider-Man. I think he handled that so well. And seeing him at work, even though he's not a Virgo, he is a perfectionist."
Moving on to Tom's personality, Zendaya said: "He's a fun time. Very charismatic, can make anybody feel comfortable and have a good laugh and a good chat. A good chat—I sound so British." How cute is that?
She also revealed that Holland got her into Love Island when shooting Spider-Man Far From Home in the UK. She said at first she was against it, but she soon got into it and the two watched it together. If that's not #couplegoals, we don't know what is.
October 2021: 'Dune' promo
Holland took to Instagram to show support for his lady's leading role in Dune, the new sci-fi juggernaut where she stars opposite Timothée Chalamet. Though the caption and photograph were simple, it raked in a casual 9 million likes...and counting.
The black-and-white image is of Zendaya on the red carpet in London, donning a floor-length Rick Owens gown. Naturally, the Internet is in agreement that she looks fabulous, and Holland concurs.
"Dune" he captioned the photo, alongside an emoji with heart eyes. She responded with a teary emoji, clearly overcome with so much love and joy that it made her a bit weepy. As expected, the internet went gaga for this short-but-sweet exchange.
Speaking of Chalamet, the Dune co-stars took "The BFF test" for BuzzFeed in October and when asked if he knew who Zendaya's celebrity crush was, Timothée responded: "Easy, Tom Holland." How sweet!
November 2021: Tom talks about those kissing photos
In an interview with GQ, Tom opened up about his relationship with Zendaya, saying: "Having her in my life was so instrumental to my sanity." He then spoke about those viral pictures, that broke the news of their relationship.
He continued: "One of the downsides of our fame is that privacy isn't really in our control anymore, and a moment that you think is between two people that love each other very much is now a moment that is shared with the entire world.
"I've always been really adamant to keep my private life private because I share so much of my life with the world anyway. We sort of felt robbed of our privacy."
November 2021: The Ballon d'Or France Football award ceremony
Zendaya and Tom get cuter and cuter by the day. As an avid football fan, Tom Holland attended the Ballon d'Or Football award ceremony with Zendaya—which is one of their first red carpets debuts as a couple (and not for Spider-Man.)
And like us, fans were obsessed with the couple pics, with one tweeting: "Tomdaya that's it... that's the tweet"
There was also a lot of love for Tom's new un-gelled curly hair and don't even get us started about Zendaya's dress!
December 2021: The serious Instagram post
The romance seems to have taken quite a serious turn.
On Instagram, per usual, the two have been adorable. Zendaya captioned a photo of Holland in his Spidey gear, saying: "My Spider-Man, I'm so proud of you, some things never change and good thing♥️ @tomholland2013".
This comes on the heels of a very big reveal from Holland, who mentioned to People that it might be time for him to step down as Spider-Man and give the younger generation a shot. The reason? It's personal.
"I've spent the last six years being so focused on my career," he told the publication. "I want to take a break and focus on starting a family and figuring out what I want to do outside of this world."
He added: "I love kids. I can't wait to be a dad—I can wait and I will, but I can't wait! If I'm at a wedding or a party, I'm always at the kids' table hanging out. My dad's been such a great role model for me. I think I've got that from him."
December 2021: Zendaya's new look...and engagement rumors
Everyone instantly fell for Zendaya's auburn hair, which the actress posted on Instagram. Fans were so distracted by her locks that they seemingly forgot to take a look at the massive rock on her left hand.
It seemed as though the glamorous accessory was an engagement ring—especially given Holland's recent statements—but the bling is a yellow diamond Bulgari ring that the actress, an ambassador for the jewelry brand, gifted herself.
But who knows? Perhaps an engagement is in the works!
February 2022: Did Tom Holland and Zendaya buy a house?
We all got very excited after the Mirror reported that Tom and Zendaya had bought a £3 million home in Richmond, South West London.
It was supposedly located a short distance from Holland's roots, Kingston upon Thames, but sadly Tom has now shut down the rumors.
During an appearance on Live with Kelly and Ryan, Tom addressed the reports of his new abode with Zendaya and said: "I've had so many people call me up because apparently, I bought a new house in south London? Which is completely false. I didn't buy a new house. I'm like, 'Wow, what a surprise, I wonder when I'll get the keys'."
At least we get to relive the excitement all over again when the couple really does move in together!
February 2022: So many date nights!
Just as we were starting to really pine for more content of the internet's favorite couple, they treated us to not one but three adorable date night looks, looking as flawless as ever.
They were first snapped looking seriously chic in NYC, walking hand in hand, with Zendaya wearing a black mini dress and Tom wearing a colorful cardigan and showing off his now-viral curls.
The next outing on the 16th of February saw the lovebirds leaving their hotel in New York, looking very sophisticated indeed. Again walking hand in hand, with Tom wearing a grey suit and Zendaya a shirt dress.
Fans so aren't ready for this next one...
On February 17th, Tom and Zendaya attended the New York Rangers game at Madison Square Garden wearing, wait for it...MATCHING JERSEYS WITH EACH OTHER'S NAMES ON THEM! No, we have no chill.
Zendaya was sporting the blue and red jersey with 'Holland' printed across her back and Tom's with 'Zendya'—honestly how cute are these two? They were joined by Tom's younger brother Harry Holland and Zendaya's fellow Euphoria star, Hunter Schafer.
February 28th 2022: Tom Holland being 'First' to Zendaya's Insta
These two just can't stop being the epitome of couple goals. The latest fun relationship development between the Spidey co-stars has got the whole internet swooning.
Taking to Instagram, Zendaya posted a stunning picture of herself from the NAACP Image Awards, wearing a vintage Balmain gown from 1956—prompting Tom to make yet another appearance in her comments section.
Fans of the couple have started routinely checking Zendaya's posts for a sweet word from her boyfriend Tom, and this one did not disappoint.
Tom commented: "First."—meaning he was the first to comment. If you're unfamiliar with why this is a big deal, fans of celebrities usually clamor to be the first one to comment on their posts as soon as they're uploaded. If you manage to do it, it's considered something of an achievement, and hints at you being their number one, and most devoted fan.
Admirers of the couple were completely obsessed with the fact that Tom had picked up on this trend and claimed the number one spot for Zendaya—so sweet!
August 2022: Tom takes a break from social media
If you religiously scroll the comment section of all of Zendaya's latest Insta posts for a reaction from Tom, you've probably noticed that they've been pretty non-existent lately. This has likely filled many fans with panic that the pair have gone their separate ways, but thankfully there's a simple and very relatable reason behind his absence.
Taking to Instagram to share an update and speak on Stem 4 - one of the many charities he sponsors with The Brothers Trust (which you guessed it, he created with his brothers!) the Spiderman star revealed he was taking a break from social media for his mental health.
He said: "I've taken a break from social media for my mental health because I find Instagram and Twitter to be over stimulating, to be overwhelming. I get caught up and I spiral when I read things about me online and ultimately it's very detrimental to my mental state so I decided to take a step back and delete the app."
September 2022: Zendaya's birthday
Despite the pair being understandably private about their relationship, we are occasionally treated to a glimpse of them together. This was true for Zendaya's 26th birthday when the two were spotted celebrating in New York and looking as fashionable and adorable as ever.
September 2022: Zendaya's Emmy win
Just less than two weeks after celebrating her birthday, the actress took how her second 'Outstanding Lead Actress in a Drama Series' award at the Emmys, making history as both the first black woman to win the award twice and the youngest two-time winner ever.
Winning Lead Actress for her role as Rue in Euphoria, Zendaya gave a beautiful acceptance speech and thanked her friends and family, but sadly was not accompanied by her beau Tom.
This is likely due to schedule clashes, as Tom is currently filming The Crowded Room in New York. The pair are also very private about their relationship, so will likely keep red carpet appearances to projects they're working on together—like the fourth Spiderman movie. She did however reveal in her post-win interview that she texted him about her win!
Christina Izzo is the Deputy Editor of My Imperfect Life.
More generally, she is a writer-editor covering food and drink, travel, lifestyle and culture in New York City. She was previously the Features Editor at Rachael Ray In Season and Reveal, as well as the Food & Drink Editor and chief restaurant critic at Time Out New York.
When she's not doing all that, she can probably be found eating cheese somewhere.