Are Tom Holland and Zendaya dating in real life? A relationship timeline
They've fielded rumors for years, but are Tom Holland and Zendaya finally Instagram official? A sweet post points to yes!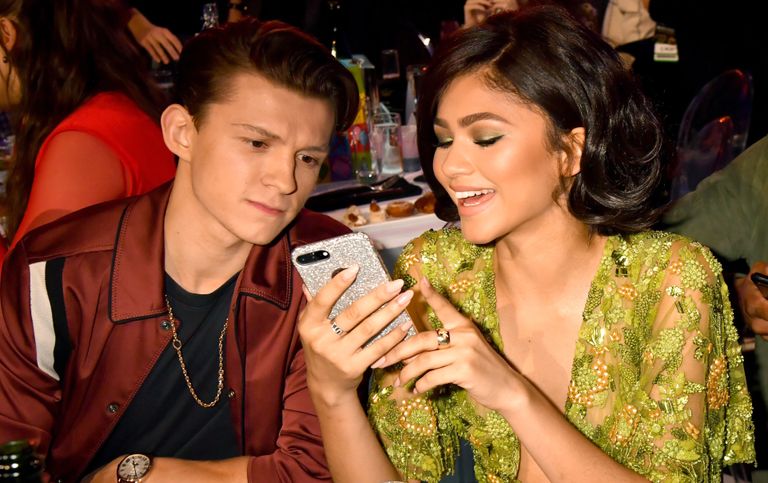 (Image credit: Jeff Kravitz / Getty)
After playing Spider-Man love interests, it looks like co-stars Tom Holland and Zendaya are taking their superhero romance into IRL territory. Life does imitate art, right?!
Rumors about a potential romance between the Peter Parker actor and Michelle "MJ" Jones actress have followed them since 2017 when they first starred opposite each other in Spider-Man: Homecoming. However, the two never copped to it, and at times flat-out denied the rumors, and insisted that they're simply friends.
But Page Six spotted the duo getting plenty friendly with each other when they were photographed together in Los Angeles leaving a meet-up with Zendaya's mom, Claire Stoermer, and having a smooch session in Holland's Audi afterward.
Holland then publicly declared his affection for his Spider-Man co-star on social media. The British actor posted a behind-the-scenes shot of the two of them, Holland in his Spidey gear and Zendaya snuggled up behind him snapping a mirror photo. Holland captioned the sweet post: "My MJ, have the happiest of birthdays. Gimme a call when your [sic] up xxx."
And even more recently, Zendaya has finally spoken about their relationship and the time they spent together working on filming Spider-Man in the UK.
So, are they really dating? Better yet, how did this all start? Let's dive into the Tom Holland and Zendaya relationship timeline, shall we?
---
---
2016: Tom Holland and Zendaya are cast in 'Spider-Man'
The now 25-year-old Zendaya and 25-year-old Holland first met after landing roles in Spider-Man: Homecoming. They made their friendship Instagram official in July 2016, when Holland posted a photo of himself, Zendaya and a friend enjoying some pool time together.
The Euphoria actress threw some social-media love right back at Holland, posting on her Instagram a snap of their shared cover of The Hollywood Reporter with the caption: "Amidst all the chaos and sadness...this one good thing did happen to me today. Honored to share it with the very best...Spider-Man himself @tomholland2013 🙏🏽"
Holland would also post the THR cover with a similarly complimentary caption: "Over the moon with my first cover. So grateful that I got to share it with the one and only @zendaya. Thanks mate for helping me out 👊🏻"
2017: Are Tom Holland and Zendaya dating?
While the twosome was hot on the press tour for Spider-Man: Homecoming—during which Holland and Zendaya were frequently seen together for both professional and personal outings—People published an article allegedly confirming their romance.
"They started seeing each other while they were filming Spider-Man," a source told the mag. "They've been super careful to keep it private and out of the public eye but they've gone on vacations with each other and try and spend as much time as possible with one another."

An insider added: "They're both really ambitious and they challenge each other—but, most importantly, they make each other crack up. They seem to have a really similar sense of humor and love joking around together. They have great banter back and forth."
However, the day that People's report hit the Internet, the duo downplayed their relationship. Zendaya tweeted: "Wait wait...my favorite is when it says we go on vacations together HA! I haven't been on a vacation in years! hbu @TomHolland1996???" Holland replied: "Does the press tour count?"
Wait wait...my favorite is when it says we go on vacations together HA! I haven't been on a vacation in years!😂😭🤣hbu @TomHolland1996 ??? https://t.co/zSkvcfzzTaJuly 13, 2017
See more
Less than a month later, Zendaya further denied the dating rumors in an interview with Variety: "We are friends...He's a great dude. He's literally one of my best friends. This past how many months we've had to do press tours together. There's very few people that will understand what that's like at 20 years old."
However, she did offer up a cute peek into their first meeting, during a chemistry read for Spider-Man. "He says when we first met it was super awkward because he went for a handshake and I went for a hug. But I don't remember that. I thought it was cool," she told the pub. "I was worried because he's so much shorter than me. I was like, 'Damn it! It's going to be weird because I'm super tall.' But then we ended up doing the audition sitting. So that was good."
2018: Tom Holland and Zendaya, Instagram official?
Though both actors maintained their platonic friendship, an Instagram comment made by Kiya Cole, the mother of Zendaya's close friend Skai Jackson, got #Tomdaya shippers up in arms.

A JustJared birthday post for Zendaya in September was captioned with "Zendaya celebrates her birthday in style with friends and family in London. Her #SpiderMan costar and rumored real-life boyfriend Tom Holland was there for the special day!" reported Elle. Cole replied to the post with: "Yes. It's true. They been on the low for a while." The comment was deleted quickly after posting, and Cole later claimed that her account had been hacked and she didn't actually post the comment. Hmm. That seems awfully convenient!
The couple in question pretty much ignored the whole hullabaloo, however, Holland posted his own birthday message to Zendaya with the caption: "Me, myself and the birthday girl. Happy birthday mate - keep killing it and paving the way for the rest of us ♥️"
2019: Zendaya and Jacob Elordi
In June 2019, Holland told Elle that he was not romantically involved with anyone, Zendaya or otherwise, but did say that he's "definitely a relationship person." "I'm not the fleeting type at all; it's not my way of life."
In September, Holland spoke of his co-star in British GQ, saying: "I've been so lucky that I've had friends like Zendaya where I can really kind of confide in them, 'cause they've been through it before."
In that same interview, Holland was asked about paparazzi photos of him out and about with a "mystery blonde" (decidedly not Zendaya) in London's Hyde Park. "If you do a Google search, I'm not a tabloid person. I don't like living in the spotlight. I'm quite good at only being in the spotlight when I need to be. Um, so…uh…it just was a bit of a shock to the system."
That "mystery blonde" would turn out to be Olivia Bolton, a family friend that Holland reportedly dated for nearly a year, splitting in April 2020.
While Holland was cozying up to Bolton, romantic rumors were swirling around Zendaya and her Euphoria costar, Jacob Elordi. A few months after season one premiered, the pair were spotted on vacation in Greece in August 2019 and later traveled to Elordi's native Australia together over Thanksgiving.
2020: Tom Holland and Nadia Parkes
An insider told Us Weekly that Zendaya and Jacob Elordi were official in February 2020, but by September, the actor was seen canoodling with model Kaia Gerber, sparking breakup rumors. COVID-19 lockdown had reportedly kept Elordi in Australia while Zendaya was in Los Angeles, and we all know how hard long-distance relationships are, am I right?
On his end of things, Holland goes public with his girlfriend Nadia Parkes—an English actress who's appeared in TV shows like The Spanish Princess and Doctor Who—in July 2020, posting a caption-less snap of the blonde.
The couple reportedly began dating in May 2020, having been introduced by Joe Jonas and Sophie Turner, and quarantined together with Holland's brother in London during the lockdown. Parkes made several cameos on Holland's Instagram, including shots of the two golfing together.

Though no public announcement about a split with Parkes was ever made, Holland did discuss the art of breaking up with Esquire in March 2021.
"If you were to break up with that person, people will have their own opinions as to why you broke up or whose fault it was," Holland said. "And me being a famous person and having people that love me around the world, if I were to break up with a poor girl, they might think it was her fault. And I wouldn't want that pressure to be on someone because of me."
2021: Tom Holland and Nicki Minaj
No, Tom Holland and Nicki Minaj never actually dated, but don't tell the internet that. For years, a meme has been going around social media jokingly depicting a love triangle between Holland, the "Super Bass" singer, and YouTuber James Charles. (Yeah, we don't understand it either.)
So when Minaj announced this year that she was expecting her first child with husband Kenneth Petty, the web went wild with posts about how Tom Holland was the father of her baby. Holland even commented on the rumors, telling Esquire: "This actually really stressed me out. And then I saw it was Nicki Minaj, and then I realized I've never met Nicki Minaj, so that was a big relief for me. Because I'm not ready to have kids. I'm not even ready to have a dog, properly!"
So don't worry, Zendaya, looks like he is all yours!
October 2021: Zendaya opens up about Tom
In an interview with InStyle, Zendaya spoke about Holland for the first time. She opened up about what she loves about his personality and his work ethic and gave us a glimpse into how they spent their time together while shooting Spider-Man in the UK.
Speaking of him as an actor, she said: "In an actor way, I appreciate that he really loves being Spider-Man, it's a lot of pressure—you take on the role of a superhero wherever you go."
"To the little kid who walks by, you are Spider-Man. I think he handled that so well. And seeing him at work, even though he's not a Virgo, he is a perfectionist."
Moving onto Tom's personality, Zendaya said: "He's a fun time. Very charismatic, can make anybody feel comfortable and have a good laugh and a good chat. A good chat—I sound so British." How cute is that?
She also revealed that Holland got her into Love Island when shooting Spider-Man Far From Home in the UK. She said at first she was against it, but she soon got into it and the two watched it together. If that's not #couplegoals, we don't know what is.
October 2021: 'Dune' promo
Holland took to Instagram to show support for his lady's leading role in Dune, the new sci-fi juggernaut where she stars opposite Timothée Chalamet. Though the caption and photograph were simple, it raked in a casual 9 million likes...and counting.
The black-and-white image is of Zendaya on the red carpet in London, donning a floor-length Rick Owens gown. Naturally, the Internet is in agreement that she looks fabulous, and Holland concurs.
"Dune" he captioned the photo, alongside an emoji with heart eyes. She responded with a teary emoji, clearly overcome with so much love and joy that it made her a bit weepy. As expected, the internet went gaga for this short-but-sweet exchange.
Speaking of Chalamet, the Dune co-stars took "The BFF test" for Buzzfeed on October 20th and when asked if he knew who Zendaya's celebrity crush was, Timothée responded: "Easy, Tom Holland." How sweet!
Well, it looks like there's no denying the romance and chemistry between Tom Holland and Zendaya, right?! We'll just be sitting here patiently waiting for their next flirty and romantic exchange.