'Too Hot to Handle' star Hannah Brooke talks season 5, that iconic Trey moment and where things stand with Isaac now
Hannah Brooke spills to My Imperfect Life about what happened both inside the villa and since she left it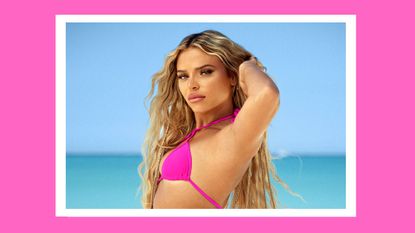 (Image credit: Netflix)
No one worked their charm better on Too Hot to Handle season 5 than Hannah Brooke.
From stealing Louis Russell to catching the eye of love triangle king Isaac Francis, Hannah knows how to steal a man and that's why we had to talk to her and get all the tea on season 5.
Isaac exclusively revealed to My Imperfect Life that he had his eye on Hannah from the beginning of the retreat and while she confirmed the same, she also revealed much more. Hannah disclosed why it was destined not to work with Louis, how that moment with Trey Rogers really went down and where she stands with Isaac now.
Speaking directly to the source, here's our interview with the leopard that always catches its prey, Hannah Brooke.
Hannah Brooke chats 'THTH' with My Imperfect Life
MIL: Hannah! How did you find the experience of doing the show?
HB: Oh, my God, it was so fun. It was literally a beautiful, amazing villa. It was so warm every single day. And when I was leaving, I was in my villa, like, crying because I was gonna miss everyone. It was really sad. I didn't want to leave.
Did anything surprise you about the way the show was set up?
It was funny how we would never be filmed eating together because sometimes on Love Island, they film them making breakfast, getting coffee, all that type of stuff. Ours was very secretive. It was like, 'We're not going to show anyone that they eat.' So I don't know. It was always just really funny. We would always mess around, throwing food at each other like little children.
And how has it been since the show's come out? You mentioned on TikTok that you've received hate comments.
The thing is, I expected to get hate. It's a reality TV show. Obviously, you're gonna get backlash, you're gonna get negativity. I didn't expect it to be this intense. [The TikTok] that was supposed to be a light-hearted joke. Because in the end, everyone is going to have something to say. But it has been hard. A lot of the girls are taking a lot of backlash but after a while, you're just like, 'Okay, it really doesn't matter that much.'
Initially, you were coupled up with Louis. At any point during that relationship did you think you guys would go to the end of the retreat together?
Fifty percent of the time, I was like, 'Me and Louie get along really well. We look cute together, he's so cute, he's super fit and stuff.' And then the other half it was like a maturity level. Obviously, I have my immature moments. Isaac has immature moments. But for me personally, it was difficult to kind of connect with Louis in that way, just some comments that he would make. He has a certain maturity level that other people would vibe with more than me. I honestly didn't see myself with Louis the whole time. I think that where it ended, maybe it could have gone on a little bit farther. But you know, everything happens for a reason and there was no doubt that that was going to end.
You and Louis broke a lot of rules together. Once it was announced that the show was actually Too Hot To Handle, was it a conscious decision to break rules?
For me personally, it wasn't even just about 'Oh, I want to break rules.' It's that I'm a very intimate person. I'm Italian and I kiss people when I meet them. I kissed my parents until I was like 10 years old. It's a form of affection for me and to all of a sudden have to go on something where I don't kiss people, it was just really strange for me. I definitely tried it. I don't know if you guys noticed, but me and Isaac didn't even actually break any rules. We just talked about how much we wanted to. But in the end, I guess it was too many love triangles for Lana to handle.
Before we get on to you and Isaac, we can't do this interview without mentioning that iconic moment with Trey. Were you embarrassed at the time or only while watching it back?
Watching it back. It was a very light-hearted moment. It was meant to be a joke. No one dances like that. But I think the way that it was perceived on the show, it was just very quiet, very serious.
It was the confessionals of him going "Is she ok?"
[Laughs] Right. It's the, 'What the hell is going on?' Watching it back I was like [hides face].
Then you stole Isaac from Yazmin. You mentioned you had eyes on him from the beginning so it wasn't an intentional thing to upset her.
The thing is, me and Isaac had our eyes on each other for a while, not necessarily speaking it and saying it so that it could be understood by everyone. But it was kind of just like something that we both knew. And in the very beginning, I was like, 'Oh my god, him and Courtney are just the ones.' They're a couple and I just didn't want to step in on that because Courtney is my girl. She's been my girl since day one. But when I saw him go for Yazmin, it kind of showed that he was like not really sure about Courtney and was willing to explore something new. So when I saw that I was like, 'Okay, now it's time for me to move in.'
Was it hard seeing the heat that Isaac got from switching beds?
It's very comparable to something where you start dating a new guy, and then all you get to see is all of his exes. So you're like, 'Oh, my God have I made the right decision?' But, you know, it did kind of make me a little angry because I was looking at them and I was like, 'Are you guys being serious right now?' I literally just have the exact same thing happen to me and I sat there. I couldn't understand why no one thought of it the same way that I did when it happened to me.
There was a double standard.
I'm not even kidding. The room when Louis switched into Christine's bed Louie was all just like this [silence]. As soon as Isaac does it, everyone's like, 'Oh my god, how dare you?' I was like, 'Something is not adding up. You guys all need to check, yourself because I love all of you. But you need to put this in perspective.'
So where do you and Isaac stand now?
Isaac and I are really good friends. Out of all the boys, me and Isaac are the closest. To be fair, we did give it a shot after the show. It was just hard because of the distance, we live across the country. We talked for a while. We met up once for an extended amount of time. But then after that, it was the distance and things fizzled out. So now we're just good friends.
And in terms of the girls, who are you closest with? You mentioned Christine and Courtney.
I love Courtney. Elys was my best friend in the retreat. Christine was also like my secret best friend. Since me and her had the same guy, it was confusing for everyone that me and Christine had this girl connection. If it had to be like one of those friend shows where you choose your soulmate, it probably would have been me and Christine. After the show, Christine ended up moving to LA and we hung out every single day.
Is there anything that you wish had been shown on the show that wasn't?
Absolutely. I mean, if you think about it, it's a reality TV show and they have so much footage that they can't put in everything. But I did have a conversation with Courtney, right before I went for Isaac. At the time, I didn't know Yasmin very well. I probably didn't even get to have one conversation with her, not intentionally, but we just didn't get to it. Courtney, however, was my friend. I did sit her down and have a conversation and ask her if it was okay that I went for Isaac, how would she feel about that? So that's definitely something that I wish was portrayed because it was a little tough for me to see that didn't make the cut.
Since coming off the series, you've dissolved your fillers. Did being on the show influence that decision?
When I was on the show, I was all about it. The lips were like my personality. The lips, the big eyelashes, my eyebrows, bleached blonde hair. Since then, I kind of went on a soul-searching journey. I was just like, 'You know what? These lips they gotta go. They're just looking a little crazy.' It took four times to dissolve the lip filler. Got the eyelash extensions off and started taking a more natural look with my hair, getting more brown because I'm naturally a brunette. And yeah, just kind of transformed my whole appearance. So I think that's been the hardest part about watching the show. I know that sounds really materialistic. But it is really hard because filming was a while ago. People look at me sometimes when I'm out and I'm not even recognized. So yeah, it's been a journey.
Another thing people may not know about you is that you're a musician. Is that what you're moving into or do you plan to do more reality TV?
I'm definitely moving a lot more into music right now. I have a lot of music that I'm trying to perfect so that I can put it out. So that's definitely the next step.
So no reality TV?
If it presents itself to me, there's a possibility. But as of now, music.
In terms of the Netflix Reality Universe, have you met other people from other Netflix reality shows?
Oh, yeah. LA is crawling with Netflix people. I've met people from a bunch of shows. It's so weird. I see one Netflix person and they're always with like five other Netflix people. It's a little community
Who's your favorite person that you've met?
I have love for them all in different ways. I love Kayla from season four. I met her and Seb. Kayla is such a sweet soul. She texted Megan with this long thing being like, 'Okay, so here's what happens. If you're ever nervous about this, do this.' A lot of people won't do that because they don't even think about the new seasons. But in the end, it is a really emotional experience. And so Kayla… I was like, 'Thank you. Wow.'
This interview has been edited and condensed for clarity.
Catch Hannah Brooke on Too Hot to Handle season 5 streaming now on Netflix.
Liv is a freelance journalist currently studying English at university. She loves covering everything from entertainment and politics to lifestyle and travel. As well as writing for My Imperfect Life, Liv has bylines in The Times, HuffPost, Den of Geek, Bustle The Metro and The Bookseller.