'Too Hot to Handle' star Isaac Francis talks being the house player, that rule break pact and the big winner of season 5
Isaac Francis riled up the villa this season—here's what the reality star had to say about the whole experience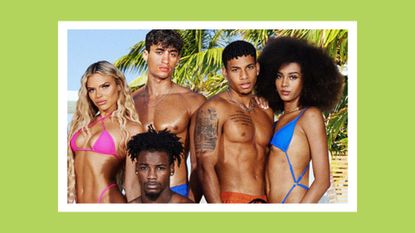 (Image credit: Netflix)
You can't talk about Too Hot to Handle season 5 without talking about Isaac Francis, the love triangle king of the villa.
Last season, we spoke to Creed McKinnon, who Netflix tricked viewers into thinking was the reality dating show's most divisive contestant of all time. But they had us fooled, as the series has now provided us with Isaac from Too Hot to Handle, who's had his head turned more times than we can count.
Fellow ladies' man Louis was competing with Isaac for this season's player but now seems to be settled down with Christine, even if he did get a little handsy with Linzy. So, what was it about the women on the retreat that got Isaac's head turning so fast he almost had whiplash?
To understand the man's reasoning this season and to find out what's next for the reality star (another Netflix show, perhaps?), we spoke to the man himself, Isaac Francis.
Isaac Francis talks 'THTH' with My Imperfect Life
MIL: Isaac! Have you had a chance to watch this season yet?
IF: Oh, yes, I've watched it. I know, a couple of people are a little slow at that, but I'm pretty invested in it.
Is it weird seeing yourself on TV?
Honestly, it's not as weird as I thought it would be. I got used to it after the first episode.
How did you find the experience overall—was it different from what you expected?
The experience was like nothing else. I don't think anyone can fully prepare for a worldwide TV show. But as far as the experience, it was very fun. I love meeting new people and learning about people's different hobbies, the history of their lives and things of that nature. So, yeah, it was overall a fun time.
Did anything surprise you about the show? Obviously, you expected to go on a completely different series.
That was the first thing that surprised me off the bat, that it wasn't the show I was being told I was going on. But other than that, I was just surprised at how organized the show was: all the cameras in the right places, all the producers, everything's on time with what you have to do and the different scenes. It's very organized.
At first, viewers were led to believe your co-star Louis Russell was going to be the player of the season, but then as the season went on, we saw you involved in every love triangle. Did you expect to be involved in so many love triangles?
No, originally, I wasn't sure what was gonna happen. I was just taking everything as it came to me and that's how it worked out. I definitely had fun on the retreat. Maybe could have toned it back a little bit. But overall it was good.
No regrets?
No, I don't have any regrets about the show. I would do the same thing just because in the situations that I was in, I didn't really believe at the time that it was a wrong decision. And then obviously when the show came out, it didn't look too good.
What was it about Yazmin, Courtney and Hannah that attracted you to them? And what was it about Hannah that kept your attention in the end?
I kind of made it clear that I wanted Hannah from the beginning—well, at least to me while I was recording the show. But as far as the girls being interested in me—they're all attractive like everyone on the show is—so you have to sort of find a deeper connection than that. And it's just how you vibe with each other and mostly personality and their opinions on things.
Was it annoying that some people weren't willing to break the rules?
It was a little annoying, but I also didn't plan on being a contestant with the goal of the money in mind. So yeah, it was disappointing to go against the show's rules. As far as other people, they did a lot more than I did. But at the end of the day, I knew I wasn't guaranteed the prize money. As far as trying to work the show for the money, I feel like that would be a little bit disingenuous.
So there was a certain point you were like, 'I'm never going to win the money because it's not my aim.'
Yeah, it didn't really have too bad of an effect on me. But it is a shock factor when you hear $36,000 is gone from your prize pool based on one kiss. No one is not going to react to that.
One of the most iconic things from this series is the rule break pact. Why had no one ever thought of that before?
Originally, it was my idea, but they had Louis start it. But yes, we both were kind of like, 'How are we gonna go about this? I don't want to be the first one to break a rule, so let's do it together and go down together.' It's kind of like a thing you do as a kid, where you don't want to want to get in trouble. But then we come to find out Elys broke the rule before both of us! So we thought that was funny.
Is it moments like that that make you wish you hadn't left the show early?
Oh, yeah. I don't think anyone wants to go home early when they're having such a good experience. But, it made sense watching the show back why that would be the case, especially for the viewers.
Courtney was very vocal about the way you went about things while you were on the retreat, especially with the Yazmin and Hannah situation. Was that hard to deal with at the time?
You don't want to be put in a position where you have to surprise a girl like that. But it happened. At the time of filming, I definitely didn't really think it would have as big of a reaction. But then again, I made the decision. I have to take accountability for that.
Where do you stand with all the girls now?
I'm friends with everyone on the cast. We had no problems, even directly after the show.
Is there anyone you're closest with? Are you still close with Louis?
I'm gonna be meeting Louis in LA tomorrow, or today, whenever he lands. But either Hunter [LoNigro] or Louis, I'm very close with.
Is there anything that wasn't shown during the season that you feel should have been kept in?
A wild memory would probably be me and Louis play-fighting in the bedroom, just wrestling each other. We broke a microphone, actually—it was fun.
Elys ended up winning the show and splitting the money with Dre [Woodard]. Did you expect her to win?
I think Elys made a lot of good decisions, and I think playing the show in a way where you make one bad decision, specifically with Hunter. The way she was put in a position on the show, she had to make that decision and she did. It didn't look good for Hunter, but she grew from it and she ended up with Alex.
How was the transition from when you left the show back into real life?
They call it post-show depression. It's actually similar to post-graduation depression. You know, you're partying all the time, and you're very close to everyone and then you go out in the real world, and you're like, 'Oh, hold on a minute, I don't really know how to work this.' Like I said, there's no manual to being on Too Hot To Handle. You definitely just got to try and work it your best.
What's next for you? Would you go on another reality TV show?
I wouldn't jump to the answer of yes. But I would definitely see what my situation is, how busy I am, and if it's practical for me to take a complete month off because it's not easy. Reality TV isn't for everyone. You have to drop everything and just leave based on a call that you get.
Is there anyone from any other season of THTH that you've really enjoyed hanging out with or you wish was on your season?
I've been hanging out with Nathan [Webb] from season two and Peter [Vigilante] from season two. I've met Kayla [Richart] from season four. There's a whole bunch, but they're all really nice to me and have given me the advice I need. And I really appreciate that.
Like a Too Hot to Handle family.
Yeah, we're almost like one. I forget what they call it, something universe?
Netflix Reality Cinematic Universe?
Yes!
So, are you going to go on Perfect Match?
[Laughs] Hopefully, we'll see!
Catch Isaac Francis on Too Hot to Handle season 5, streaming now on Netflix.
Liv is a freelance journalist currently studying English at university. She loves covering everything from entertainment and politics to lifestyle and travel. As well as writing for My Imperfect Life, Liv has bylines in The Times, HuffPost, Den of Geek, Bustle The Metro and The Bookseller.