'Traveling solo healed my complicated relationship with food'
'I've found joy in food again. I've found joy in myself again. And this time, I know no one can take it away.'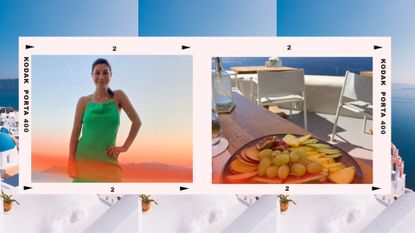 (Image credit: Angelica Malin)
Curious about Solo Travel? We teamed up with Francesca Specter, author of Alonement: How To Be Alone & Absolutely Own It, for a week dedicated to celebrating the joys of Solo Travel. Here, Angelica Malin, award-winning entrepreneur, writer and podcast host, writes about how traveling solo healed her relationship with food...
10 years ago, as a fresh-faced undergraduate at Bristol University, two things happened—I got my first serious boyfriend and I stopped eating.
I'd love to say the two things weren't related, but, sadly, a boyfriend with a penchant for 'skinny girls' will have that effect on an impressionable 19-year-old. And my desire for approval and validation won out over my desire for carbs—I (literally) shrunk myself to fit into the relationship.
Coupled with being far from home and feelings of loneliness during the first year of university, I faded away—avoiding social occasions that centered around food, retreating to my dorm alone and living off a diet of Frappuccinos and Nutri-Grain bars.
Sadly, as many know first-hand, disordered eating is not something that simply goes away.
While I eventually stopped living off Nutri-Grain bars—losing my period for eight months was the shock I needed—I feared my relationship with food was forever tainted. Like so many women, there was a secret war raging inside me, one between me and food. My body was a battleground.
Some disordered habits were hard to break; documenting what I'd eaten every day on my phone notes, constantly weighing myself, making arbitrary food rules for the week ahead on a Monday and feeling guilty by Friday when I'd broken them all.
It was a hellish cycle. But the worst thing was that I felt so ashamed of it, especially as an empowered, independent career woman who was well-versed in 'diet culture', that it had me in a silent stronghold. I simply couldn't talk to anyone about it.
The silence was eventually broken when I confessed to my then-boyfriend after a gorgeous anniversary meal in the Cotswolds—during which I'd constantly fretted about calories—that I felt trapped by my fixation on food and weight.
Telling him felt like such a relief, like taking a huge sigh out. I didn't realize I'd been holding my breath for so many years and finally, I could exhale. I got help. Cognitive Behavioural Therapy (CBT) nudged me towards food peace—I started talking to friends and family and in time, I started to feel better.
But it wasn't until the last two years, ironically during all the stress of Covid and lockdowns, that the real healing really happened.
Newly single, having navigated living alone during lockdowns and the intense isolation of that experience, I made myself a vow when we emerged from the pandemic—that I wouldn't put off waiting to live my life to the fullest.
The pandemic woke us all up. We were free once again, and I wanted to see the world. In February 2022, I published Unattached: Essays on Singlehood, which advocates for single positivity—as an extension of this movement, solo travel was something I wanted to explore for myself.
I'd always been quite shy of the concept; I felt like travel was something you had to do with someone else to fully enjoy it, and the thought of lots of time in my own company daunted me. Would I slip back into negative thinking patterns? Would I feel overwhelmed with the responsibility of feeding and caring for myself?
Well, turns out solo travel is the best thing I ever did—for myself, my body and confidence. There is something so magical that happens when you realize your life can feel totally magical solo. That you're able to live life fully and unapologetically on your own terms.
I started by booking a trip to Santorini—arguably one of the most romantic, loved-up places on earth—and had five glorious days basking in the Greek sunshine, exploring the local tavernas and devouring delicious mezze. I felt so brazen and empowered by the experience, that some nights I would sit down for dinner by the beach, the sound of water lapping at the shore and I would laugh out loud at how perfect it all was.
Something changed in my relationship with food on that trip, too. I realized that somewhere along the way, I had marked food as something that could only be enjoyed when shared—I'd never found much pleasure in cooking for one, and I'd usually want to 'save' my food intake for social eating.
But on that trip, I realized how much pleasure could be taken from a delicious meal by yourself—not only as you can mindfully enjoy your food, but also because feeding yourself delectable things feels like an act of self-love. And a little bit rebellious, and who doesn't love that? I was a defiant woman, tearing my way through fresh pitta bread, high on the freedom of it all.
We all deserve food. Food that's good for the gut, but also for the soul. And treating yourself to delicious food is a signal to yourself that you're worth it. I had started dating myself, and I was hooked.
Perhaps the most daunting part of the trip was booking a six-course Michelin-star dinner for myself. Very often, when we travel solo, we won't splash out on ourselves— grabbing a quick dinner, only having a main course, skipping out on dessert. I don't think it's because we don't want the chocolate fondant (surely everyone always wants a chocolate fondant?), but more that we don't feel like we 'deserve' such experiences solo. That we should wait to enjoy them with a significant other. Or we should save the money, that it's indulgent to spend it on just yourself.
For years, I would grab a Pret dinner if I was hosting an event in the evening, because I felt didn't deserve to sit for a nice dinner alone. You can see where I'm going with this.
Michelin meals solo = ultimate self-love.
Because when we start to truly believe that we deserve all the magical things in life for ourselves and we don't need anyone's permission or company or credit card to enjoy them, then life really starts to open up.
So I took myself for the six-course tasting menu. And sure, I felt a little self-conscious for the first few minutes, but the magic of the food soon started to transport me far away from my worries and by the time the palate-cleansing pear sorbet came, I'd all but forgotten I was on my own. Beyond that, I'd forgotten to worry about the calories in the food I was eating. I'd always known that memories and experiences mattered more than a certain dress size—but it wasn't until solo travel that I really started to embody that belief.
Being a solo diner reconnected me to myself in ways I never anticipated and guided me back, with love, to my appetite. For life, for food, for experiences.
Since then, I've traveled all around the world solo from Costa Rica to Lisbon, Paris and Miami. I've enjoyed local fish tacos in Costa Rica and flaky croissants on pavements cafes in Paris. I've found childlike delight in pistachio ice creams in the Florida sunshine and devouring seafood by the sea. I've wandered around the back streets of Lisbon on the quest for the ultimate Pastel de Nata and enjoyed sushi that was almost a religious experience on the beaches of Boca Raton.
I've found joy in food again. I've found joy in myself again. And this time, I know no one can take it away.
Angelica Malin is Editor-in-Chief of About Time Magazine, one of the UK's leading lifestyle sites. An award-winning entrepreneur & bestselling author of #SheMadeIt, a toolkit for female founders in the digital age + Unattached: Essays on Singlehood, Angelica is a fresh voice for female empowerment in the UK. Featured in Forbes, Real Business, Business Insider & the Times, Angelica is a regular commentator on TV and radio on entrepreneurship, start-ups & women in business. She's featured on LBC, Sky News and TalkRadio as a business expert. Her next book, The PR Bootcamp, will be out in September 2022.