Your weekly horoscope is here: May 22 - May 28
Your weekly horoscope is here—and the winds have shifted...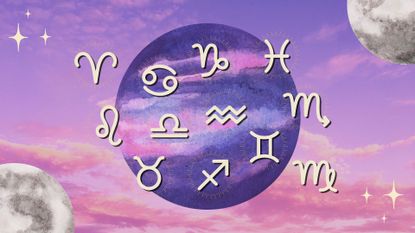 (Image credit: Future)
The winds have shifted! We have now entered a month in which the concept of duality will be incredibly prevalent in almost every aspect of our lives. And finding balance or middle ground will be super-important—here's why!
The sun is now in Gemini, a zodiac sign that floats in the space between two possible realities. In fact, it is in this liminality where this energy thrives! Communication and socializing are also highlighted, so expect the next four weeks to be busy as we all shake off the intensity of the latest eclipse season.
Other planetary players, besides the sun, reflect the need to find a balance between two opposite forces. For starters, as Mars in Leo squares Jupiter in Taurus, we're all bound to feel incredibly ambitious. However, if we behave recklessly, by the end of the week, we could end up in hot water with an authority figure. Follow your bliss, but make sure you're also following rules—and more than anything, your heart!
The world of relationships will also be tricky as lover Venus inspires us to break the mold and open up to new ways of connecting with one another. While being fun and embracing excitement will feel natural (especially on Friday), we must communicate with care so we don't end up saying or doing something that will hurt someone we love.
Read your horoscope below for your rising as well as your sun sign—and don't forget to check your May 2023 horoscope and your 2023 horoscope predictions too!
Meet the expert: Narayana Montúfar
Weekly horoscope: what does this week have in store for you?
Aries weekly horoscope
The sun is now illuminating your communication sector, Aries, instigating you to talk, write, and connect with your tribe. After a few months of being focused on yourself, you will be busy organizing events, running errands, going on short getaways, and socializing. Have fun but do keep an eye on your conversations with your roommates and family. A funky connection involving Chiron in your sign says you could say or do something that hurts someone, so operate with the awareness that people feel sensitive now.
Taurus weekly horoscope
Zip it, Taurus! Something you express this week could be taken out of context and hurt someone you like or love. This energy could be especially active at the beginning of the week and within your close family or roommates, so interact with care and awareness. On the positive side, the sun is now occupying your second house of money, which could translate into you receiving a raise or an offer that pays more than what you expected.
Gemini weekly horoscope
Happy birthday, Gemini! While there are still a lot of cosmic influences calling you to rest and reset, with the sun in your sign, you're feeling more adventurous. This week is a great time to get clear about what you want in your life so you can begin manifesting it. If you dare to think long term, master teacher Saturn and asteroid Juno will help you come up with a plan you can truly commit to and stick to.
Cancer weekly horoscope
There could be trouble in paradise when Venus in your sign clashes with Chiron in your career sector at the beginning of the week. If you don't feel like dealing with the office's hustle this week, Cancer, it might be better to call in sick or take a day off. Remember that taking care of your heart, mind, and body is more important than any type of project or deadline. Over the weekend, treat yourself to a facial or massage—you deserve it!
Leo weekly horoscope
With Mars in your sign, you're feeling ambitious and optimistic, Leo. However, be careful when it comes to acting too impulsively on your desires, as a clash involving Jupiter and Pluto means there could be "hidden information" you don't know yet about. Instead of acting, focus on strategizing. The presence of asteroid Pallas in your sign insinuates your plan is still in early stages, and in only a few weeks, you will be ready to take over the world!
Virgo weekly horoscope
For you, Virgo, Gemini season is always a time to chase ambitious life goals that can help you succeed and make an impact. What would you like to achieve in the next four weeks? This week, focusing on answering this question will help you figure out the project you should be investing time and energy, and which ones are less important. Once you're fully informed, asteroid Juno will help you stay committed so you can come out a winner!
Libra weekly horoscope
This could be an intense week, Libra, but it can also be very healing if you manage things right. A conversation between two colleagues or business partners could go sideways at the beginning of the week, perhaps leaving someone in a negative mindset. Unfortunately, this is one of those times in which "clearing the air" might be necessary, and with your amazing diplomatic skills, you could be the one bringing order to the madness. This might be your time to shine!
Scorpio weekly horoscope
For you, Scorpio, Gemini season is the time of the year in which you crave more intimacy within your closest bonds. And since the area of relationships is where you will grow the most not only in this but the next few months, it's crucial to get clear about your needs, non-negotiables, and even fears around this topic. Remember: it's time to abandon the old ways of relating in favor of embracing more authentic ways of communicating with the people you love.
Sagittarius weekly horoscope
Dare to say yes, Sagittarius! Asteroid Juno—the cosmic ruler of commitments—is now gracing your partnership sector. If you've been dating someone for a while, you could take it to the next level and call it "us" at some point in the next few weeks. This combination of energies could also translate into either a business partnership or solidifying a collaboration that could be fruitful and present in your life for some time to come.
Capricorn weekly horoscope
Relationship drama could be in your stars, Capricorn. If you're in a serious relationship or need to have an important conversation with a friend, make sure to communicate with care and awareness, especially at the beginning of the week. On another note, you can have a productive month with the sun now illuminating your work sector. The next four weeks are also a fabulous time to implement any wellness practices and habits that can create a better life/work balance.
Aquarius weekly horoscope
This could be an intense week, Aquarius, as three planets clash and make you feel pulled in many different directions. If you find yourself at a crossroads and need to make a decision, make sure to put your private life first. Then, over the next month, the sun in Gemini invites you to focus more on socializing, having fun, and perhaps going on a date or two if you're single and interested in connecting with someone romantically.
Pisces weekly horoscope
Conversations around money, value, or self-worth could take place with a close friend or family member. While that might be a hard exchange to have, remember to be completely honest about the way you feel, sweet Pisces, as this could translate into feeling completely comfortable in your current environment. In fact, the next four weeks are ideal to invest time, money, and effort in making your home feel like your version of heaven on Earth.
Narayana Montúfar is an astrologer, artist, writer, and energy healer who finds inspiration in the symbolic language of astrology. She is an expert in the astrological studies of the Moon and the author of Moon Signs: Unlock Your Inner Luminary Power. She was featured as one of Medium.com's Authority Magazine 2020's Strong Female Leaders, Destig Magazine's Top Artists to Collect in 2020, and one of Vogue's 13 Astrologers to Follow in 2021.
Narayana currently serves as the Senior Astrologer of Astrology.com, is the Resident Astrologer for House of Intuition LA, and writes for My Imperfect Life, Cosmopolitan US and Wit & Delight. You can also find her astrological work featured in numerous lifestyle publications like Teen Vogue, Refinery29, InStyle, Brit+Co, Bustle, Pop Sugar, Well + Good, Women's Health, Romper, and more. In her private astrology practice, Narayana's holistic approach seeks to create a positive impact by connecting each one of her clients to the uniqueness of their chart and illuminate their path towards the ultimate state of self-empowerment and self-discovery.