What is Blackfishing? The Jesy Nelson, Nicki Minaj and Little Mix drama explained
Nicki & Jesy's Instagram liveis the talk of social media right. Here's why...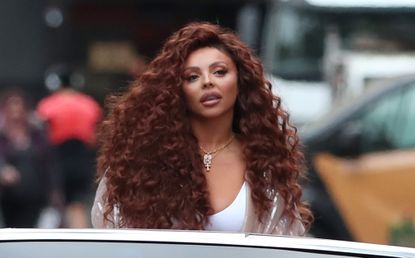 (Image credit: Photo by Neil Mockford/GC Images)
When Jesy Nelson announced that she was leaving Little Mix in December 2020, after almost ten years in the group, fans around the world were devastated. So were bandmates Leigh-Anne Pinnock, Jade Thirlwall and Perrie Edwards, though they supported Jesy's decision and all seemed well between the girls. That is, until now.
You'll know by now that Jesy released her debut solo single 'Boyz' last week, a sample of Diddy's anthem 'Bad Boys' featuring Nicki Minaj and a cameo from the man himself in the music video. The song immediately became a trending topic on social media, with many accusing Jesy of 'Blackfishing' and cultural appropriation. Things then escalated when Nicki Minaj chimed in to defend Jesy and the two went on Instagram Live, leaving a sour taste in the mouths of many as Jesy's comments not only added fuel to the fire but Nicki threw some major shade at Little Mix's Leigh-Anne.
To keep you up to speed, we've broken down the drama. But first, you'll need a clear understanding of what Blackfishing is...
---
---
What is Blackfishing?
Blackfishing is a term used to describe non-Black individuals who use things like hairstyles, makeup and tanning to alter their appearance to look as though they have Black or mixed-race heritage, while also taking on specific characteristics associated with a Black person's phenotype, often for profit or commercial gain.
It is something many Instagram influencers have been accused of over the years and a topic that is often discussed and debated on social media as this is where it often takes place.
This isn't the first time Jesy has been accused of Blackfishing. Back in 2018, she faced backlash for wearing dreadlocks, and one fan's extensive Twitter thread on the situation, it is something many of her followers have tried to "politely" inform Jesy about for years.
Little Mix fans have been organising online campaigns to try and (politely) inform Jesy about blackfishing for years.However, fans were never able to reach her because she limits her use of social media due to trolling.But this all seemed to change in October 2020… pic.twitter.com/6OuaZrrwovOctober 11, 2021
See more
The image of Jesy with the dreadlocks, and many other photos of her both during her time in Little Mix and after leaving the group have been shared on social media to show examples of moments in which people feel she was 'Blackfishing', most recently in her new music video for "Boyz".
Jesy Nelson's solo debut #Boyz is cute and the video was a fun 00s throwback. But it's 4 minutes of blatant cultural appropriation:- The Blackfishing- Lowriders and bikes- Gold teeth- The Blackfishing- The aesthetic- The hair- The lollipops- THE BLACKFISHING😩😩😩 pic.twitter.com/YtZ3qzRxZyOctober 8, 2021
See more
That whole 'boyz' video was soooo uncomfortable. At this point jesy nelson is blackfishing so hard. Yeah ain't about it at all.October 8, 2021
See more
A fan leaks fake DMs from Leigh-Anne
As the tweets were making the rounds and both Little Mix fans and the Barbs were going back and forth, others raised real concern about the growing issue of Blackfishing.
In the midst of the drama, Birmingham-based influencer @nohun_ claimed to have proof that the Little Mix girls were unhappy with Jesy's release and that she didn't leave the group amicably after all. Sharing screenshots of a direct message conversation with an account appearing to be Leigh-Anne Pinnock's Instagram but is since believed to be a fake account (there's no verified tick or purple stories circle around her profile picture), the so-called 'proof' shows the pop star allegedly calling Jesy a "horrible person" and explaining that Jesy blocked all of her ex-bandmates when she left the group.
However, fans aren't convinced the DMs are real and there's also a whole Twitter thread explaining why they're not...
And if these voice clips we're real , how are the all the same time and the same exact pitch? And you mean to tell me he sent 3 voice clips and all Leigh replied to were the messages on top? He needs a hobby pic.twitter.com/2OHMhOyj6FOctober 12, 2021
See more
Jesy addresses 'Blackfishing' comments
In an interview with Vulture that took place before Jesy's single was released, she addressed Blackfishing accusations, telling the publication: "The whole time I was in Little Mix I never got any of that. And then I came out of [the band] and people all of a sudden were saying it.
"I wasn't on social media around that time, so I let my team [deal with it], because that was when I'd just left.
"But I mean, like, I love Black culture. I love Black music. That's all I know; it's what I grew up on. I'm very aware that I'm a white British woman; I've never said that I wasn't."
She was then asked if she felt she had changed the way she addresses or acts over the years, to which she responded: "Not at all. I'm just 100 percent being myself.
"If you look at me on X Factor with my big curly hair, I was wearing trainers and combats — that's who I am as an artist and as Jesy. Now I'm out of Little Mix, I've gone back to being who I am.
"Like I said, I don't ever want to be an artist who's being told what to wear or what music to make. I want to be authentic and true to myself, and if people don't like that, don't be my fan. Don't be a part of my journey."
Jesy and Nicki Minaj do an Instagram Live
On Monday night, Jesy and Nicki went live on Instagram together to address the drama. However, things took a weird turn when Jesy attempted to justify herself by claiming she was naturally tanned in the music video as she had been on holiday in Antigua, before claiming that ex-bandmate Leigh-Anne used to think she had Black heritage because she tanned so strongly—a comment that rubbed many people up the wrong way.
She also addressed the Blackfishing accusations once again, saying: "I personally want to say that my intention was never, ever to offend people of color with this video and my song because like I said, growing up as a young girl, this is the music that I listened to," she said.
"These are the videos that I watched and thought were the best. For me personally, '90s/2000 hip hop, R&B music was the best era of music.
"My intention was never, ever, ever want to offend anyone and genuinely it actually does really hurt me that I may have offended people and actually, like, hurt people's feelings just by genuinely celebrating something that I love."
She later added: "It's just hard for me because I was in a group with two women of color for nine years and it was never brought up to me up until the last music video I did with them."
Jesy Nelson says her tan in the #Boyz video was natural following a vacation in Antigua and that it was never "my intention to offend anyone… It hurts me that I may have offended people or hurt people's feelings by genuinely celebrating something I love" pic.twitter.com/ijHjyl1msZOctober 11, 2021
See more
Things then took a turn for the worst when Nicki decided to comment on the fake DM conversation between @nohun_ and Leigh-Anne. Speaking live on Instagram in reference to Leigh-Anne, she said: "If I was rocking with you for 10 years and there was something so horrible about you… and then as soon as we part ways I was like texting [people about] you… Immediately that person has to wear a big red clown nose and clown boots.
"When people part ways go about your fucking business…. Whether you brought it up behind closed doors whatever, you are a fucking clown."
Later, she added: "What we won't have is someone texting and telling influencers to talk badly about this girl, I know singers that tan a lot. It's their fucking business, it's their fucking right. It's different when someone comes out and pretends to be Black.
"Sweetheart, take them messages and shove them up your ass. Don't come out to try and ruin anyone, let her enjoy this time."
"It screams insecurity," Nicki added. "It screams that you're jealous. And now you just look like a big, jealous Bozo."
Meanwhile, Jesy did not comment directly but seemed to agree with Nicki as she giggled at several of her points, before telling her: "Thank you babe, honestly that means a lot."
Nicki Minaj addresses Little Mix's Leigh-Anne after leaked screenshots allegedly show her criticizing Jesy Nelson for "Blackfishing":"If you want a solo career baby just say that… If that's how you felt, why were you kiki'ing with her & being in videos with her for 10 years…" pic.twitter.com/uyyLezu0SJOctober 11, 2021
See more
Neither Leigh-Anne nor her bandmates Jade and Perrie have made any comments on the matter yet. However, Little Mix fans have been urging others to show kindness towards Leigh-Anne following Nicki's comments.
The girls have been open about not having been in contact with Jesy since she departed the group, though both parties have always insisted that they left things on good terms. But something tells us there's more to the story, and so does this Twitter thread...
The TRUTH about Jesy Nelson leaving Little Mix: A timeline, receipts, and addressing THOSE controversies (THREAD) pic.twitter.com/rrZkoKAnrcOctober 11, 2021
See more
Yikes!
So, what now?
As mentioned, Little Mix have not commented on the situation and it's unlikely they will. Not only are Leigh-Anne and Perrie busy with their newborn babies but the group is preparing for the release of their latest album, a greatest hits collection, out next month.
Sagal is a journalist, specialising in lifestyle, pop culture, fashion and beauty. She has written for a number of publications including Vogue, Glamour, Stylist, Evening Standard, Bustle, You Magazine, Dazed and Wonderland to name a few.