The big 'Vanderpump Rules' secret revealed: what Raquel admitted during that shocking reunion interview
We finally found out what that 'Vanderpump Rules' secret is during the final part of the reunion. How will Tom Sandoval react to Raquel's shocking revelation?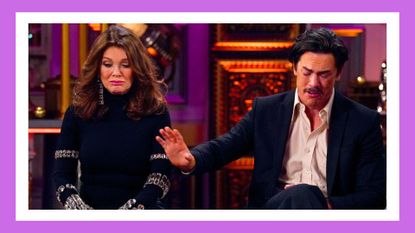 (Image credit: Bravo)
As if #Scandoval wasn't groundbreaking enough, a Vanderpump Rules secret threatens to divide the entire cast to its core. But what is it, exactly?
We had questioned, "Is Raquel pregnant?" ahead of the three-part Vanderpump Rules reunion (which airs its third and final edition on Wednesday, June 7), but now that the rumor has been squashed—seemingly like Tom Sandoval's hopes for redemption amongst his peers and viewers—we're just as confused as we were pre-pregnancy speculation. Truth be told, even the biggest Bravoholics are a bit stumped as to what the much-hyped reunion revelation could possibly be.
Now, thanks to that shocking sitdown with Raquel Leviss, that Vanderpump Rules secret has been revealed. Here's everything you need to know.
That big 'Vanderpump Rules' secret revealed:
Fans were finally let in on that much-touted Vanderpump Rules secret during the final five minutes of the third part of the reunion. (Wondering how to watch the Vanderpump Rules reunion after the fact? We've got the intel.)
Everyone was bracing themselves for the over-the-top catchup, especially upon hearing rumors that a game-changing revelation about Tom Sandoval and Raquel Leviss' affair would drop during one of the one-on-one sitdowns with a major player in the Scandoval drama: either Tom, Raquel and Ariana. In fact, the confession was reportedly so earth-shaking that there were rumors that future filming on Pump Rules would be delayed until everyone in the cast heard the news when the final part of the reunion aired.
"The reunion is not just a recap of what you know, and it's not just an intense version of the emotions," the show's executive producer, Alex Baskin, told Variety: "I will put it this way: There are revelations, and they are revelations that not all of them know now. So we need a little space."
One of the biggest fan theories swirling around was the Raquel pregnancy rumor. But while the revelation did come straight from Raquel, it did not involve a pregnancy announcement. Instead, it was fresh intel on the exact timeline of when her affair with Tom started.
Six days after the reunion was filmed, Raquel sat down with producers for her final interview of the season. The reality star started: "I think it's important for me to tell the truth. I think that I've been lying and being so deceitful this entire time that I don't want to lie anymore and it's all out there anyway, the worst is out there, but I'm still having to lie about specific timeline things."
"You did maintain some untruths, some lies at the reunion..." a producer said offscreen.
"He feels like it would be less hurtful to say that, you know, this wasn't going on for long," Raquel said, referring to Sandoval. (The duo has since split since the infidelity went public.)
"The second time [we slept together], it was actually during Mexico," Raquel revealed, referring to when the cast was in Canun for Scheana Shay's wedding. "I was like, 'We can't see each other, this isn't gonna be a thing,' but then that first night in Cancun, he was like drunk and trying to find his room and I heard him talking in the hallway and there was somebody working there and he was asking which direction the elevator was and I was just like, 'Wait come inside.' That was the second time that we were physical and intimate with each other."
When asked if she and Tom had sex multiple times in Mexico, during a vacation that Ariana was also in attendance for, Raquel responded: "Yeah...I don't remember how often it would happen but it definitely like picked up some more after we wrapped filming"
The production team also asked her if she went to visit Tom's hometown of St. Louis with him, which she denied. "So you've never been to St. Louis?" the producer asked before they showed a picture of the adulterous pair in that very city on December 29, 2022. "I can't recall," she initially said, before breaking down with the truth: "It fricking happened. I definitely felt really guilty. A huge part of me wanted to tell [Ariana], like, it ate me alive not to tell her."
She also revealed that she initially suggested that she and Tom continue their relationship as a "throuple" with Ariana: "I was like, 'What would Ariana think about having me as an addition?' and he was like 'No, no, no, she would not be into that'...I love Ariana as a person and then I'm also like in love with Tom Sandoval so it didn't seem that far-fetched of an idea but it wasn't in question. God, he's gonna kill me."
"He's asked me to not disclose all this information. Especially now with like being so isolated, I feel like Tom is the one person that I do have and so if I just went and betrayed him, then I'd really have nobody," Raquel worried.
Getting more visibly emotional, she ended the sit-down by saying: "It's the one story that we've agreed on getting straight and I know that the reason why Tom wanted to lie about it is it's a really bad look to hook up with someone's boyfriend in their own house when they've gone out of town, especially for like a funeral of all things," suggesting that she and Sandoval were intimate while Ariana was at her grandmother's funeral in Florida in September 2022.
"This has f***ing killed my soul, like, I am so sick of lying. I hate it. I hate being deceitful. It's horrible," Raquel added, sobbing.
Will this reveal completely change the trajectory of the show, and does this mean we should count Vanderpump Rules season 11 as a no-go?
Bravo will air a "Secrets Revealed" episode with even more behind-the-affair drama, on Wednesday, June 14 at 9pm ET.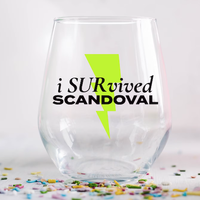 I SURvived Scandoval Wine Glass
RRP: $12 | Etsy
Pour a Pumptini into one of these handmade Scandoval-decorated wine glasses. Holds 20.5 fluid oz.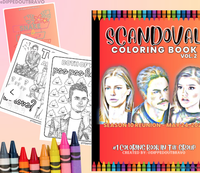 VOL. 2 - Vanderpump Rules COLORING BOOK
RRP: $6.99 | Etsy
When tensions flair on TV's favorite show, color your way to calm with these 12 downloadable 8.5" x 11" prints from DippedOutBravo. They include memorable moments from Vanderpump Rules season 10, specifically the reunion.
Christina Izzo is the Deputy Editor of My Imperfect Life.
More generally, she is a writer-editor covering food and drink, travel, lifestyle and culture in New York City. She was previously the Features Editor at Rachael Ray In Season and Reveal, as well as the Food & Drink Editor and chief restaurant critic at Time Out New York.
When she's not doing all that, she can probably be found eating cheese somewhere.