Everything leaving Netflix in September 2022
Want to know what's leaving Netflix US & UK in September 2022? It might upset you so consider this a warning...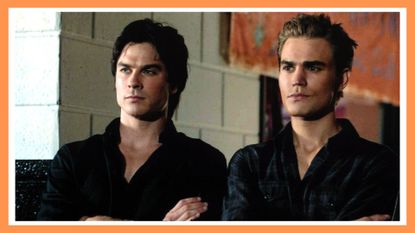 (Image credit: AJ Pics / Alamy Stock Photo)
Wonder what's leaving Netflix this month? We hate to see it but every now and then, the streaming service decides to get rid of some of its content before introducing a new batch of TV series, movies, and documentaries for us to enjoy (and so we can look forward to all that's coming to Netflix). But why?
Well, Netflix licenses its content from third-party providers and that license only lasts for a limited amount of time which is why they have to get rid of content as soon as its expiration date is up.
Sure, it all makes sense but that doesn't mean we have to like it, especially when we have to kiss goodbye to some of our favorite movies. This month, the US version of the platform will be parting ways with all eight seasons of The Vampire Diaries, all five seasons of Gotham as well as comedic favorites like Mean Girls, Dumb and Dumber and Old School. Meanwhile, the UK version of the streamer will be kissing goodbye to popular flicks like Legally Blonde, Jerry Maguire, The Notebook and Gone Girl.
But rest assured, we still have the likes of the much-anticipated Marilyn Monroe movie, Blonde, starring Ana de Armas; Love is Blind: After the Altar season 2; and plenty of movies to keep up busy this month.
Here's the full list of everything leaving Netflix this September...
Everything leaving Netflix US in September 2022
September 1
Quantico (seasons 1-3)
September 2
Freaks
September 3
The Vampire Diaries (seasons 1-8)
September 9
Nightcrawler
September 10
How to Train Your Dragon 2
September 12
Offspring (seasons 1-7)
September 14
Saved by the Bell (seasons 1-6)
Saved by the Bell: Hawaiian Style
Saved by the Bell: The College Years
Saved by the Bell: Wedding in Las Vegas
September 17
Skylines
September 18
Dark Skies
Dark Matter (seasons 1-3)
September 25
Blade Runner 2049
Blade Runner: The Final Cut
September 29
Gotham (seasons 1-5)
September 30
3 Ninjas: Kick Back
Argo
Boogie Nights
Catch Me If You Can
The Cave
Constantine
Dirty Harry
Dumb and Dumber
Full Metal Jacket
I Am Legend
Insidious
Made of Honor
Mean Girls
My Babysitter's a Vampire (seasons 1-2)
Old School
The Perfect Storm
The Rite
Seven
The Sweetest Thing
Taxi Driver
The Talented Mr. Ripley
Everything leaving Netflix UK in September 2022
September 1
Aakhri Adaalat (1988)
Alive (1993)
All at Sea (2010)
Anaconda (1997)
Angels & Demons (2009)
Armored (2009)
The Bang Bang Club (2010)
Bethany Hamilton: Unstoppable (2019)
Blow (2001)
The Boy in the Striped Pyjamas (2008)
Carbon (2018)
Cemetary Junction (2010)
Chadi Jawani Budhe Nu (1976)
Chicago Fire (Four series)
Chicago Me (Four series)
The Conjuring (2013)
Cujo (1983)
Deliver Us from Evil (2014)
The Distinguished Citizen (2016)
The Dream Catchers (2009)
Ek Jaan Hain Hum (1983)
Elena (2012)
The Englishman Who Went Up a Hill but Came Down a Mountain (1995)
The Equalizer (2014)
Exit Wounds (2001)
Gone Girl (2014)
The Great Raid (2005)
The Guardian Brothers (2016)
The Guns of Navarone (1961)
Harold & Kumar Escape from Guantanamo Bay (2008)
Heidi (One series)
Her (2013)
Hollywood Homicide (2003)
Homefront (2013)
The Hustle (2019)
In Time (2011)
Insidious: Chapter 3 (2015)
The Internship (2013)
The Iron Giant (1999)
Jerry Maguire (1996)
Just Go With It (2011)
Justice in the City (2012)
Khoon Khoon (1973)
The Last Shaman (2016)
Legally Blonde (2001)
Legally Blonde 2: Red, White & Blonde (2003)
The Legend of Hercules (2014)
The Lost Brother (2017)
Love and Shukla (2017)
Manoranjan (1974)
Monte Carlo (2011)
Mujrim (1989)
My Summer Prince (2016)
Naa Bangaaru Talli (2013)
The Notebook (2004)
Old School (2003)
Olmo & the Seagull (2014)
Once Upon a Time in America (1984)
Petit Ours Brun (One series)
Rocco (2016)
Rush Hour (1998)
Rush Hour 2 (2001)
Set Up (2011)
The Smurfs 2 (2013)
Snatch (2000)
Sohni Mahiwai (1984)
Something's Gotta Give (2003)
Space Dandy (Two series)
Starsky & Hutch (2004)
Sudden (2013)
That's My Boy (2012)
They've Gotta Have Us (2018)
Three Days of the Condor (1975)
Todo Sobre El Asado (2016)
War Dogs (2016)
Zodiac (2007)

September 2
Baxu and the Giants (2019)
Black Books (Three series)
Double Jeopardy (1999)
Justice (2017)
Monkey Twins (One series)
Poacher (2018)
Uncover (2019)

September 4
A Champion Heart (2018)
Enemy Lines (2020)
Staged (Series One)
The Lost Okoroshi (2019)

September 5
Malcolm X (1992)
The Dawn Wall (2017)

September 6
All About Love (2017)
Danger Close: The Battle of Long Tan (2019)
The Informer (2019)

September 8
Apaches (2016)
The Handmaiden (2016)
Warrior (2011)

September 9
L.A.'s Finest (Series Two)
Paranormal Activity 4 (2012)

September 11
Hail, Caesar! (2016)

September 13
Baby Mamas (2018)
It Chapter Two (2019)

September 15
A Nice Girl Like You (2020)
Fall of the Krays (2016)
Jump (2009)
Man on Fire (2004)
Northmen – A Viking Saga (2014)
Rise of the Footsoldier 3: The Pat Tate Story (2017)
Rise of the Krays (2015)
Robert the Bruce (2019)
Robot Overlords (2014)
Sample This (2012)
Schumacher (2021)
Stardust (2007)
The Hunt for Red October (1990)
The Revenant (2015)
U Want Me 2 Kill Him? (2013)

September 16
A Cinderella Story (2004)
Along Came a Spider (2001)
Misfits (Series One to 5)

September 17
Ad Vitam (Series One)

September 18
Body Cam (2020)
Diamond City (2019)
Skylines (2020)
The Witch (2015)

September 19
Papillon (2017)

September 20
Corporate Animals (2019)
Mobile Suit Gundam UC (2014)

September 23
Under the Eiffel Tower (2018)

September 24
The Bar (2017)
VeggieTales in the House (2016)

September 25
Zulu Man in Japan (2019)

September 26
Man of Steel (2013)
The Emoji Movie (2017)

September 27
The Kitchen (2019)

September 28
Cultivating the Seas: History and Future of the Full-Cycle Cultured Kindai Tuna (2019)
Christina Izzo is the Deputy Editor of My Imperfect Life.
More generally, she is a writer-editor covering food and drink, travel, lifestyle and culture in New York City. She was previously the Features Editor at Rachael Ray In Season and Reveal, as well as the Food & Drink Editor and chief restaurant critic at Time Out New York.
When she's not doing all that, she can probably be found eating cheese somewhere.
With contributions from