Where was 'Love is Blind' season 4 filmed? All the location information you need to know
Curious about where was 'Love is Blind' season 4 filmed? Good news: you can stay at that swanky Mexican resort yourself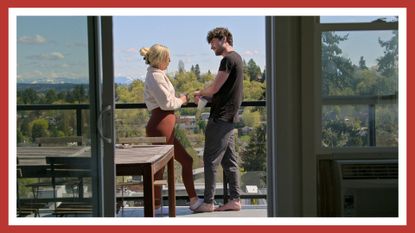 (Image credit: Netflix)
Sure, the pods are one thing, but where was Love is Blind season 4 when those daters finally had the opportunity to step off a sound stage and set eyes on one another?
Like previous seasons, Love is Blind season 4 begins with a group of singles going on "blind" dates from behind partitions, so their connection is based on personality alone. Only when a love connection is formed and the duo becomes engaged can the Love is Blind couples see each other in person, both at a luxe tropical vacation and back in their hometown.
So where were those Love Is Blind season 4 episodes filmed? From this season's city setting to the five-star Mexican resort where some of the Love is Blind season 4 couples got romantic (and others broke up), here's your filming guide for the show's fourth season.
Where was 'Love is Blind' season 4 filmed?
Though the pod portion of Love is Blind season 4 was reportedly filmed on sound stages at LA North Studios in Santa Clarita, California, the main filming location of the fourth season was Seattle, Washington, with all of the daters this season being locals of the Emerald City. (For comparison, season one of Love Is Blind was filmed in Atlanta, Georgia; season two in Chicago, Illinois; and season three in Dallas, Texas.)
As for why producers chose to set each season in one specific season, Love is Blind's creator and executive producer, Chris Coelen, told Variety: "We wanted people to all be living, currently in the same place. It's too difficult if you're from Tampa and they're from Portland, that just throws another wrench in. We wanted to give them a real shot at making their love and their marriage working."
Funnily enough, some of the season 4 Love is Blind cast members even blamed their Pacific Northwest hometowns for their romance woes. "There's a very unique culture here, at least, like, the social-cultural dynamic is pretty different from where I'm from down in the South," dater Paul Peden told The Seattle Times. "In Louisiana, people are very open and warm. I think that can contribute … if you're, say, a transplant from another area trying to date Seattleites, you just don't quite match."
Trs Yucatan: all about the 'Love is Blind' season 4 hotel
Each season, the newly-engaged Love is Blind daters leave the pods and take a Mexican "honeymoon" to better get to know each other face-to-face. This season, they headed to the TRS Yucatan, a five-star luxury resort located on the Riviera Maya coastline.
The adult-only, all-inclusive property boasts couple-ready romantic bungalows, private poolside suites, a waterfront infinity pool, a spacious spa and wellness center, aqua excursions and more. Rooms for two start at $700-plus per night.
What is the 'Love Is Blind' wedding venue?
Our season 4 couples—well, almost all of our season 4 couples—said "I do" at North Fork Farms in Snoqualmie, Washington. The rustic 10-acre property sits on a verdant piece of land a few miles from the famous Snoqualmie Falls.
Venue director Cheyenne Littlejohn-Fay told NBC King 5, "I think one of the first things they (Love Is Blind) said when they came out is, 'When we think of Seattle this is what we think of. We think of the mountains and the green. This is it.'"
Originally, when the Love Is Blind crew had reached out about the location, she had thought it was a scam...until they came for a tour of the property.
Where is the 'Love is Blind' season 5 location?
Yes, a fifth season of Love is Blind is already in the works!
According to a post from Kinetic Content Casting, Love Is Blind is currently on the hunt for hopeful romantics in three cities: Washington, D.C., St. Paul, Minnesota, and Denver, Colorado. The ad calls for all "single men and women who are brave, open-minded, and ready for a committed relationship." (If you're thinking about giving the pods a shot, here's what you need to know about the Love Is Blind casting!)
Back in 2020, Coelen told Variety that the reality dating show would eventually expand from domestic destinations to more far-flung settings. (A Brazilian adaptation premiered on October 6, 2021, with a Japanese spin-off following on February 8, 2022.)
"Look, the idea is that ultimately we're going to do this in other countries—it's very global. There's lots of places that that we could take it," Coelen said to the outlet. "Chicago is a great place to look at, so is New York, Boston, Houston. There's so many different places that we could go. And like I said, outside of the country as well."
Catch the Love Is Blind season 4 reunion—the first live event of the series—on Sunday, April 16 at 8pm ET/5pm PT on Netflix.
Christina Izzo is the Deputy Editor of My Imperfect Life.
More generally, she is a writer-editor covering food and drink, travel, lifestyle and culture in New York City. She was previously the Features Editor at Rachael Ray In Season and Reveal, as well as the Food & Drink Editor and chief restaurant critic at Time Out New York.
When she's not doing all that, she can probably be found eating cheese somewhere.
With contributions from