Who are the 'Love is Blind' couples? The season 2 daters from the Netflix hit
Did these 'Love is Blind' couples make it down the aisle to say "I do"?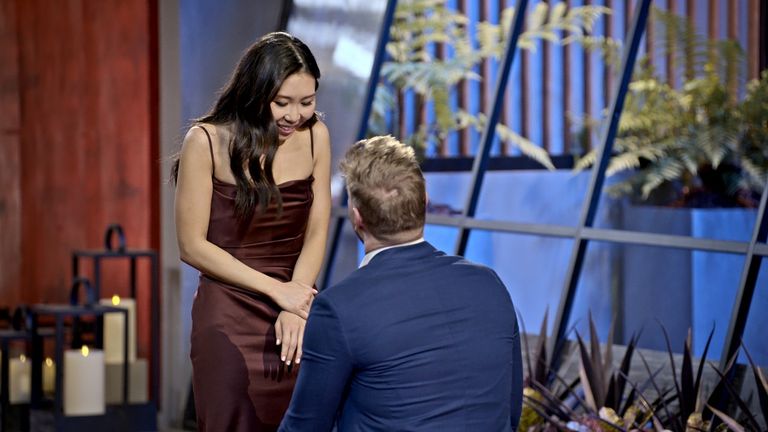 (Image credit: Netflix)
Netflix's Love Is Blind returned for season two on February 11, and it's safe to say that is was every bit as dramatic season one. (We know, we wouldn't have thought it possible!)
The show, which sees 30 singletons enter dating pods in the hope of falling in love without ever seeing their new partners in person, released its first five episodes on Friday, February 11, and dropped Love is Blind season 2 part 2 a week later on February 18. The grand finale, AKA the weddings, aired on February 25.
With the show now based in Chicago, Illinois (season one was set in Atlanta, Georgia), viewers were introduced to a whole new batch of daters putting Netflix's romantic social experiment to the test. Over four weeks two singletons go from meeting each other to becoming fiancés—we saw the pairs go on their first vacation, move in together and meet each other's families. And at the end of it, they all had their weddings—but of course, we now know, not all of them said 'I do'...
But which of the couples actually made it to the altar, and what are they doing now?
Here's everything you need to know about the Love Is Blind season 2 couples, including which of them are still together now the series is over...
*Warning: Season two spoilers ahead!*
---
---
The 'Love is Blind' couples from season 2:
1. Danielle Ruhl and Nick Thompson
Danielle and Nick were the first couple to get engaged this season. Their chemistry was pretty instant as Danielle opened up about her insecurities, which stemmed from her being overweight when she was younger.
After Nick proposed and they finally met in person (which was a super cute moment, as Nick revealed his dog was now "their dog"), things did not stay on a high for the couple. If anything, things kind of took a bumpy turn.
On their first vacation together in Mexico, Danielle caught a stomach bug that saw her spend the first few days of their holiday on the bathroom floor, which is definitely a sure way to check if your future partner will look after you in sickness and in health. Safe to say Nick was very supportive.
However, went downhill for the couple when Nick had to attend the show's gathering with all the other couples on the show without his gal, which caused Danielle's trust issues to take a front seat in their relationship. At this point, she revealed that even though she was sick, she had been watching him from the balcony and sat in the closet and cried.
It seemed that the couples' biggest issues stemmed from Danielle's insecurities, especially in the days leading up to their wedding, when they both admitted they were having more arguments than ever.
But never fear, because it was a happy ending for this pair! After a nervous wait both Danielle and Nick said 'yes' at the altar, and at the Love is Blind reunion episode, they were still blissfully happy together, sharing a sweet home video from their shared apartment. Cute!
2. Deepti Vempati and Abhishek 'Shake' Chatterjee:
Deepti and Shake's relationship started off on rocky ground as Shake focused more on the physical aspects of a person rather than the emotional connection. One of the first questions Shake asked was, if he was at a music concert with Deepti, "Would I have trouble picking you up?" Considering love is supposed to be blind (it's in the show's title, hello) we can understand why this was unnerving to Deepti or any potential partner.
However, Deepti was able to move past that, and they bonded over their shared heritage and the fact that they both had never dated someone that was Indian. The couple really connected and Shake even opened up to reveal his fixation on looks comes from his own insecurities.
This allowed Deepti to accept Shake's proposal and for them to be happily ever… well, happy until they got to Mexico, where Shake revealed he was not physically attracted to her and actually said: "It feels like I'm with my aunt." Yikes!
Shake's reservations continued throughout the experiment, with him continually telling fellow contestants (and his mum) that he wasn't attracted to Deepti. His mum loved Deeps, and even appeared to side with her over her son, saying that if he wasn't attracted to her, he should break it off because "she doesn't deserve someone who gives her even half a percent less than she deserves."
The couple appeared to reconnect during a shared massage, but in the end, it wasn't meant to be, and Deepti happily said no at the altar, saying she deserved far better than Shake. Go girl!
At the reunion, Shake also appeared to turn almost the whole cast (and viewers) against him, by doubling down on his stance that the physical was undeniably important to him—arguably missing the entire point of the show. Eek!
3. Natalie Lee and Shayne Jansen
Shayne was speaking to both Natalie and hairstylist Shaina Hurley during the pods—having slightly more "sexy talk" with Shaina (she gave him daily descriptions of what she was wearing), and more meaningful chats with Natalie.
Shayne wasn't 100% honest with either woman about the fact that he was talking to the other and it caused a lot of confusion and frustration, so much so that Natalie ended up in tears.
Even though a lot of fans felt that Shaina and Shayne, he eventually made Natalie his girlfriend, which caused Shaina to shut down. It was only after receiving a proposal from Kyle that she realized that she really wanted Shayne. Alas, at this point, it was too late.
This resulted in Shayne deciding to propose to Natalie, who said yes. However, things got a bit rocky for Natalie and Shayne in Mexico as they had different habits, as well as wants and needs. It became obvious that Shayne needed words of affirmation and more positivity from Natalie, who often made sarcastic jokes. This clash caused a bit of tension for the couple, but they largely appeared to get on pretty well during the honeymoon.
When they returned home to Chicago, things were on the up—until the entire cast hung out at the beach. During the evening, Shaina arrived and told Shayne she believe his and Natalie's relationship was 'fake'—something both parties were shocked to hear.
The couple moved on, and appeared happy and in love, meeting one another's parents without issue. But fans were left in shock when their wedding day came around and the Natalie was left in tears, explaining they had had an explosive argument the night before.
Putting the issues aside momentarily, Shayne said yes at the altar, but Natalie couldn't go through with things and said no. She told Shayne she couldn't forget what he'd said the night before, apparently telling Natalie he 'hated her' and that 'she was the worst thing to ever happen to him'. Ouch...
It appears the former couple weren't able to work through their issues, as Natalie explained that the reunion that they couldn't get past their argument, and aren't together today. W
4. Mallory Zapata and Salvador Perez
Like Shayne, Mallory was torn between two people—Sal and Jarrette, with the latter reminding her of guys she had gone out with in the past. However, Mallory's connection with Sal decided to make her change her ways and go with what her heart was telling her, which was to say yes to Sal's proposal.
Mallory was not instantly attracted to Sal upon seeing him in person, but once they arrived in Mexico, she revealed that even though she doesn't kiss and tell, Sal was pretty suave.
However, like the other couples, things went downhill when Sal saw Mallory and Jarrette talking for a long time. Sal got even more upset when he overheard Mallory saying that she "didn't have to get married" to Sal, which he thought was pretty strange considering the whole point of the show is to get married at the end of the four weeks!
When they got home to Chicago, Sal finally worked up the courage to tell Mallory the whole conversation with Jarrette made him feel insecure. The pair worked through it, but faced more issues in 'normal life', including appearances from Sal's ex, and opposition from Mal's family.
Despite the couple getting on well and seeing pretty in love, the whole thing ended with Sal saying no at the altar, explaining that it didn't feel right at the time. They ended things very amicably though, saying that they were happy to give things a shot outside of the pressure of the experiment.
However, it seems their attempts amounted to zilch, with the couple admitting at the reunion that they weren't currently together, and that while they loved each other, there was something missing from their relationship.
5. Iyanna McNeely and Jarrette Jones
Jarrette and Iyanna's relationship had a rocky start, even though viewers agreed they had the most chemistry of the season 2 couples. Jarrette was torn between Iyanna and Mallory—even going as far as to ask Mallory if he proposed, would she say yes? However, she replied no.
That left Jarrette with Iyanna. However, unlike Shayne, he did reveal to Iyanna what he said to Mallory, which is honorable, even if it did leave Iyanna in tears.
Iyanna didn't listen to her head and, even though she had fears of being second best, she said yes to Jarrette's proposal. Their in-person meeting had to be one of the cutest in the show's history, as Iyanna joked about having to keep the dress he first saw her in forever.
Their connection grew even more once in Mexico as they became more comfortable in each other's company. Iyanna was left a little concerned about Jarrette's conversation with Mallory, but told the camera that she trusts him. Jarrette reiterated the sentiment, as he admitted to wanting her to remain comfortable with him.
Though Iyanna struggled with those doubts during the experiment, the couple faced bigger issues with their respective lifestyles. Jarrette told her he spends a lot of time out with friends, while Iyanna explained that she prefers cozy nights in.
However, despite the stumbling blocks, Iyanna and Jarrette were the second of the Love is Blind couples to say yes at the altar! The couple appeared totally smitten on their wedding day, and we're happy to report that the pair still seemed strong and in love at the reunion.
While they confessed that married life hadn't been easy, and had required some compromises, they couple couldn't keep their hands off one another, and we predict good things for these two going forward. So cute!
6. Shaina Hurley and Kyle Abrams
The final couple from Love Is Blind season 2 is Shaina and Kyle whom if we were going to take a bet on who wouldn't last, we would 100% bet on them.
We're all big lovers here at My Imperfect Life but when one person in the relationship (*cough* Shaina *cough*) is stuck on another guy (Shayne) so much so that she leaves her fiancé (Kyle) on the first night of their first vacation together, it doesn't really bode well for the future, now does it?
Shaina began investing her time in Kyle after Shayne made Natalie his pod girlfriend. However, it became increasingly obvious that they had a lot of differences that could make or break any relationship, much less a marriage. Shaina is religious and doesn't believe in evolution and Kyle is the opposite. His lack of faith was a big problem for Shaina, even if it wasn't for Kyle. Kyle proposed using his mother's engagement ring and Shaina accepted despite being extremely hesitant. This hesitancy grew even more once she met Kyle in person. She even had to take a shot of Jack Daniels after.
Things got even rockier for the couple once they arrived in Mexico, as Shaina insisted they sleep in separate rooms and then decided to go home rather than work at her relationship with Kyle.
Though they reunited back in Chicago and Kyle met Shaina's family, the couple clashed once more over his lack of faith and her strong religious views, with Shaina's mother admitting that she doesn't think it'll work out because of this, despite Kyle being "a lovely person".
Things went from bad to worse for the couple when they met up in Chicago (for what turned out to be the final time), when Shaina handed back her engagement ring, explaining that she just couldn't get past the fact that she was religious and he was not. Kyle was left frustrated, believing they could get past the roadblock—but Shaina didn't think so, so the pair parted ways for good.
Love is Blind season 2 is available to watch on Netflix now.
Liv is a freelance journalist currently studying English at university. She loves covering everything from entertainment and politics to lifestyle and travel. As well as writing for My Imperfect Life, Liv has bylines in The Times, HuffPost, Den of Geek, Bustle The Metro and The Bookseller.