Who is Florence Pugh dating? Here's the latest intel on *those* new romance rumors
The rumors are swirling but who is Florence Pugh dating right now, exactly? Here's everything we know...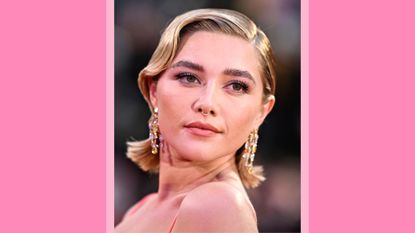 (Image credit: Getty Images/ Gareth Cattermole)
Following her split from long-term boyfriend Zach Braff, fans are all asking the same question—"who is Florence Pugh dating?" Well, if these latest sightings are anything to go by, we might have a juicy update in that department, as Flo has indeed been spotted with a new fella...
While the internet is buzzing over the first sneak peek of Andrew Garfield and Florence Pugh's latest romantic film—not to mention all of Florence's latest fashion moments—fans are still desperate for any new updates on the starlet's love life. Especially after she was seen out and about with a new mystery guy.
So, is the Don't Worry Darling actress seeing someone new or is she still a free agent? Given how much work she has in the next year—from the star-studded Christopher Nolan flick Oppenheimer to a little movie called Dune: Part Two with Zendaya and Timothée Chalamet—she already has plenty on her plate. That being said, a new romance could definitely still be on the cards...here's what we know.
Who is Florence Pugh dating?
While Miss Flo hasn't confirmed a new romance, Page Six published snaps of the actress holding hands with a new man in February 2023—identified by Celeb gossip account Deuxmoi as photographer, Charlie Gooch.
The publication reported that they were both sporting matching rings and enjoying a pub date together on Valentine's Day—which is definitely compelling evidence for a budding romance...
Then on March 26, 2023, the pair were once again spotted on a romantic dinner date but this time in Rome, Italy! Flo and Charlie were photographed looking rather cozy as they dined with Valentino's creative director, Pierpaolo Piccioli as well as friends, marking their second public outing since rumors first started swirling.
As of yet, Florence hasn't addressed the rumors and could very well be keeping things on the DL but watch this space!
Who has Florence Pugh dated? Her past relationships and all the rumors
As fans will know—before her rumored new relationship with Charlie Gooch—Florence previously dated Scrubs star Zach Braff for three years before their split in September 2022. She's also been linked to a number of other names, including the MCU's latest star Will Poulter—though Flo herself debunked this rumor! Here's a look back at her confirmed relationships and those romance rumors...
Florence Pugh and Zach Braff
Pugh surprised everyone when she stepped out with actor-director Zach Braff (Scrubs, Garden State), who is several decades her senior (more on that later), in 2019 after she starred in his short film, In the Time It Takes to Get There.
The couple regularly shared glimpses into their May-December relationship on social media, including the adoption of a dog named Billie and the actress's pandemic-era "Cooking With Flo" Instagram series, filmed out of Braff's expansive kitchen.
However, after nearly three years together and months of rumors, Pugh publicly announced in her September 2022 cover story of Harper's Bazaar that the twosome had quietly broken up earlier this year. (Don't worry, those "Cooking with Flo" segments will continue: "I'm designing my kitchen in London at the moment," Pugh said in the interview. "I'm literally designing it just so that it can be ready for 'Cooking With Flo.'")
"We've been trying to do this separation without the world knowing, because it's been a relationship that everybody has an opinion on," she told the publication. "We just felt something like this would really do us the benefit of not having millions of people telling us how happy they are that we're not together."
The split was clearly emotional, with the actress adding: "So we've done that. I automatically get a lumpy throat when I talk about it."
There might be some awkward red-carpet run-ins in their future, however, what with the pair having collaborated on Braff's upcoming drama, A Good Person, scheduled for release next year. "The movie that we made together genuinely was probably one of my most favorite experiences," said Pugh in Harper's. "It felt like a very natural and easy thing to do."
How old is Florence Pugh? About that age difference
Pugh, who is 26 years old, used the Harper's Bazaar profile to also comment on her age difference with 47-year-old Braff, and the criticism and intrusion the couple frequently received throughout their relationship.
"Whenever I feel like that line has been crossed in my life, whether it's paparazzi taking private moments, or moments that aren't even real, or gossip channels that encourage members of the public to share private moments of famous people walking down the street, I think it's incredibly wrong," she told the outlet. "I don't think that people, just because they have this job, that every aspect of their life should be watched and written about. We haven't signed up for a reality TV show."
Shortly after Pugh and Braff made it official on social media back in April 2020, the actress posted a video directed at naysayers of their age-gap relationship.
"I am 24 years old," she said. "I do not need you to tell me who I should and should not love. And I would never in my life ever, ever tell anyone who they can and cannot love. It is not your place. And really, it has nothing to do with you. So if those rules are something that you do not like, then please unfollow me because the abuse that you throw at him is abuse that you're throwing at me."
Florence Pugh and Will Poulter
Prior to her public split with Braff, the British actress was the focus of much gossip after being seen vacationing with her Midsommar costar Will Poulter in Ibiza, Spain, in May 2022.
Pugh again took to social media to shut down the romance rumors, posting on Instagram Stories: "Oookay. Man. This is getting a little silly now. No, Will Poulter and I are not dating. We went to the beach with our friends, who are always about half a meter away from us in every picture, but have been cleverly cut out/framed out so that it looks otherwise. You can LITERALLY see my best friend in the corner of so many shots and Archie [Madekwe]'s arms at the sides."
"I understand that the nature of this job is that you sometimes get your privacy bulldozed by paparazzi, but to fabricate this stuff actually does more damage than good. Thanks for saying we look sexy…doesn't mean we're doing the sexy," the post continued.
She further commented on all the hoopla, posting: "Regardless of your opinion on who I should or shouldn't be with, at the end of the day if you're complimenting someone by trolling another person..you're just bullying. There's literally no need to be horrible online—no need. Think about what you write. Think about who it affects."
Florence Pugh and Harry Styles
Despite some seriously steamy scenes together in the upcoming Don't Worry Darling, there's no real-life romance going on between Pugh and her co-star Harry Styles. That is, of course, because Styles fell for their DWD director Olivia Wilde during the filming of the movie, an on-set hookup that unleashed a load of drama that Pugh has been pulled into in recent months.
A rumored "beef" between Pugh and Wilde started when an inside source told Page Six: "I can tell you for a fact that Flo seeing Olivia and Harry all over each other on set did not go down well as Olivia was still with Jason when she first hooked up with Harry," referring to Wilde's ex-partner and the father of her two children, Ted Lasso star Jason Sudeikis. (We don't know about you, but we can't stop thinking about that Olivia Wilde divorce papers drama.)
The supposed feud was fueled even further when eagle-eyed social media users noticed that Pugh had not posted anything regarding the impending Don't Worry Darling release, despite official trailers having dropped, Pugh posting about other upcoming work in Oppenheimer, and Wilde hyping the actress and her performance up on her own Instagram page. "Watching this woman work was such a f*ing thrill! Cannot wait to show you more," Wilde posted.
After months of radio silence, Pugh finally did post about the movie in August 2022, sharing a short teaser on Instagram with the caption: "Not everyone gets this opportunity…not long now! Only in theatres September 23rd."
It will be interesting to see what happens when—or if—Pugh, Styles, Wilde and the rest of the DWD cast descends upon the Venice International Film Festival next month for the Don't Worry Darling world premiere. We'll be watching!
Christina Izzo is the Deputy Editor of My Imperfect Life.
More generally, she is a writer-editor covering food and drink, travel, lifestyle and culture in New York City. She was previously the Features Editor at Rachael Ray In Season and Reveal, as well as the Food & Drink Editor and chief restaurant critic at Time Out New York.
When she's not doing all that, she can probably be found eating cheese somewhere.