The funniest 'Miss Flo' memes from the 'Don't Worry Darling' premiere
Florence Pugh has been sassily reborn as 'Miss Flo' and Twitter is *living* for it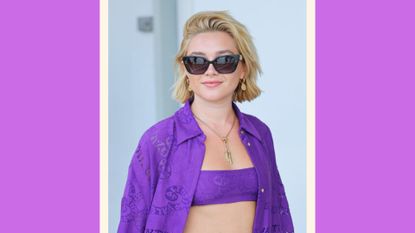 (Image credit: Jacopo Raule/Getty)
The world premiere of Don't Worry Darling at the Venice International Film Festival on September 5 was a social-media treasure trove: it gave us literally no red carpet interaction between couple Olivia Wilde and Harry Styles, a #Spitgate scandal between two of the movie's lead actors and, best of all, the rise and reclamation of one "Miss Flo."
What exactly are all the memes about then, now that the film has actually hit cinemas?
What are the Miss Flo memes about?
Now, suppose you're not entirely up to date on all of the Don't Worry Darling drama (we can't believe the actual film has only just come out) In that case, you might not know the origins of "Miss Flo," a nickname for lead actress Florence Pugh used by director Olivia Wilde in that now-viral leaked video she sent Shia LaBeouf asking him to stay on with the production. (He later quit the project and the role was recast with Styles.)
In the clip, Wilde alluded to tension between Pugh and LaBeouf, saying: "You know, I think this might be a bit of a wake-up call for Miss Flo...if she really puts her mind and heart into it at this point and if you guys can make peace—and I respect your point of view, I respect hers—but if you guys can do it, what do you think? Is there hope?"
Many fans felt that Olivia was throwing the actress under the bus—something they see as particularly ironic considering Wilde herself was quoted in Variety saying she fired LaBeouf—who is currently facing abuse allegations—to "protect" Florence. The not-so-sweet nickname also fanned rumors of a growing feud between Wilde and Pugh, the latter of whom has notably sat out of most of the film's PR appearances, including the Venice press conference.
Pugh did, however, eventually show up at the Venice Film Festival, with a clip of her enjoying an Aperol spritz and looking perpetually unbothered and effortlessly cool in head-to-toe purple Valentino quickly going viral on social media. Memes were made and a fashion icon was born (that "revenge dress" though!). Even her stylist, Rebecca Corbin-Murray, made a subtle dig at the drama in a recent post. We LOVE the drama!
Here are our favorite funny Florence Pugh—Miss Flo, if you're nasty—memes from Venice.
The funniest 'Miss Flo' memes about Florence Pugh:
Me showing up late to work with Starbucks pic.twitter.com/2ivcsnQT5FSeptember 5, 2022
See more
Miss Flo when the reviews come in on Rotten Tomatoes #DontWorryDarling pic.twitter.com/CfFa5AE7VvSeptember 5, 2022
See more
Miss Flo showing up in Venice late with a spritz, turning looks, then leaving 3 minutes into the standing ovation is giving "well I didn't really wanna be here, I'm just wanting to get this over with and get on with my life. This is a big inconvenience for me" energy and I live pic.twitter.com/I8fjtCFmbMSeptember 6, 2022
See more
SO FLORENCE PUGH DIDN'T LIKE OLIVIA WILDE HOOKING UP WITH HARRY STYLES BECAUSE SHE'S FRIENDS WITH OLIVIA'S HUSBAND JASON SUDEIKIS SO FLORENCE WOULDN'T PROMOTE THE MOVIE. THEN SHIA LEBEOUF LEAKED A VIDEO OF OLIVIA CALLING FLORENCE "MISS FLO" & NOW HARRY SPIT ON CHRIS PINE, BUT... pic.twitter.com/H3NxkEavxQSeptember 6, 2022
See more
olivia said miss flo but she heard miss c#nt pic.twitter.com/W63MExQuanSeptember 5, 2022
See more
"miss flo" in italy skipping press conferences, wearing head to toe valentino and sipping on aperols as she should pic.twitter.com/HrTRVcEqlRSeptember 5, 2022
See more
Miss Flo came for three reasons:1. To be a boss ass bitch2. To be too good for this shit3. For the fans 🥹 pic.twitter.com/QyX8hztweHSeptember 5, 2022
See more
It's giving revenge dress, and I am very much here for it. Miss Flo is THE moment. pic.twitter.com/vRVkJuQjrCSeptember 5, 2022
See more
miss flo after her and her five planets in capricorn said not today pic.twitter.com/FT0qO2V0E9September 6, 2022
See more
I thought this was Miss Flo at first pic.twitter.com/AxAX1F6wN3September 5, 2022
See more
And the memes have continued now that the film is in cinemas! Here are our favorites:
#DontWorryDarling was fabulous. Miss Flo ATE pic.twitter.com/WUNJH8PkFJSeptember 23, 2022
See more
Christina Izzo is the Deputy Editor of My Imperfect Life.
More generally, she is a writer-editor covering food and drink, travel, lifestyle and culture in New York City. She was previously the Features Editor at Rachael Ray In Season and Reveal, as well as the Food & Drink Editor and chief restaurant critic at Time Out New York.
When she's not doing all that, she can probably be found eating cheese somewhere.