Who is the 'Too Hot to Handle' season 5 winner—or, shall we say, winners?
Of course, there was a shocking twist when the 'Too Hot to Handle' season 5 winner was announced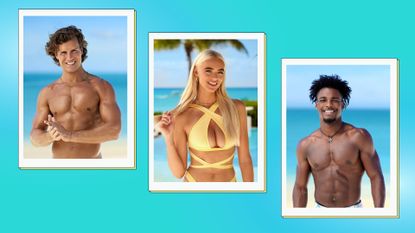 (Image credit: Netflix)
After weeks of waiting, we finally know the Too Hot to Handle season 5 winner—but there wasn't just one.
Netflix dropped the final batch of Too Hot to Handle season 5 episodes on Friday, July 28, and there's a massive twist to who wins this year.
From Louis Russell to Elys Hutchinson, several contestants had a lot of personal growth while on the retreat. Lana's rules forced them to consider their actions and try and abstain from any sexual activity in the hope that it would allow them to build deeper romantic connections.
Like its previous editions, the fifth season of the reality dating show is full of drama, rule breaks and love triangles, but this season, the contestants just seemed extra set on breaking some rules. With the retreat ending and only two strong couples going into the finale, Lana announced that this season's winners would be chosen from two individuals.
So who was the winner of Too Hot To Handle season 5 and how much money did they win from the prize fund? Here's everything that went down.
Who is the 'Too Hot to Handle' season 5 winner?
While many contestants contributed to depleting the prize fund, every contestant has grown from where they started out this season. However, upon reflecting on the season as a whole, Lana narrowed the winners down to two people: Dre and Elys.
Despite Dre not being in a couple, he stood out for his dedication to wanting to keep the money in the prize fund. He became the self-appointed "Detective Dre," trying his best to make people stick to Lana's rules. The main reason may have been that he wasn't interested in anyone romantically and wanted to get the money for his family, rather than learn from what Lana was preaching, but he was a prize fund guard who tried his best.
Though Dre did slip up when he broke a rule with bombshell Linzy Luu, overall he prioritized making meaningful connections over simply breaking the rules for fun. He was also honest about what he wanted and what he had learned this season. His transformation from a party animal and player into someone who is more intentional with his relationships was the point of the retreat.
For Elys, her journey had been a bit more difficult as she initially struggled to choose between Hunter and Alex. She cost the group $12,000 in the first few hours of the retreat by kissing Hunter. However, after realizing that their relationship consisted only of physical attraction, she switched her attention to Alex with whom she had both a mental and physical connection, although this did leave a heartbroken Megan.
Elys and Alex managed to mostly stick to the rules during their time together, particularly as Lana gifted them watches that would turn green once she felt like they were making meaningful connections. But throughout the show, Elys made it clear that she really struggled with making emotional connections. Feeling like they'd never get a green light, Elys and Alex embarked on a record-breaking 12-minute kiss, which ended up costing the group $36,000. Their rule break angered Lana so much that she gave them 12 hours to get a green light or be sent home. Luckily, Elys was able to express her feelings to Alex in time. What's even better is that on their final date, she asked him to be her boyfriend and he said yes.
Both Dre and Elys made incredible progress individually and, in Elys' case, in their relationship. However, there could only be one winner of Too Hot to Handle season 5 and that was… Elys!
However, Elys decided to split the money with Dre because she knew how much it would mean to him and his family. So technically, this season we had two winners!
Who was Dre coupled up with in 'THTH' season 5?
Dre spent most of the season being Detective Dre and trying to keep the other contestants from breaking rules. Not that it worked! There was still $100,000 worth of rule breaks this season.
However, Detective Dre did end up having a rule break of his own when new arrival Linzy came into the villa. Despite her initially taking Louis on a date, Dre convinced Christine to pull Louis off the date and put him in his place. The pair hit it off straight away even if Linzy's head was still a little bit with Louis.
Wanting to ensure that Linzy's attention stayed with him, Dre kissed Linzy. But poor Dre felt so guilty about the kiss he ended up confessing to the rest of the contestants the following morning.
Despite kissing Linzy things never went much further between the two as Dre decided they were better of as friends.
How much did the winner of 'Too Hot to Handle' take home?
Due to this season's 15 rule breaks, Elys and Dre did not win the full $200,000.
Rule breaks aren't cheap and the prize fund took a dent as Elys and Hunter embarked on a 12-minute-long kiss and Louis and Christine's infractions cost $48,000.
So, by the time of the final, the prize fund stood at $100,000, with Elys and Dre each taking home a cool $50,000.
All episodes of Too Hot to Handle season 5 are streaming on Netflix now.
Liv is a freelance journalist currently studying English at university. She loves covering everything from entertainment and politics to lifestyle and travel. As well as writing for My Imperfect Life, Liv has bylines in The Times, HuffPost, Den of Geek, Bustle The Metro and The Bookseller.