Who is Linzy from 'Too Hot to Handle' and what happened between her and Louis?
Netflix described Linzy, 'Too Hot to Handle' season 5 dater, as 'the ultimate temptress'—here's what we know about her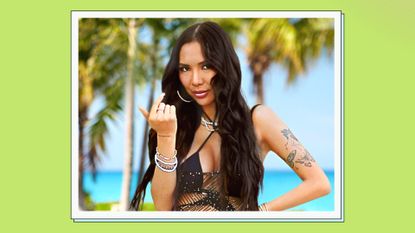 (Image credit: Netflix)
Nothing brings drama to the villa like new arrivals and Linzy, Too Hot to Handle's episode seven addition, is no different.
The highly anticipated Too Hot to Handle season 5 is well and truly underway, and we couldn't be more excited. This season has already provided plenty of love triangles, rule breaks and even rule break pacts, with new contestants like Linzy Luu making things even more complicated as the season goes on.
The hit Netflix reality dating show sees ten attractive people tricked into taking part in a no-sex retreat that's aimed at helping these sexual singletons build emotional connections. The reward for not engaging in physical intimacy is a $200,000 cash prize. However, the huge cash prize only stays that large if every contestant can abstain from sexual behavior, as each quick kiss deducts money from the prize fund.
The premise may sound easy, but challenges are constantly thrown the contestant's way, Linzy being the most recent provocation for player Louis Russell, who already jumped from Megan Thompson and Hannah Brooke and is currently coupled up with Christine Obanor.
The very flirtatious meeting between Linzy and Louis could be massive trouble for Christine, especially as Louis works hard to keep the details of their date a secret from her.
So what exactly happened between Linzy and Louis? Here's all the tea.
Who is Linzy, 'Too Hot to Handle' season 5 contestant?
Influencer Linzy Luu is 24 years old and based in Hawaii, but she was born in Saigon, Vietnam, now known as Ho Chi Minh City.
She's revealed to be "the ultimate temptress" who knows how to make an entrance. Her friends describe her as the requisite hype girl, the wild one and a menace, which doesn't bode well for Louis trying to keep their flirty date to himself.
In her free time, Linzy loves going on adventures and exploring the world. Beyond her skills as an influencer, she is also a sushi chef. You can check out her creations on her separate Instagram, @sushiwithlinzy. She is also an ex-hairstylist and, per her Instagram bio, a DJ named DJ BabyLinz.
What happened between Linzy and Louis?
After Christine didn't get her head turned by newcomer Trey Rogers, Louis and Christine decided to have a massive splurge and break $48,000 worth of rules. As you can guess, when Lana found out, she wasn't happy and decided to set the couple the ultimate test by sending them off to spend the night alone in a private suite. If they didn't break any rules, they would not only stay on the retreat but, after a vote by their fellow contestants, they could also win back the lost $48,000. The two ended up breaking no rules but Lana's challenge did not end there as two new cast members, Linzy Luu and Bryce Saltmarsh, arrived.
Lana gave the new contestants the choice of picking anyone in a current relationship and, yup, you guessed it, Linzy picked Louis. At first glance, Linzy was everything Louis typically went for, which confirmed that trouble would follow the date.
During Louis's date with Linzy, Louis was very flirtatious and things got even hotter as the date went on. In fact, things even got a little handsy, as Linzy offered Louis the chance to touch her breast, which he quickly took up, admitting he couldn't say no. When touching Linzy's breasts, he even complimented her saying: "Perfect proportion. You know, the weight, the size, the circumference. Everything."
When Louis returned from the date after Christine pulled him out, he never confessed to his handsy moment. Instead, he decided to keep it to himself while telling Christine that he missed her throughout the date. But as Linzy returned to the villa, his secret was very much at risk of coming out, something the show teases in the preview clip, as Linzy says, "She deserves to know the truth. Courtney says, "Louis has player written all over him" and Christine later adds, "Game over," which we can only guess is in regards to Louis.
What happened between Linzy and Dre?
Deciding that she doesn't trust Louis on his date with Linzy, Christine swaps Louis out for Dre. While the sexual chemistry between Linzy and Dre wasn't initially as hot as Linzy and Louis, the pair got on well. However, this didn't stop Louis from thinking about Linzy.
Deciding to change his approach, resident rule-breaker detective Dre decides it's time to break some rules himself and kisses Linzy.
Linzy did promise to bring drama into the house, and so far she has provided. Not only has she got Louis keeping secrets from Christine but she now has goody-two shoes Dre breaking rules. We can't wait to see what she brings in the next batch!

The first seven episodes of Too Hot to Handle season 5 are streaming on Netflix now, with the new episodes dropping on Friday, July 28.
Liv is a freelance journalist currently studying English at university. She loves covering everything from entertainment and politics to lifestyle and travel. As well as writing for My Imperfect Life, Liv has bylines in The Times, HuffPost, Den of Geek, Bustle The Metro and The Bookseller.