'Yellowjackets' cast young and old: the actresses behind the Showtime hit
The multi-timeline thriller stars '90s icons and incredible newcomers—meet the 'Yellowjackets' cast, young and old as season 2 hits our screens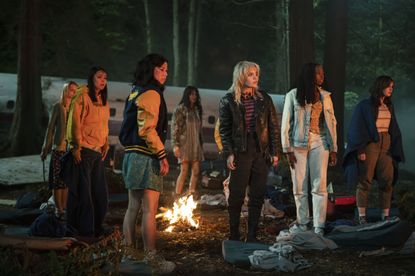 (Image credit: Kailey Schwerman/SHOWTIME)
Surprises abound in the new Yellowjackets season 2—and while many are unpleasant, one of the happier revelations is how on-point the casting continues to be for the Yellowjackets cast, young and old.
The second season of the Showtime series premiered in March, and continues to follow the Yellowjackets—a high school girl's soccer team—and their coach, as they fight to survive in a remote forest following a plane crash. The series follows two timelines equally: that of the stranded teenagers in 1996, and their surviving adult counterparts in the present-day. (At least, the survivors that we know of so far!)
Because of the dual timeline, the series is packed with great actresses, a mix of fresh faces and familiar names to represent the Yellowjackets, old and young. So if you're already a fan of the show, or simply want to admire the scarily accurate casting, let's get to know the actors playing the Yellowjackets characters young and old, shall we? Be warned—this will likely have you humming the Yellowjackets theme song all day...
*Warning: big Yellowjackets season 1 and 2 spoilers ahead!*
---
'Yellowjackets' cast young and old: who's who?
In the Yellowjackets main cast, there are eight actresses playing four characters: as teenagers in 1996 and as their adult selves in 2021. And the resemblances are uncanny. Let's meet the ladies, and take a look at the Yellowjackets cast side by side!
1. Shauna
Showtime's character description of Shauna reads: "Now married to the former prom king, Shauna is one of a handful of survivors of the plane crash. Twenty-five years later, she's on a mission to reclaim her agency—and her life—while doing everything in her power to keep her darkest secrets safe."
High-school Shauna is played by Sophie Nélisse, a 21-year-old Canadian actress best known for her role in Monsieur Lazhar, the film adaptation of The Book Thief.
Adult Shauna is played by Melanie Lynskey, a New Zealand native who starred in cult '90s flicks like Heavenly Creatures and But I'm a Cheerleader and was most recently seen in Netflix's star-studded Don't Look Up.
In season 2, young Shauna is contending with the loss of her best friend Jackie (and their argument prior to her death) as well as her pregnancy whilst deserted in the wilderness. Flash-forward to modern day, and Shauna is still going through it, after murdering the man she was having an affair with, Adam Martin. Phew—the Yellowjackets ladies really are never without drama!
But aside from that, looking at the Yellowjackets cast, young and old, side by side, the similarities don't get much better than old and young Shauna, who look strikingly similar.
2. Natalie
Natalie is played by Sophie Thatcher whilst in her younger, lost-in-the-forest years. The 21-year-old Chicago-born actress started acting onscreen in 2016 and can next be seen in The Book of Boba Fett on Disney+.
As for her adult counterpart, she is portrayed by '90s it girl Juliette Lewis. Showtime describes that grown-up Natalie "struggles to quiet the demons that still haunt her from her time in the wilderness." And that can be seen clearly in season 2, as she contends with the loss of Travis.
Along with starring in films like Natural Born Killers, What's Eating Gilbert Grape? and Cape Fear, for which she scored an Academy Award nomination, Lewis is also the frontwoman of the rock band Juliette and The Licks.
3. Misty
In the '90s, Misty is one of the most divisive characters following the plane crash, and continues to be so as an adult, where she has become a hospice nurse. Though enthusiastic and often helpful, she has an eccentric side to her—and often, a darkness that means she seriously treads the line between likeable and deranged.
The younger Misty is played by 26-year-old Samantha "Sammi" Hanratty, a former child actor who's been working since she was 10.
Playing the creepy caretaker is Wednesday Addams herself, Christina Ricci. The '90s teen icon notably starred in Casper, Now and Then, Mermaids and The Opposite of Sex. Once again, examining the Yellowjackets cast young and old means realizing just how brilliant this casting is—Samantha and Christina look identical to us!
4. Taissa
"In her youth, Taissa was the star player of the Yellowjackets squad. Now, 25 years later, her political ambitions threaten to detail the survivors' pact of secrecy," reads her Showtime character description.
The actress behind young Taissa is 29-year-old Jasmin Savoy Brown, best known for her role on HBO's The Leftovers. Her adult analog is Tawny Cyprus, a TV regular you may recognize from shows like House of Cards, The Blacklist, Supergirl and Rescue Me.
In the second season of the show, viewers have so far witness Taissa's continuing torment over her *ahem* proclivity for flesh, which started after the plane crash, and appears to have continued into her adult life, causing her life to fall apart around her.
5. Jackie
The star of the Yellowjackets team and popular girl at school, Jackie in her teenage years is played by 26-year-old British actress Ella Purnell, who was also seen this year in Arcane, Star Trek: Prodigy and Army of the Dead.
As fans will know, Jackie met with her heartbreaking demise at the end of season 1, freezing to death after an argument with best friend Shauna. Of course, this means she will never make it out of the Canadian forest to become an adult, so there is no older Jackie cast in the show.
6. Lottie
In season 2 of Yellowjackets, it is finally revealed that a few of the other girls survived their time in the wild too, including Lottie—who appears to be, shall we say, in touch with the divine after a rather traumatic experience in the forest.
This spiritual side has seemed to carry Lottie through into adulthood. In fact, it appears she has built a very nice life for herself via her spiritual tendencies. However, is everything as it seems with Lottie's retreat?
Young Lottie Matthews is played in seasons 1 and 2 by Courtney Eaton, while Simone Kessell takes the part of the adult Lottie for the first time in season 2. As ever, the similarities between Yellowjackets old and young here is striking.
7. Vanessa / 'Van'
Another character whose fate the Yellowjackets crew had not yet revealed until season 2 is Vanessa Palmer, who is better known as Van to the girls as teens.
Liv Hewson (Santa Clarita Diet, Bombshell, and Before I Fall) has so far played the character alone throughout seasons 1 and 2, but it was announced that Lauren Ambrose has joined the cast for season 2—though fans are yet to see the character make an appearance. Lauren is best known for her work as Dorothy Turner in The Servant, and as Claire Fisher in Six Feet Under.
To round out the extensive cast, we have:
Steven Krueger as Ben Scott
Courtney Eaton as teenage Lottie
Simone Kessell as adult Lottie
Liv Hewson as teenage Van
Lauren Ambrose as adult van
Jane Widdop as Laura Lee
Warren Kole as adult Jeff Sadecki
Jack Depew as teenage Jeff Sadecki
Peter Gadiot as Adam
Alex Wyndham as Kevyn
Kevin Alves as teenage Travis
Andreas Soto as adult Travis
Keeya King as Akilah
Luciano Leroux as Javi
Sarah Desjardins as Callie
Alexa Barajas as Mari
Rekha Sharma as Jessica Roberts
Carlos Sanz as Coach Martinez
Tonya Cornelisse as adult Allie
Pearl Amanda Dickson as teenage Allie
Rukiya Bernard as Simone
Aiden Stoxx as Samm
Yellowjackets airs on Sundays at 9pm ET/PT on Showtime and can also be streamed on Hulu. In the UK, you can stream Yellowjackets on Paramount+, as part of Amazon Prime.
Christina Izzo is the Deputy Editor of My Imperfect Life.
More generally, she is a writer-editor covering food and drink, travel, lifestyle and culture in New York City. She was previously the Features Editor at Rachael Ray In Season and Reveal, as well as the Food & Drink Editor and chief restaurant critic at Time Out New York.
When she's not doing all that, she can probably be found eating cheese somewhere.