'Yellowjackets' season 2 will premiere this spring, plus there's more good news
Yes, we're about to enjoy 'Yellowjackets' season 2, but there's still plenty for us to learn about the stranded soccer team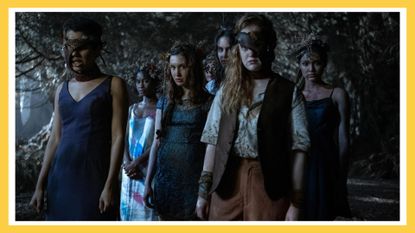 (Image credit: SHOWTIME)
Talk quickly segued to all-things Yellowjackets season 2 after season 1 aired in January 2022: when is it coming, who will return (or, simply, who is still alive) and what's going to happen with the big, bad Antler Queen?
After falling in love with the Yellowjackets cast, young and old (okay, obviously not old, just not teenaged!), fans can't wait to see what the next edition of the series will bring for our scrappy set of soccer players.
For those who haven't yet tuned in, the Emmy-nominated Showtime hit follows a high school girls' soccer team as they fight to survive and create savage clans in a remote forest following a plane crash, with '90s acting royalty Juliette Lewis, Christina Ricci and Melanie Lynskey playing three of the girls' adult counterparts.
We can put money on that talented trio returning for season 2 of the twisty teen drama, but they have some very exciting company joining them as adult Yellowjackets characters. Here's what to expect.
*Warning: spoilers ahead!*
'Yellowjackets' season 2: what we know so far
Yellowjackets season 1 ended on Sunday, January 16, with many questions unanswered—what's going to happen to Shauna's baby? Is Lottie really still alive?—not to mention a major character death, so it's no surprise that fans are already chomping at the bit to get the scoop on the sophomore season.
Showtime officially renewed the series for season 2 in mid-December, about halfway through the first batch of episodes. "Yellowjackets has been an unadulterated sensation for Showtime," Gary Levine, the network's entertainment president, said in the announcement. "We are overwhelmed by both the acclaim and the audience response to our series, including several 'Best of 2021' lists, a 100% score on Rotten Tomatoes and snowballing viewership...I can't wait to see the surprises they have in store for us in Season 2."
Thankfully for fans, showrunners Ashley Lyle, Bart Nickerson, Jonathan Lisco and Karyn Kusama provided some updates in a recent interview with Variety (opens in new tab).
Lyle said: "We've opened our writer's room, we have added a couple of new faces to the mix and largely have the team intact from season one because they were fantastic. We're just excited to dig in, but as Bart said, we are in the early phases."
Kusama, who also directed the first episode, might be back in the director's chair in the second season, teasing: "I'm really hoping to be able to make that work. We're just sort of working out schedules and all of that stuff but that is definitely my intention."
Speaking to Deadline (opens in new tab), Lyle also recently said of season 2: "I think that we're just so excited to keep playing in this world. There are a lot of opportunities where we're going and where we've been planning to go get darker and get weirder. We'll likely get a lot more of both of those things but hopefully we can keep it fun."
A lot more, indeed. Lyle and Nickerson are said to have pitched a "five season idea" when shopping Yellowjackets around to various networks, a plan that star Jasmin Savoy Brown—who plays teenage Taissa Turner on the show—confirmed to ComicBook.com (opens in new tab).
"Here's the truth: I don't know the answer to a lot of the questions," Savoy told the outlet. "I only know as far as the end of Season 1 and they have five seasons already written out in their head. So I only know the answers up to the end of Season 1 and no, no one's gotten it right. Literally, I have not seen a single correct theory, which is pretty cool. Actually, I have seen one thing, about who the blackmailer is. That's the only correct [theory]. Nothing else. Nothing correct about antler queen."
Who is joining the 'Yellowjackets' season 2 cast?
By the end of season one, Yellowjackets players Vanessa "Van" Palmer (Liv Hewson) and Lottie Mathews (Courtney Eaton) play bigger roles in the '90s-era storylines, so it was no surprise when we heard that the showrunners were looking for actresses to play their present-day counterparts.
And now we know who will be portraying the two adult Yellowjackets: adult Van will be played by Six Feet Under alum Lauren Ambrose, and Kiwi actress Simone Kessell—recently seen in Obi-Wan Kenobi and Our Flag Means Death—will play the adult version of Lottie. Hewson and Eaton have also been upped to series regulars for the show's second season, so we'll definitely be seeing more from Van and Lottie across both timelines.
"When you have someone playing the 1996 version already, it's harder to cast that second person after you have the first person embodying it," co-creator Bart Nickerson recently told The Hollywood Reporter (opens in new tab). "It's a degree of difficulty that makes it exciting and satisfying when the fans know who it should be. It's like solving a puzzle—you have so few options because the character already exists."
When is 'Yellowjackets' season 2 coming?
Time to get your screen time in check: Yellowjackets season 2 will return on March 24, 2023! Although the heavyweights at the show were originally planning for a late 2022 release, it appears things have taken a little bit longer.
Is there a 'Yellowjackets' season 2 trailer?
Although Showtime hasn't treated us to a trailer quite yet—we'll definitely be sure to fill you in when the network does give us a sneak peek—it did reveal the series 2 premiere with a short montage of clips.
The response to its return was overwhelmingly positive:
"This show is incredible and I can't wait for season 2," one YouTube user wrote.
Another chimed in with, "I have been waiting with baited breath since the season finale. HURRY UP MARCH 24th."
Perhaps most interestingly of all was the top comment on the teaser's page, which read, "One of the best shows on tv right now that no one knows about. I can't tell you how many people I talk to never heard of it. Which is so sad because if it was on Netflix it would be blowing up on social media. Showtime was able to create this product so I wouldn't want to change a thing. I just hope they can keep making it and get enough viewership to keep it going. I know it has the second highest viewership of any of their shows. The cast is so good!!!"
'Yellowjackets' season 3
As if we weren't excited enough to kickstart spring with one of our favorite shows, we've just learned that Yellowjackets has been greenlight for season 3, meaning the soccer team still has a long way left to go in its journey.
"With 'Yellowjackets'' runaway success in Season 1 and the pent-up anticipation for Season 2, we wanted to maximize the momentum by fast tracking Season 3 now," Chris McCarthy, president and CEO of Showtime and Paramount Media Networks, said in a statement. "The show's ambition is only exceeded by its execution, and I thank the incredible creative team behind it, including Ashley, Bart, Jonathan, eOne and the Showtime team, for turning this into such a success."
Details are mum and we haven't been told when to expect the third installment on screens, but needless to say we're ready to see what's ahead—whenever the season arrives!
Season one 'Yellowjackets' ending explained:
Need a little primer before you can even start thinking about Yellowjackets season 2? With all of the insane twists and turns that the show put us through in season 1, we can't blame you.
Since the show takes place in two time periods—the Yellowjackets team in 1996 and their adult counterparts in present day—let's start with the former.
The girls wake up with magic mushroom hangovers all around, which they mistakenly took from Misty, who was trying to drug their coach. All of that drama is cut short when a bear shows up, which Lottie calmly kills with a knife, but not before the animal mystically bows down to her. Are Lottie's supernatural powers real after all?
Van seems to think so and wants to give thanks to the bear offering before dinner, which not only sparks a fight between her and girlfriend Taissa but also between Jackie and the group. Jackie, one of the only people not drugged the night prior, remembers with clarity the danger that the girls inflicted during the magic mushroom mayhem, with Jackie's BFF Shauna having put a knife to Travis' throat.
And then the floodgates open between the best friends. Jackie knows that Shauna was sleeping with her boyfriend Jeff and that he is the father of her baby. Shauna reams Jackie out for her jealousy and narcissism and casts her out of the cabin, leaving her to sleep in the cold.
In present-day, Shauna, Natalie and Taissa enlist Misty's help to dispose of Adam's body. The foursome gets all cleaned up and heads to their 25-year high school reunion, where Shauna confronts Jeff's friend Randy about the blackmail, threatening to kill him if he spills to anyone. They all watch a slideshow dedicated to the Yellowjackets team members who didn't make it out of the forest.
After the reunion, Jessica Roberts, the reporter who Misty has been holding hostage, seemingly talks Misty into releasing her. However, as she's smoking a victory cigarette while she drives away, she realizes that Misty poisoned her smokes, and she crashes.
At adult Taissa's house, her estranged wife Simone makes a disturbing discovery while in their basement: a trail of blood leads her to a grotesque shrine that Taissa concocted from their dog's decapitated head, their son's toy doll, a bloody heart, and that spooky symbol that's been popping up all throughout season one. It looks like Taissa, who also just won her senate race, has been doing a lot more than just sleepwalking at night.
Later, Natalie is shown loading a shotgun in her motel room, seemingly about to take her own life, when a group of strangers breaks down the door and kidnaps her. As we see Natalie being hauled away with a bag over her head, a voicemail from Suzie plays saying that Lottie—yes, that Lottie—is not only alive and has followers doing her bidding, but was also responsible for emptying Travis' bank account before he died.
The final moments of season one take us back to teenage Lottie in the woods, with Van and Misty kneeling behind her as she offers up the bear's heart as a sacrifice in the forest. "Versez le sang, mes beaux amis," she says in French, meaning: "Spill the blood, my beautiful friends."
Yes, that means even more darkness and drama definitely to come in season 2.
How did Jackie die in 'Yellowjackets'?
Sadly, Jackie (played by Ella Purnell) died from hypothermia while sleeping outside after the fight with Shauna.
At first, Yellowjackets offers fans a fake-out, having a dreamy scene of Shauna coming outside to apologize and bring Jackie back into the cabin, where the girls swaddle her in a blanket and magically bring her hot chocolate. However, once Laura Lee pops up, who previously died in a plane explosion, viewers realize that this is either Shauna's nightmare, or Jackie's final thoughts before perishing.
In real life, Shauna wakes up the next morning to realize it snowed the night before and is horrified to remember Jackie is still outside. She runs outside to her but it's too late. Jackie's gone.
Speaking on Jackie's death, showrunner Ashley Lyle told Deadline (opens in new tab): "There's certainly the symbolism aspect where if Jackie ultimately represents the societal structures that they become accustomed to, that they were socialized with back in the "civilized" world, that truly and definitively falling away is going to be very meaningful for these characters. On an emotional and person level, there is arguably a certain amount of complicity that not just Shauna but the entire team has in her death – this ultimately unavoidable tragedy."
However, don't entirely write the character or actress Ella Purnell out from showing up in Yellowjackets season 2.
"It's so funny to me watching how viewers and fans are reacting to the show and the strenuousness to which they will adhere to what they want to happen and the skepticism," Lyle told the publication. "I will say that in case there is any doubt, Jackie is very much dead in that scene. You're not closed off to the possibility of seeing Ella in the future."
Antler Queen 'Yellowjackets' reveal: who is it?
The very first episode of Yellowjackets introduced the so-called Antler Queen, a figure sitting in the middle of the girls, shrouded in animals hides and wearing deer antlers like a crown, seemingly the leader of the clan. However, the show never revealed which of the Yellowjackets team members becomes this mysterious masked figure.
By the end of season one, though, all signs point to Lottie Matthews (played by Courtney Eaton). Lottie starts out a timid background character but grows in prominence throughout the ten episodes, especially when it's revealed she's run out of her antipsychotic medication. Whether it's this that leads to her "possession" or if occult forces really are at play in the woods remains to be seen, but by the season's end, she's deeply entrenched in mysticism.
Eaton herself revealed Lottie as the Antler Queen in an interview with Vulture (opens in new tab): "It was crazy because no one knew up until that episode who was going to be the 'Antler Queen,' as everyone's calling it...We kind of knew it was Lottie to begin with because Sam had done some things in the pilot and she had put some things together. But it was kind of insane."
However, just because Lottie's the queen now doesn't mean she'll be queen forever. Eaton also said: "Obviously I don't know what happens in season two, but [the crown] seems like something that could be passed on. But also, I don't know if it would make sense for a lot of other people the way it makes sense for Lottie. No one else has that way of thinking that surrounds the Antler Queen. But I'm not sure. I troll Reddit and it's interesting to see other people's picks for who it is."
All we know for sure is we can expect even more mystical Antler Queen drama from Lottie Matthews. "It's safe to say that Lottie is still alive. I don't think it's really a spoiler to say that she will kind of figure prominently into season two," Bart Nickerson told Deadline.
Where can you watch 'Yellowjackets':
You can currently watch all ten episodes of Yellowjackets season 1 on Showtime and Hulu.
Christina Izzo is the Deputy Editor of My Imperfect Life.
More generally, she is a writer-editor covering food and drink, travel, lifestyle and culture in New York City. She was previously the Features Editor at Rachael Ray In Season and Reveal, as well as the Food & Drink Editor and chief restaurant critic at Time Out New York.
When she's not doing all that, she can probably be found eating cheese somewhere.
With contributions from