When does 'Yellowjackets' season 2 start?
There's some confusion about that 'Yellowjackets' season 2 premiere date, so we're here to clear things up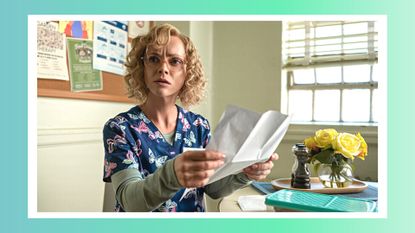 (Image credit: Kailey Schwerman/SHOWTIME)
We've been counting down the days until Yellowjackets season 2 ever since the freshman season ended back in January 2022, wondering when it was coming back, who was going to return (or, simply, who was still alive) and what was going to happen with the big, bad Antler Queen?
After falling in love with the Yellowjackets cast, young and old (okay, obviously not old, just not teenaged!), fans can't wait to see what the next edition of the series will bring for our scrappy set of soccer players.
For those who haven't yet tuned in, the Emmy-nominated drama follows a high school girls' soccer team as they fight to survive and create savage clans in a remote forest following a plane crash, with 1990s acting royalty Juliette Lewis, Christina Ricci and Melanie Lynskey playing three of the girls' adult counterparts.
That talented trio will all be returning for the sophomore season of the twisty thriller, but they have some very exciting company joining them as adult Yellowjackets characters. Here's what to expect.
*Warning: spoilers ahead!*
'Yellowjackets' season 2: everything we know
Yellowjackets season 1 ended on Sunday, January 16, 2022, with many questions unanswered—what's going to happen to Shauna's baby? Is Lottie really still alive?—not to mention a major character death, so it's no surprise that fans have been chomping at the bit to get the scoop on the sophomore season.
Showtime officially renewed the series for season 2 in mid-December, 2021, about halfway through the first batch of episodes. "Yellowjackets has been an unadulterated sensation for Showtime," Gary Levine, the network's entertainment president, said in the announcement. "We are overwhelmed by both the acclaim and the audience response to our series, including several 'Best of 2021' lists, a 100% score on Rotten Tomatoes and snowballing viewership...I can't wait to see the surprises they have in store for us in Season 2."
Showrunners Ashley Lyle said to Deadline of season 2: "I think that we're just so excited to keep playing in this world. There are a lot of opportunities where we're going and where we've been planning to go get darker and get weirder. We'll likely get a lot more of both of those things but hopefully we can keep it fun."
A lot more, indeed. Lyle and Nickerson are said to have pitched a "five season idea" when shopping Yellowjackets around to various networks, a plan that star Jasmin Savoy Brown—who plays teenage Taissa Turner on the show—confirmed to ComicBook.com.
"Here's the truth: I don't know the answer to a lot of the questions," Savoy told the outlet. "I only know as far as the end of Season 1 and they have five seasons already written out in their head. So I only know the answers up to the end of Season 1 and no, no one's gotten it right. Literally, I have not seen a single correct theory, which is pretty cool. Actually, I have seen one thing, about who the blackmailer is. That's the only correct [theory]. Nothing else. Nothing correct about antler queen."
When does 'Yellowjackets' season 2 start?
Somewhat confusingly, there are two answers to this question: Yellowjackets season 2 will be available for streaming on the Showtime app and Paramount+ beginning on Friday, March 24. However, it will premiere on Showtime's cable channel on Sunday, March 26 at 9pm ET.
That means, if you want to get your Yellowjackets fix two days before traditional TV viewers, you're going to need a Paramount+ with Showtime bundle. The bundle gets you commercial-free access to Paramount+ content alongside Showtime programming and is currently priced at $11.99 per month or $119.99 per year.
Who is joining the 'Yellowjackets' season 2 cast?
By the end of season one, Yellowjackets players Vanessa "Van" Palmer (Liv Hewson) and Lottie Mathews (Courtney Eaton) play bigger roles in the '90s-era storylines, so it was no surprise when we heard that the showrunners were looking for actresses to play their present-day counterparts.
And now we know who will be portraying the two adult Yellowjackets: adult Van will be played by Six Feet Under alum Lauren Ambrose, and Kiwi actress Simone Kessell—recently seen in Obi-Wan Kenobi and Our Flag Means Death—will play the adult version of Lottie. Hewson and Eaton have also been upped to series regulars for the show's second season, so we'll definitely be seeing more from Van and Lottie across both timelines.
"When you have someone playing the 1996 version already, it's harder to cast that second person after you have the first person embodying it," co-creator Bart Nickerson recently told The Hollywood Reporter. "It's a degree of difficulty that makes it exciting and satisfying when the fans know who it should be. It's like solving a puzzle—you have so few options because the character already exists."
And yet another '90s icon is joining the adult camp: Elijah Wood. The Lord of the Rings actor will portray a citizen detective named Walter and will reunite with his The Ice Storm co-star, Christina Ricci. "As an adult, getting to work with him, we really developed a nice rapport," Ricci told Entertainment Tonight. "He's so fun and so smart and so talented. He's also just really kind and empathetic and great as Walter… So, really it was a joy to get to work with him."
Watch the 'Yellowjackets' season 2 trailer:
What is going to happen in 'Yellowjackets' season 2?
While we can never predict the shocks and surprises that Yellowjackets has in store for us, we do have come clues for what we can expect come season 2.
The official synopsis for the second season reads: "Two months have passed since Shauna gave Jackie the cold shoulder—to disastrous results. In the face of their deepening hunger and fear, the tension among our Yellowjackets has only grown worse. The harsh conditions of winter are intensifying by the day, and the psyches of our survivors are deteriorating just as fast. Threatened by the darkness of the wilderness—and the haunting memories of it in the present—our former state champs will be forced to make impossible decisions. As they confront the horrible truth of what survival entails, the real nightmare for each of them will be to figure out who they are—and what they are willing to sacrifice in order to stay alive."
Are we getting a 'Yellowjackets' season 3?
As if we weren't excited enough to kickstart spring with one of our favorite shows, we also have the news that Yellowjackets has officially been greenlit for a third season, meaning the soccer team still has a long way left to go in its journey.
"With Yellowjackets' runaway success in Season 1 and the pent-up anticipation for Season 2, we wanted to maximize the momentum by fast-tracking Season 3 now," Chris McCarthy, president and CEO of Showtime and Paramount Media Networks, said in a statement. "The show's ambition is only exceeded by its execution, and I thank the incredible creative team behind it, including Ashley, Bart, Jonathan, eOne and the Showtime team, for turning this into such a success."
Details are mum about next season, but needless to say, we're ready to see what's ahead—whenever season 3 may arrive!
Christina Izzo is the Deputy Editor of My Imperfect Life.
More generally, she is a writer-editor covering food and drink, travel, lifestyle and culture in New York City. She was previously the Features Editor at Rachael Ray In Season and Reveal, as well as the Food & Drink Editor and chief restaurant critic at Time Out New York.
When she's not doing all that, she can probably be found eating cheese somewhere.