Which 'Yellowjackets' character are you based on your star sign?
Are you a Jackie, a Natalie or a (gulp) Misty? Here's which 'Yellowjackets' character you're most like, based on your zodiac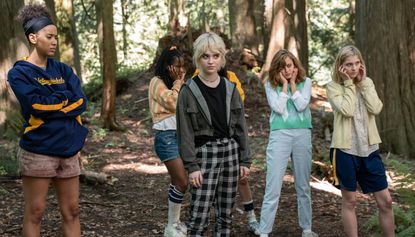 (Image credit: Colin Bentley/SHOWTIME)
When it comes to Yellowjackets characters, are you secretive like Shauna, wild like Natalie, or a little, ahem, unique like Misty?
The Showtime thriller—which tells the story of a high school girl's soccer team whose plane crashes, leaving them stranded and fighting to survive in the remote wilderness—is full of bold characters across two timelines, one set in 1996 and one in present-day 2021.
But if you're wondering which member of the Yellowjackets team you're most like, let's look to the stars!
*Warning: slight spoilers throughout!*
---
---
Which 'Yellowjackets' character are you?
Aries: Vanessa "Van"
Aries is a bold, unapologetic Zodiac sign, so naturally, only Vanessa would show up as the ram! Van's Aries-like nature is excitable and fierce. Like Aries, Van doesn't allow anyone to walk over her, like not letting Allie talk down to her and calling Jackie out for almost letting her burn when she was stuck after the plane crashed. Vanessa's fiery attitude is apparent when she's pictured slapping her mother to wake her up!
Taurus: Kevyn
Stable and loyal, Kevyn is the Taurus in Yellowjackets. Kevyn seems to be ridiculously committed to Natalie despite her ups and downs with going to rehab to battle her addiction. He even seems to be somewhat of a romantic, much like Taurus is, by proclaiming his love for Natalie after taking her out to dinner. Despite Natalie rejecting his advances, he's still incredibly loyal to her and insists on helping her through his detective work.
Gemini: Adam
Gemini tends to be witty, communicative, and two-faced—kind of like Adam! Shauna meets Adam after a minor car accident, and Adam's Gemini-like persona quickly wins her over, despite not being totally honest about his identity. He doesn't show his ID during the accident or even tell Shauna he can fix her fender bender upfront. As the season continues, Shauna continues to find out that this charming, attractive man is leading a double life. Who really is Adam?
Cancer: Coach Scott
The surviving adult in the crash is Coach Scott, who nurtures the kids in a crisis like any Cancer would. As a crab, Coach Scott is focused on maintaining some sort of security. But also like a Cancer, he has a breakdown after he falls over and smacks Misty in the face as she tries to help him. But he does regain a sense of stability as he tries to remain in control to be the leader the kids need.
Leo: Jeff
Just like Leo, Jeff is the popular, attractive boyfriend to Jackie. They both are the high-school power couple, as he's the "golden boy" and she's like the "girl next door." However, Jeff, unfortunately, leans into the selfish shadow-side aspect of Leo by cheating on Jackie with Shauna. His selfishness plays a part in his adulthood as Jeff is now a somewhat absent father and is thought to be cheating on Shauna throughout the season.
Virgo: Jessica Roberts
Virgo's attention to detail and thoroughness matches the writer, Jessica Roberts. Jessica follows the story of the girls crashing in the wilderness pretty closely, gathering information from multiple sources just like a Virgo would. She even admits to wanting to write a book on the experience. But Jessica also hides her identity, as nobody can find her working as a writer with The Star Ledger. So, who is this mysterious, yet intensive writer?
Libra: Jackie
Sweet and popular, Jackie is a Libra! Jackie's a natural leader who wants to be liked by everyone on her team, which is very similar to how Libra takes the lead. Even her coach encourages her to band her teammates together in solidarity. Her most Libra moment of the show is probably in the first episode when she pacifies her teammates at the party by giving them heartfelt compliments. Unfortunately, her kindness doesn't get her very far.
Scorpio: Shauna
Mysterious yet powerful, Shauna acts like the Scorpio of her team. Similar to Scorpio, Shauna goes through all three phases of Scorpio's awakening. She's secretive, from sleeping with her BFF's boyfriend to hiding her acceptance to Brown University from her friends. Shauna even keeps all of the diaries from the 19 months the girls spent in the forest under lock and key. Only a Scorpio like Shauna can keep secrets like that after all this time!
Sagittarius: Natalie
Natalie's punk-rock adolescent look screams Sagittarius, from her bleached blonde hair to bold wardrobe choices. She comes across as the residential "bad girl" on her team. Like a true Sag, Natalie goes off the deep-end with partying throughout the season. She tends to turn towards alcohol, drugs, and sex to cope with what happened pre- and post-forest. As an adult, Natalie is seen coming out of rehab but quickly finds a Sagittarius-like purpose to follow.
Capricorn: Taissa
Capricorns will do whatever they take to rise to the top—just like Taissa. Right at the beginning, Taissa is introduced as a somewhat ruthless teammate, even going out of her way to freeze out Allie by causing Allie to suffer a horrible injury. As an adult, Taissa's Capricornian social image is politically charged as she runs for office while working with Shauna to keep what happened during those 19 months a secret so that her campaign isn't ruined.
Aquarius: Misty
Although Natalie seems like she would be the Aquarius of the group, it's actually Misty! Misty is a socially awkward outcast, as she is the assistant to the team instead of being on the team. Her social pariah status is also what allows her to become the power-hungry ringleader once they're all stranded. Similar to the shadow-side of Aquarius, Misty becomes extremely cold, being the first to resort to cannibalism and denying her patient pain meds as an adult.
Pisces: Lottie
Pisces, who is ruled by both Jupiter and Neptune, can be a sign that is led by delusion—similar to how Lottie is throughout the first season. Lottie begins relatively normal but is quickly seen searching for pills in the first few episodes. As the season evolves, Lottie's overcome by her delusions and visions, swept up in the potential of danger. The line between her vision and reality is incredibly blurred, which is so Neptunian.
Athena Antares is a traveling writer, astrologer, and mystic who believes in adding a touch of magic to everyday life. She has written horoscopes for numerous lifestyle publications and has dived deeply into astrological magic and manifestation spell work. In her spare time, Athena enjoys exploring new places, spending time in nature, and reading charts for her worldly clientele.