A new 'You' season 4 trailer debuts a menacing twist for Joe Goldberg
It appears 'You' season 4 will give Joe Goldberg a taste of his own medicine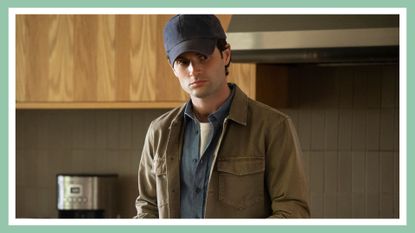 (Image credit: JOHN P. FLEENOR/NETFLIX)
You season 4 is quickly approaching, and we're anticipating plenty of dark misdeeds headed for Joe Goldberg's new victims. (Or should we say Professor Jonathan Moore's victims?)
Our murderous main character has had quite a past. (Catch up with You season 3 if you need a refresher.) But now, it appears that our literary killer is trying to begin anew in London as a professor. What happens when he meets his match across the pond?
On January 9, one month ahead of the show's return, Netflix decided to throw fans for a loop with an unexpected twist, and it looks like Joe needs to watch his back. Academia isn't as innocent as you might've thought.
'You' season 4 release date
You will premiere on Netflix on February 9, 2023. The second part will follow on March 9, 2023. Initially, fans didn't expect the series to return quite so soon, so this is definitely welcomed news—even though anything associated with Joe leaves us a bit on edge.
London's calling. Part 1 of You Season 4 shall now be arriving on February 9 with Part 2 following March 9 pic.twitter.com/TDmPDoFEIfNovember 24, 2022
See more
Is there a 'You' season 4 trailer?
A new trailer for You season 4 gives Joe a run for his money. Though he might be trying to seemingly change his ways, he's had plenty of temptation on campus, where he's mingling with "privileged douche bags."
Just when we think we have things figured out, the new trailer reveals that another killer is on the loose...and he (or she?) is keeping a watchful eye on Joe. It looks like it's his turn to worry.
Before this new trailer dropped on January 9, Netflix's initial teaser from 2022 showcases a new cast, as we find a more "refined" Joe in London. This is certainly a change from what we've experienced over the past three seasons, and needless to say we have a ton of questions already. Have a look at it below.
We catch up with Joe in a new life: he's no longer the lovable bookstore manager, or the doting husband in the suburbs. Now he goes by Professor Jonathan Moore. He's ventured to London after burying the past and has some new acquaintances; Nadia, Kate, Rhys, Phoebe, Adam, Simon, Sophie, Gemma, Connie and Blessing.
We hear Joe ominously say that sadly friends in high places, "there usually come others, attempting to climb that social ladder. Some may end up falling or should I say pushed, to their social depths but the question is...by whom."
Who's in the 'You' season 4 cast?
After Love's grizzly ending in season three, we don't expect to see Victoria Pedretti, but a few familiar faces will be making a comeback.
Penn Badgley will obviously be returning as Joe Goldberg, and Tati Gabrielle will be reprising her role as Marianne (Joe's latest obsession) in season 3. They'll be joined by the likes of Euphoria's Lukas Gage, who will play Adam, along with Charlotte Richie (known for her role in Feel Good and Fresh Meat) who will play Kate.
Rising star Tilly Keeper has also been cast, as has Amy-Leigh Hickman and Ed Speleers, but who knows which of Joe's new acquaintances will survive until the end of the series. View the full cast list below.
Penn Badgley as Joe Goldberg
Tati Gabrielle as Marienne Bellamy
Lukas Gage as Adam
Charlotte Ritchie as Kate
Tilly Keeper as Lady Phoebe
Amy Leigh Hickman as Nadia
Ed Speleers as Rhys
Brad Alexander as Edward
Niccy Lin as Sophie
Ozioma Whenu as Blessing
Dario Coates as Connie
Sean Pertwee as Vic
Alison Pargeter as Dawn
Adam James as Elliot
Aidan Cheng as Simon
Stephen Hagan as Malcolm
Ben Wiggins as Roald
Eve Austin as Gemma
How many seasons of 'You' are there?
There are three seasons of You currently streaming on Netflix. All of them are equally engrossing and unimaginable, yet despite it all, Badgley revealed that he has some sympathy for his sinister character.
"Honestly, I just feel like I would look at him for a long time, and, because of my relationship to him, I would try to love him," he revealed to Podcrushed. "I'm not saying that he deserves that. I'm not saying that anybody else should do that. I'm saying I would try to love him...I would hug him and I would hold him."
If you can't wait to watch what happens, be sure to catch up with the You series in its original format—print! We promise the read will keep you on the edge of your seat. Plus, author Caroline Kepnes has announced a new You novel, You and Only You: A Joe Goldberg Novel hitting shelves in April 2023!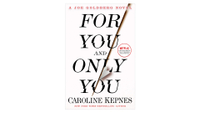 You and Only You: A Joe Goldberg Novel by Caroline Kepnes—Available for pre-order
RRP: $23.99, £13.19
Joe's love of literature has taken a new turn: he's now a writer—one invited to participate a fellowship at Harvard at that. When he crosses paths with Wonder Parish, he seems to be enamored, especially since they don't come from prestigious backgrounds like the rest of the Harvard clan. But we know what happens when Joe becomes engaged with a woman...
Joe—or should we say Professor Moore—we'll see you soon.
Liv is a freelance journalist currently studying English at university. She loves covering everything from entertainment and politics to lifestyle and travel. As well as writing for My Imperfect Life, Liv has bylines in The Times, HuffPost, Den of Geek, Bustle The Metro and The Bookseller.