The official 'You' season 3 trailer is here! What you can expect from the show's creepy final installment
'You' season 3 is going to be even more terrifying than you originally thought, trust us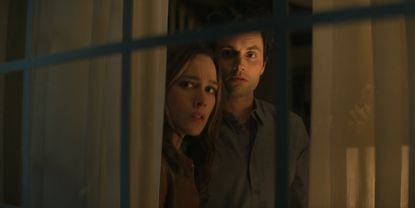 (Image credit: Netflix)
Looks like the Penn Badgley thriller is going out with a bang: You season 3, the Netflix Original's last, is bloodier and more psychologically warped than ever before. One thing's for sure: it'll certainly make you think twice about who you strike up conversation with in a bookstore.
Though we never like to admit one of our go-to shows is among the list of what's leaving Netflix, we're anxious to dive into the bizarre twists and turns, and it appears there will be plenty. From body bags to lustful infatuations, You season 3 is offering plenty of juicy content, and its new trailer is proof.
Ready to see what Joe and Love have up their sleeves in suburbia? (Hint: it doesn't look like anything good.)
---
---
When is the 'You' season 3 release date?
Just in time for the spooky season, You will debut on the platform on October 15, 2021. If you were in need of a few chills down your spine, look no further.
Announcing the news of the third season in an eery tweet, Netflix wrote: "We recommend you stay at least 6 feet from Joe Goldberg at all times," alongside Badgley, who plays the creepy Joe Golberg, wearing a face covering that says "Hello You".
We recommend you stay at least 6 feet from Joe Goldberg at all times. YOU S3 is back in production. pic.twitter.com/d7AifniC99November 2, 2020
See more
Watch the 'You' season 3 trailer
With less than a month to go before the show's return, Netflix debuted a teaser trailer for You season 3. If you thought life in the 'burbs would be simple, you haven't met Joe. In the teaser we witness his fresh start in a new location—a new baby, business and all—but soon there are dead bodies, obsessions and love drama, to say the least.
When did season 2 of 'You' come out?
You season 2 premiered just after Christmas on December 26, 2019—quite a change from all of those festive holiday movies!
Due to Covid 19-related delays and restrictions, fans were forced to wait nearly two years for the series' final installment.
How did 'You' season 2 end?
*WARNING: SPOILERS AHEAD!*
The show, which is based on Caroline Kepnes' novel of the same name, blew up after Netflix added the first season to its roster in 2018. As fans will know, it saw New York bookstore manager Joe become infatuated with an aspiring writer named Guinevere Beck (played by Elizabeth Lail) when she walks into the shop one day.
(Psst: if you want to read the You series in order ahead of the season 3 premiere, we'll tell you where to start!)
The story escalates as he develops a delusional obsession, which proves to be a dangerous pattern in his life and things take a very dark turn. In the second season of the show, Joe moves to Los Angeles, where once again he finds a new victim to his deadly infatuation. Despite his hopes of rebuilding himself as a better person, his stalker ways and murderous behavior continues when he meets Love Quinn (Victoria Pedretti).
Season two ended with the revelation that Love not only knows all about Joe's darkness, but she also kills people and is responsible for the deaths of both Candace and Delilah. She tells him that she actively sought him out as she believes that they're meant to be because of their troublesome upbringings and the two actually end up together.
The season draws to a close as the pair moves to the suburbs with Love pregnant with their first child. But how long will it take before Joe's back to his old ways?
What can we expect from 'You' season 3?
In an interview with Glamour, Kepnes teased what we can expect to see in the third season if the script follows her last book. "Love has become both the mother of Joe's child and the source of Joe's agony. He's Insta-stalking her, watching her stories, well aware that this is bad for him—but... well, when does that knowledge ever stop any of us from going back in?" she explained.
"In the last book, Joe was swept up by Love's family, the power of all that warmth, the wealth and comfort he'd never known. In You Love Me, I wanted him to deal with the dark side of that familial wealth, the control, to see what it feels like when the sun stops shining on you. And you will learn about Love Quinn's own struggle with motherhood, mourning and her mixed feelings about her baby daddy."
Eeek, sounds like there's a lot to unpack!
Teasing the upcoming season, Victoria Pedretti told NBC News: "It's f**king wild. I personally think it's already stronger than last season."
Sagal is a journalist, specialising in lifestyle, pop culture, fashion and beauty. She has written for a number of publications including Vogue, Glamour, Stylist, Evening Standard, Bustle, You Magazine, Dazed and Wonderland to name a few.