Your weekly horoscope is here: May 23 – May 29
Your weekly horoscope is here and the skies have finally shifted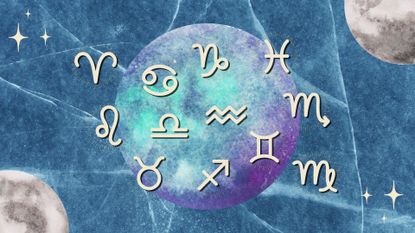 (Image credit: Future)
Welcome to your weekly horoscope and hooray—the skies have shifted! We are now in Gemini season, so for the next four weeks, we move through life full of energy and with a curious mind. Monday is a special day, when the Sun reaches out to Jupiter, the planet of expansion. This is a fabulous day to brainstorm new ideas and to network, as luck will be on our side.
Relationships go through "a phase" this week as Venus, the planet of love and social interaction, clashes with Pluto from Tuesday to Friday. Powerplays and manipulations will be the name of the game, which leaves dating and taking risks for another time. The great news is that on Saturday, Venus leaves Aries to enter Taurus, where it will stay until June 21. This energetic shift is bound to bring healing as well as more possibilities for romance.
We close the week on an energetic note as Mars (now in Aries) meets with Jupiter on Sunday. This planet-sign combination will light up our inner fire and reawaken our ambition. Our courage and charisma get a boost now. This is an incredible day to plan big moves in any area of our lives, as we will feel optimistic about the future. Today, go for a brisk walk or an intense workout to get your creative juices flowing!
Weekly horoscope: what does this week have in store for you?
Aries
This is a week to go for the gold, Aries! Mars and Jupiter in your sign give you the charisma and energy to chase a goal, close a deal, or pursue a love interest. You have everything to win. The only thing that could ruin your party is the Venus-Pluto clash, which could see you behaving ruthlessly. The secret to handling this aspect carefully is moving slowly and strategically. Remember that Mercury is retrograde in your third house of communication, asking you to think before you speak.
Taurus
Dust off your vision board, Taurus. For you, this week brings the perfect astrological weather to focus on reinventing yourself. By Sunday, there will be a total of six planetary influences (including Mercury retrograde) in your sign, asking you to re-envision your path moving forward. Where do you see yourself in the next five or even ten years of your life? The stars affirm it's time to begin embodying that version of you who has been lurking under the surface.
Gemini
Get the ball rolling, Gemini! The beginning of the week is ideal to brainstorm ideas for your future. The Sun in your sign will be illuminating your eleventh house of community. This will give you a glance into the friendships and groups of people who will be helping you manifest your dreams, so make sure to take note. Later in the week, a secret could be spilled, which could make a relationship go through an intense phase.
Cancer
While the Sun in Gemini is asking you to adopt a slower rhythm of life, this week's Mars-Jupiter conjunction energizes you to go after a big dream in the field of career. Draft that memo, send that email, or apply for that job while the energy is so favorable for you at week's end. On another note, Mercury now retrograde in your eleventh house of community could spill the tea and show you who your real friends are.
Leo
Your tenth house of career gets packed this week as six planetary influences activate it. Expect to be busy at work, perhaps integrating all the changes that took place in the last few weeks. Venus enters this part of your chart, too, instigating authority figures to notice your work and perhaps give you a raise or a new title within the next three weeks. If you've been waiting for a time to make a power move, that time might be now, Leo!
Virgo
A relationship could reach an intense point this week. The Mars-Jupiter meetup makes obvious the need to start balancing the give-and-take of money or other material possessions. Over the weekend, Venus enters your ninth house of far-away horizons, making it the perfect time to plan a weekend getaway. Choose a destination where you can experience different cultures or different flavors. Alternatively, chose a place that will take you down memory lane, as Mercury retrograde will be instigating you to explore your past.
Libra
For you, Libra, this week is all about your relationships, as the planets will occupy the two houses in your chart that rule one-on-one partnerships and the give-and-take within them. If you haven't been expressing how you feel, Mars might give you the nudge you need to do so. Just make sure you think before you speak, however, as the Mercury retrograde combined with the Venus-Pluto clash could make the conversation intense if you're not being careful.
Scorpio
With the cosmic lovers activating your chart, relationships are your focus this week, dear Scorpio. If you're single, the Mars-Jupiter conjunction activating your fifth house of romance magnifies your charisma, attracting new people to you like a moth to a flame! Go out and put yourself out there! If you are already in a partnership, Venus entering your seventh house of relationships on Saturday creates the perfect ambiance for a special night in with your darling!
Sagittarius
Asteroid Vesta enters your fourth house of home this week, where it will stay until August 21. This heralds a time or situation that will require your devotion, Sagittarius, so make sure to show up for the ones you love during this time. Should you need to shift some things in your life to do so, Venus entering your sixth house will help you create a daily routine and even attract help from friends and female family members.
Capricorn
If you have been dating a new person recently, the Venus-Pluto square could intensify your interactions this week. Be mindful within your amorous dealings, Capricorn, as Mercury retrograde will also be activating your house of romance. On a more positive note, this weekend's Mars-Jupiter conjunction happens in an important sector of your chart, giving you the fuel to finally finish a home or career project you've been working on.
Aquarius
Your words have immense power this week as Mars and Jupiter activate your house of communication. If you are looking for support, pitch your project, post it on social media, or run it by a mentor. Since Mercury is retrograde, this could even be a project that didn't quite get accepted in the past for being "too out there." Venus enters your home sector this weekend, maybe making you want to stay in to enjoy a cozy Saturday night.
Pisces
Asteroid Vesta, the planetary body that rules spirituality and devotion, enters your sign, where it will stay until August 21. What's most sacred to you, Pisces? Where are you on your path towards spiritual enlightenment? In case you haven't noticed, you were literally born for this! The next few months are not only about answering these deep questions, they are also ideal to establish a daily practice that will support you and that you can rely on when life gets tough.
Cute astrology-themed gifts
Brand
Colour
Price
Refine ☵
Sort By
Athena Antares is a traveling writer, astrologer, and mystic who believes in adding a touch of magic to everyday life. She has written horoscopes for numerous lifestyle publications and has dived deeply into astrological magic and manifestation spell work. In her spare time, Athena enjoys exploring new places, spending time in nature, and reading charts for her worldly clientele.