How to ask for a pay raise—even during a pandemic
Give your career a bump by learning how to ask for a pay raise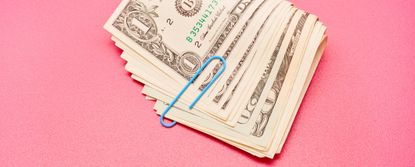 (Image credit: Getty)
Advocating for yourself in your career is always a good idea, but if you don't actually know how to ask for a pay raise, you're not alone. Despite what you may have heard, it's still okay to sit tall in your best desk chair and ask for a pay raise right now, even during a global pandemic.

According to a Willis Towers Watson survey, while 35-percent of U.S. employers surveyed reduced their 2021 salary increase budgets, 50-percent kept them intact, which means the dollars are there so long as you ask for them.
But asking for a pay raise is both an art and a science. Your timing and the way you broach the subject are very important, especially during a crisis like the pandemic. But these handy tips and tricks will make asking for what you deserve that much easier.
8 tips for how to ask for a pay raise
Approach the Subject Carefully
Although most organizations are still offering pay raises, it's far from business as usual. Many businesses are still struggling financially, and decisions regarding raises must be made carefully.
Approach the subject thoughtfully and acknowledge that times are difficult. Don't expect an immediate answer. Treat the conversation as an open door, a way to let your manager know that a raise is something you're interested in.
Proactively Communicate Accomplishments
Don't wait until the day you ask for a raise to talk about your achievements. Share your accomplishments early and often. By taking this approach, your boss will already be well aware of the value you bring and more likely to accept your proposal for a raise.
When communicating your accomplishments, make sure to focus on the results, not just your activities.
Choose Your Timing Wisely
Timing is everything when asking for a raise. Wait until:
You land a big deal or achieve a major accomplishment
It's time for your performance review
Your role has changed, and you now have more responsibilities
You have met or exceeded goals and performance expectations over the last year
You have new certifications or education that bring value to your role and the company
Just as there are good times to ask for a raise, there are also inappropriate times to ask for one. If your company is laying off employees, this is a clear indication that they are not in a position to give salary increases right now.
Build Your Case
If you haven't been communicating your accomplishments regularly, then you'll need to build a case for your raise. Why should you be granted a raise? Have you been successfully managing remote employees throughout the pandemic? Did you acquire new skills during the lockdown?
Before broaching the subject, prepare a list of reasons why your hard work warrants a salary increase. Consider which of your skills are in high demand because of the pandemic, or which of your talents are indispensable.
Do some research to see what other companies are seeking and paying new hires for a similar role. Having this information will help you ask for a fair raise that's appropriate for your job title and individual responsibilities.
Propose Incremental Increases
If your employer is hesitant to boost your pay, consider proposing incremental salary increases based on meeting certain goals. For example, if you meet a goal that produces a certain amount of revenue, you may propose getting a small piece of that revenue.
In times of uncertainty, employers may feel more comfortable agreeing to increased compensation based on real revenue results. It limits their risk, and all parties will benefit!
Have a Plan B
Even if it's well-deserved, your employer just may not be in a financial position to give you a raise. But that doesn't mean that you have to walk away empty-handed. Have a back-up plan—what else can the company offer you?
Maybe a childcare stipend that would allow you to focus on work while your children are attending school remotely this year? What about a flex-spending account or negotiating some extra time off to improve your work-life balance?
These options may not seem as beneficial as a pay raise, but they can make your life better and allow you to walk away with some reward for all of your hard work.
Be Prepared to Negotiate Virtually
Because of social distancing, you may have to negotiate a pay raise from a distance. A virtual meeting, in this case, has both advantages and disadvantages.
Virtual meetings make it difficult to build trust and accurately read a room. But remote meetings does provide an opportunity to get all parties involved in the decision-making process. You can make your case in front of the people who matter most and may not have otherwise been able to participate in an in-person meeting.
Virtual meetings also mean that you can reference your notes without being too obvious and negotiate from a comfortable place.
Be Confident
Whatever approach you decide to take, do it with confidence. Your hard work is driving results for your employer. You add value to the company, so why shouldn't you be compensated for that?

Even if your employer cannot give you a raise at this exact moment, it's important to remember that a "no" doesn't mean "never." When the timing is right, you can approach the subject again.
The My Imperfect Life team is all about helping you navigate your world. We bring you the latest on fashion, beauty, travel and wellness so you can live life on your terms.