How to decorate your home office - even if you're on a budget
Looking for home office decor inspo? Here's how to transform your space into a creative environment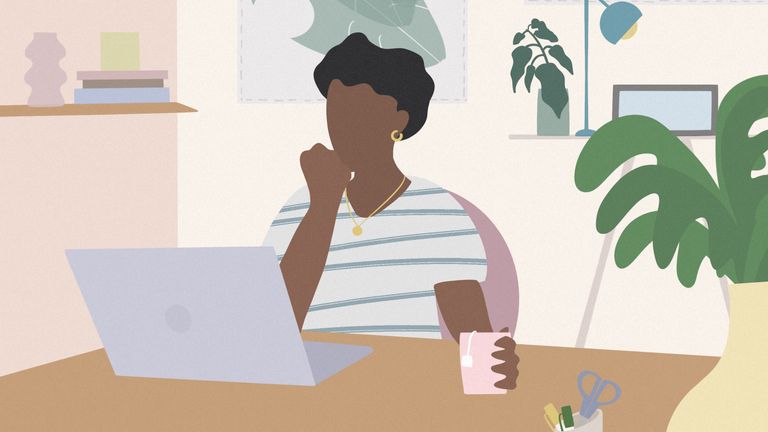 (Image credit: Getty)
In the midst of the pandemic having a home office is no longer a luxury reserved for those who have enough space to create a haven of productivity. In 2020, it's become a necessity. While you're spending a lot of time working from home, it's important to decorate your home office in a way that reflects what you're passionate about and inspires you to be your most productive self.
This isn't always easy. If your living space is already restrictive, it can be difficult to carve out an area of calm that feels "just for work". After all, when home and office blend, it can sometimes lead to distractions or restlessness, instead of the aspirational visions of cappuccinos in bed à la Julia Roberts in Notting Hill that we had in mind.
Whether it be reinventing your kitchen table or investing in some new pieces of furniture (like a must-have office chair for back support), these simple tips will help you decorate your home office and transform it into a comfortable, calming and creative environment.
Fresh flowers
It sounds like such a simple thing, but keeping a vase of fresh flowers on your desk every day and investing the time and effort to replenishing them is like an act of self-love. Not only does it send a message to yourself that you're the kind of organised, professional person who deserves a well-presented workspace, but it will also make you smile.
Inspiration board
Surrounding yourself with images that stimulate and inspire you is an easy way to make your work space aesthetically pleasing, while reminding you of your goals and to stay focused. A stylish way to do this is to use a metallic grid which you can mount on a wall and attach postcards, quotes or photos using mini clips. You could also collect mementos of things that remind you of your goals and pin them up using a cork board.
We recommend hanging your board near your desk, preferably in your daily eye line, so that it continues to inspire you throughout your working hours. If you fancy using it as the focus for a gallery wall, simply pick out two or three colours that feature in your mood board and source four art prints that also feature these colours. Position them in a roughly circular shape with your mood board in the middle and the other four pictures surrounding it, some slightly above and some slightly below.
Rent your furniture
The interior design industry is changing, as more young people rent for longer, unsure if they will ever get on the property ladder. This, combined with consumer's rising expectations for innovative, flexible initiatives from retailers and options rooted in sustainability has seen a wave of furniture rental schemes pop up. Both IKEA and Muji announced that they would trial renting furniture back in 2019, although neither have launched yet.
John Lewis is currently trialling a rental service in Greater London which allows you to rent everything from desks and tables to sofas and office chairs from £15 a month. Plus, once you're done, each piece is cleaned and refurbished and rented to someone new, sustainably prolonging its life. We also love Harth; a platform where you can rent from other furniture enthusiasts for a monthly fee. This is an ideal option if you don't see yourself working from home forever, or you just want to keep your home up to date with the latest trends.
Candles
We all know work can be stressful and although your surroundings can't help you sift through your inbox, don't underestimate the calming powers of an aromatherapy candle. Burning a candle on your desk is a small touch but it will help you to feel that you have cultivated your surroundings purposefully for your working self. This alone is a positive ritual and will help you feel a little more in control when you're having a busy day. Opt for a candle which uses calming essential oils like lavender, chamomile, neroli or rose and you'll feel the benefits physically as well mentally.
Megan Murray is editor of Soho Home and has ten years of experience in lifestyle journalism writing across topics such as interiors, food, and travel. Previously, she launched interiors franchises for Stylist.co.uk, where she was senior writer and still freelances, as well as for sites such as Square Meal and Mr Porter. Megan has a passion for shining a light on the stories of talented womxn and has interviewed the likes of Mariah Carey, Munroe Bergdorf and Maya Jama. In her spare time, Megan loves decorating her rental, reading independent magazines and exploring the UK.