All the best performances from the 2020 AMAs
From Justin Bieber to Megan thee Stallion, watch the best 2020 AMAs performances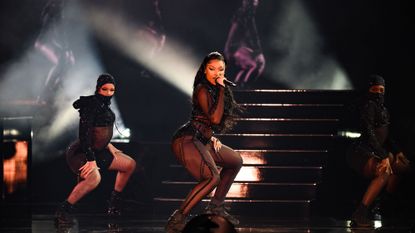 (Image credit: ABC via Getty Images)
The 2020 AMAs took place last night and like always, some of the biggest names in music were in attendance to celebrate and honor their achievements of the year.
The star-studded ceremony was hosted by none other than Taraji P. Henson, who did an amazing job in between the acceptance speeches and incredible live performances.
The actress kicked off the night by performing a dance routine with a sea of backup dancers to huge TikTok favorites like 'Savage' and 'WAP', which personally, was one of our favourite moments of the night, before the heavy hitters in music took to the stage.
From The Weeknd, who showed up with a bruised up face, to Justin Bieber who performed a soulful version of his latest track 'Monster' with Shawn Mendes before moving onto play 'Lonely' and 'Holy' with Chance the Rapper, there were plenty of highlights throughout the night.
Jennifer Lopez also took to the stage with Maluma for the debut performance of their new song 'Pa' Ti' - a performance that viewers on Twitter insisted was a copy of Beyonce and Jay-Z's famous 'Drunk in Love' Grammys performance. Meanwhile Megan thee Stallion, who dropped her debut album and a brand new collection with Fashion Nova on Friday, stole the show with an electric performance of her new track 'Body', which actually features Taraji P Henson in the music video alongside other familiar faces like Jordyn Woods.
It's safe to say there was a lot of excitement to take in from the night, so to make sure you haven't missed any of the highlights, here are some of the best performances from the 202 AMAs.
JUSTIN BIEBER
Listen... whatever you think of @JustinBieber, you need to at least respect him. He grew up in the limelight, hit rock bottom, crawled his way back, and made you fall in love with his music once again. #AMAs #Lonely pic.twitter.com/jhyL5B77lLNovember 23, 2020
See more
THE WEEKND
VIDEO: @TheWeeknd performs his songs "In Your Eyes" and "Save Your Tears" at the #AMAs. pic.twitter.com/Y24FKUNlAwNovember 23, 2020
See more
MEGAN THEE STALLION
I love MY body and NOBODY OWNS IT BUT ME🔥 https://t.co/3jPlOJJzJLNovember 23, 2020
See more
JENNIFER LOPEZ & MALUMA
"Maluma" y "Jennifer López" son tendencia por su presentación en los #AMAs pic.twitter.com/cMMYgHB847November 23, 2020
See more
TARAJI P HENSON
ICONIC: @tarajiphenson dancing "WAP" to open up the 2020 #AMAs. pic.twitter.com/co5EylXJ2nNovember 23, 2020
See more
NELLY
Nelly is 46? So in the last 20 years he's not aged a day and I've aged 20 years. #AMAs pic.twitter.com/sEp8UZqkF3November 23, 2020
See more
BTS
DUA LIPA
📹 | Full video of @DUALIPA performing "Levitating" at the #AMAs tonight! pic.twitter.com/Bu1vKt0k9MNovember 23, 2020
See more
LIL BABY
Lil Baby with a mental health awareness message at the end of his performance #AMAs pic.twitter.com/VEiN5tdxxTNovember 23, 2020
See more
Sagal is a journalist, specialising in lifestyle, pop culture, fashion and beauty. She has written for a number of publications including Vogue, Glamour, Stylist, Evening Standard, Bustle, You Magazine, Dazed and Wonderland to name a few.