Did The Weeknd have plastic surgery? This is what actually happened to his face
The Weeknd has finally revealed what happened to his face and the meaning behind his strange look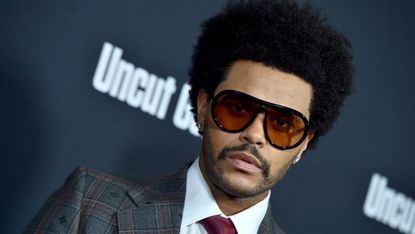 (Image credit: Getty / Axelle/Bauer-Griffin )
If you've seen his recent performances or his new video Save Your Tears, you might be wondering: did The Weeknd have plastic surgery, or what happened to his face?
The artist, who will be performing at the BRIT Awards 2021 and headlined the Super Bowl halftime show earlier this year, has been appearing with plasters and bloody make-up all over his face, which led fans to think he had actually gone under the knife for plastic surgery. But what's behind The Weeknd's new face? Well, turns out he actually has a good reason for it.
So what happened to The Weeknd's face?
The Weeknd actually hasn't done anything to his face, as it's all been revealed to be a publicity stunt to show how society goes to extreme lengths to be validated.
"People manipulate themselves for superficial reasons to please and be validated", he told Variety magazine.
So The Weeknd's plastic surgery isn't real?
Thankfully no, the Weeknd's plastic surgery isn't real.
The outlandish makeover was simply a carry-on from his appearance at the 2020 AMAs where he appeared with plasters and bloody makeup all over his face. "The significance of the entire head bandages is reflecting on the absurd culture of Hollywood celebrity," he told Variety.
Fans were right to be concerned about his health since his AMAs appearance, but he's cleared the air confirming that he was just trying to make a point about current society and beauty ideals.
His face looked like he had undergone a nose job and cheek implants which had caused severe bruising to his face. Nonetheless, the rumors have been quickly shut down as the artist assured fans that the publicity stunt was: "...all a progression and we watch the character's storyline hit heightened levels of danger and absurdity as his tale goes on."
His latest video showed the musician rocking the same red classic suit jacket worn at his last two public appearances. However, he's dropped the surgical bandages going on to say: "I suppose you could take that being attractive isn't important to me but a compelling narrative is." We totally agree!
So what are your thoughts? Weirdly handsome or just plain weird? At least we know new face isn't here to stay...
Since December 2020, Kudzai has worked as a trainee journalist at FUTURE, writing about fashion, entertainment and beauty content for My Imperfect Life.

Kudzai previously worked as a freelance fashion wardrobe stylist, directing magazine photoshoots and coordinating the fashion direction of recording artists.

A fully qualified Journalism and Media graduate from De Mont Fort University, Kudzai graduated in the summer of 2020.