Fans are screaming over Andrew from 'Love is Blind' getting caught using fake tears
Cry me a river? Andrew from 'Love is Blind' season 3 has fans questioning how *real* the reality show is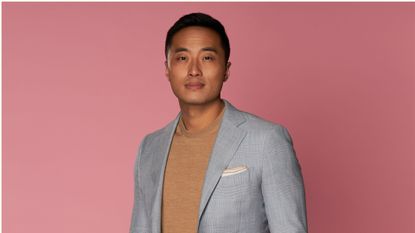 (Image credit: Ser Baffo/Netflix)
Ok, we all know to take the "reality" of reality TV with a grain of salt but Andrew from Love is Blind is taking that suspension of belief to a whole new level.
With all of his smooth talk about "sexual kung fu" (whatever that is), 30-year-old operations manager Andrew Liu already was a social-media standout from the Love is Blind season 3 cast, but it was in the third episode of the new season (which debuted on Netflix on Wednesday, October 19) that he solidified his claim to viral fame.
*Spoilers ahead!*
After Andrew had proposed to and ultimately been shut down by fellow cast member Nancy Rodriguez (alas, they won't be making it on our list of Love is Blind season 3 couples), Nancy said of Andrew: "Men have this persona they want to give off, and so there is a lot of deception...Andrew is too cool, too calm, too collected. It's not what I envisioned my husband to be."
The sentiment proved to be true in Andrew's own post-rejection confessional, where he seemingly used eye drops to make it look like he was emotional. What he didn't realize, however, was that the producers would leave the clip of him pulling out that good ol' Visine in the actual episode.
"Is it okay that I'm doing this?" Andrew asks the producers in the clip. "If your eyes are hurting you, then by all means," they answer. However, once the reality-show romancer starts sniffling and saying, "I never thought I could care for someone that would bring me to tears," it's clear his motivations weren't purely moisture-based.
Social media unsurprisingly had a field day with the inauthentic TV moment, which will undoubtedly launch a whole new batch of Love is Blind memes for us all to enjoy. Here's hoping that Love is Blind season 4 is this entertaining!
Fans react to "tearful" Andrew from 'Love is Blind':
What on earth was Andrew thinking?! I love the producers for not editing this out 😂. He's pathetic for faking tears with eye drops. #LoveIsBlind pic.twitter.com/b3MOYPYQUcOctober 21, 2022
See more
Andrew dear lord😂😂😂😂😂😂😂😂😂😂😂😂😂😂😂😂😂😂😂this is the most authentic thing I have seen in season 3 Love is blind so far.October 21, 2022
See more
Im on episode 3 of Love is blind and I cannot believe Andrew. I AM IN SHOCK. The producers baited him bad yooooOctober 21, 2022
See more
Watching Love is Blind 3 and when I tell you I HOLLERED when Andrew got denied and then FAKED tears 💀⚰️October 21, 2022
See more
Are yall watching love is blind? I need to talk about episode 3...Andrew because 🤣🤣🤣🤣🤣🤣🤣🤣🤣🤣🤣🤣🤣🤣🤣🤣🤣🤣🤣🤣🤣🤣🤣🤣🤣🤣🤣🤣 REALLY DUDE!! #LoveisBlindS3October 20, 2022
See more
Andrew is a sociopath. How are you going to fake your tears like that?! #LoveIsBlindOctober 21, 2022
See more
love is blind's andrew pouring eye drops in his eyes to make it look like he is crying…… great television is back <3October 21, 2022
See more
Tune in on November 9 to see how it all unfolds in episode 11 and the Love Is Blind season 3 reunion!
Christina Izzo is the Deputy Editor of My Imperfect Life.
More generally, she is a writer-editor covering food and drink, travel, lifestyle and culture in New York City. She was previously the Features Editor at Rachael Ray In Season and Reveal, as well as the Food & Drink Editor and chief restaurant critic at Time Out New York.
When she's not doing all that, she can probably be found eating cheese somewhere.