This anti-thinning shampoo just received a glowing review from a supermodel with, like, REALLY great hair
Adding this anti-thinning shampoo straight into our baskets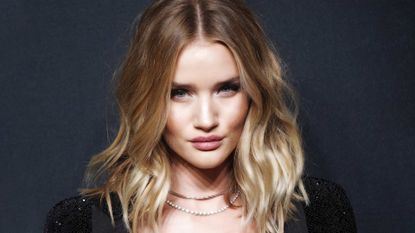 (Image credit: Getty Images / Gregg DeGuire)
The hunt for a good anti-thinning shampoo for thin hair officially ends here —and we have Rosie Huntington-Whiteley to thank for the reprieve.
We've been on the quest for the best shampoo bar and have even considered the shampoo bars vs liquid shampoo debate, but essentially when it comes to hair care, we're all up for trying the latest product launch.
The supermodel recently raved about the Pureology Strength Cure Strengthening Shampoo in an interview with The Strategist.
"I've since been really, really, really impressed by how my hair went from being quite dry and brittle to hydrated, smooth, and shiny. It's back to life," Huntington-Whiteley shared.
Huntington-Whiteley is as known for her besting pout as for her perfectly coiffed tresses so to discover that this affordable shampoo is her haircare secret isn't insignificant.
Pureology was one of the first all-vegan haircare lines housed in recyclable plastic bottles. The L'Oreal luxury hair brand prides itself on salon-worthy results and this particular shampoo is not different.
The formula contains two key ingredients that help to prevent hair loss: keravis, a protein that fights against breakage, and astaxanthin, which is rich in antioxidants and appears to protect hair follicles against oxidative damage from pollution and UV rays.
Astaxanthin has anti-inflammatory properties, too, meaning it soothes the scalp and is thought to help reduce hair loss by lowering levels of the DHT hormone.
Pureology Strength Cure Strengthening Shampoo is also sulfate-free, which is not only good news for colour-treated hair. Those with sensitive or dry skin may find that sulphates - detergents that foam up on contact with wet hair- causes the scalp to get irritated if not rinsed off properly. This irritation can affect hair growth—not something someone with already thin hair wants to hear.
Fiona Embleton is a multi-award-winning beauty editor who has tested over 10,000 products in her 10 years + of writing and shooting beauty stories. For the past four years, she was the Senior Beauty Editor at Marie Claire, having previously worked in the role of Beauty Editor at both Stylist and Cosmopolitan. She has recently gone freelance and alongside My Imperfect Life, she has written for titles including ELLE UK, ELLE Canada, Buro 247, Harper's Bazaar Arabia, Vogue Scandinavia, and ES Magazine. Beauty journalism allowed her to marry up her first-class degree in English Literature and Language (she's a stickler for grammar and a self-confessed ingredients geek) with a passion for make-up and skincare, photography, and catwalk trends. She loves jumping on the latest internet-breaking beauty news, dissecting the best red carpet looks, and having the crème de la crème of dermatologists, make-up artists, and hairstylists on speed dial so she can tap them for the best advice. She's a discerning beauty shopper and knows it can be confusing trying to navigate what's hype and what really works. So if she really likes something, you can trust that she has reached that opinion by vetting it against everything else she's ever tried. Her career highs? Interviewing Cate Blanchett and winning a Jasmine Award for the deeply personal feature Cancer Stole My Mother's Scent.