How to copy Ashley Graham's holiday lip look for under $10
Right now Ashley Graham's bold holiday lip is everything.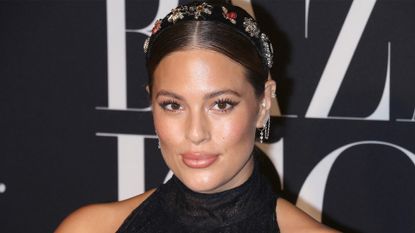 (Image credit: Getty Images/ Jim Spellman / Stringer)
Ashley Graham's bold holiday lip has just given us all the festive inspiration that we need. Even if, you know, thanks to the pandemic we're not actually going out anywhere.
Graham is normally a self-confessed nude lip kind of gal but she's just served up the most swoon-worthy burgundy/brown/brick red lip, paired with lashings of mascara and dialled-back makeup on the face.
This weekend, the supermodel shared her look in a mini tutorial on Instagram, alongside a caption about the product she used to created the look. "A quick holiday glam how-to for ya!" it reads. "I don't usually do a bold lip but for the holidays I go all out! Wearing @revlon super lustrous matte lipstick in shade hot chocolate."
*Insert grateful emoji*
In fact, Graham knows how to spread some serious festive cheer as it turns out the Revlon Super Lustrous Lipstick The Luscious Mattes in Hot Chocolate she used is not only a drugstore gem, but it costs under $10 to boot.
Graham starts by sharing how she preps her lips before applying lipstick. "I actually scrubbed my lips just now and I used a little bit of Sparkling Quartz just to moisturize a little bit because my lips are really, really dry right now," she explains.
After a slick of moisturizer she takes her lip colour. "I'm just going to go in. This is the Revlon Super Lustrous new Matte Hot Chocolate. You want to just take the tip and turn it around," she says of her fuss-free hack for outlining and filling in her pout.
Although she also admits, "not using a lip liner feels really weird." Graham goes on to joke, "We free ballin'!"
A smudge of wet-look burgundy eye shadow over her lids completes the tonally monochromatic look.
Seasonally appropriate matchy-matchy shades? Check. A chic holiday look? Double check. Thanks for the heads up, Ashley Graham.
Fiona Embleton is a multi-award-winning beauty editor who has tested over 10,000 products in her 10 years + of writing and shooting beauty stories. For the past four years, she was the Senior Beauty Editor at Marie Claire, having previously worked in the role of Beauty Editor at both Stylist and Cosmopolitan. She has recently gone freelance and alongside My Imperfect Life, she has written for titles including ELLE UK, ELLE Canada, Buro 247, Harper's Bazaar Arabia, Vogue Scandinavia, and ES Magazine. Beauty journalism allowed her to marry up her first-class degree in English Literature and Language (she's a stickler for grammar and a self-confessed ingredients geek) with a passion for make-up and skincare, photography, and catwalk trends. She loves jumping on the latest internet-breaking beauty news, dissecting the best red carpet looks, and having the crème de la crème of dermatologists, make-up artists, and hairstylists on speed dial so she can tap them for the best advice. She's a discerning beauty shopper and knows it can be confusing trying to navigate what's hype and what really works. So if she really likes something, you can trust that she has reached that opinion by vetting it against everything else she's ever tried. Her career highs? Interviewing Cate Blanchett and winning a Jasmine Award for the deeply personal feature Cancer Stole My Mother's Scent.