Nikki Make-up reveals the Victoria Beckham nude lipstick she's loving right now
And what Nikki Make-up says, is gospel in our books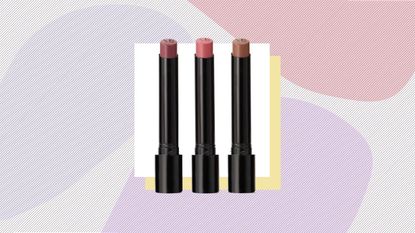 (Image credit: Victoria Beckham)
It's a foregone conclusion when two beauty powerhouses weigh in on an IGTV Live that it's going to trend globally. And that's precisely what happened when Nikki Make-up got together with Victoria Beckham to talk through her favourite nude lipsticks from VB's new Posh collection.
Nikki Make-up (aka Nikki Wolff) has a clear make-up aesthetic for her 1.5m Instagram followers and A-list clients like Dua Lipa : impossible glowing skin, brushed-up brows and full lips.
Victoria is a huge fan, too, having been Introduced to Nikki's work by Nicola Pelz, Brooklyn's fiancé.
And it seems the feeling is mutual for Nikki, who let's face it, is pretty clued up on which nude lipsticks combine sophistication with just the right dose of bad-girl edginess.
"I absolutely adore the new collection," said Nikki. "Not only have you succeeded in creating the perfect nudes for multiple skin tones but they have this really beautiful, creamy, moisturizing texture that makes them so wearable. Sometimes you can find the perfect nude but and not necessarily get on with texture."
And her go-to shade of nude?
"This one is a peachy pinky nude called Pout and I absolutely love wearing this one," Nikki went on to say. "You can see it looks so natural. I feel like when it goes on it's like a peachy version of your natural- lips-but-better shade. And when we're talking about the perfect nude lip that's what it's supposed to do, almost look like a natural lip shade but just on your best day."
Nikki's advice was clear: go for those more muted nudes in summer and for deeper skin tones try a brown-based nude.
"Sometimes, in my experience, it can be hard to find a brown nude. If you've got an olive or slightly deeper skin tone finding a nude that doesn't have too much peach or pink in it is actually quite tricky and Spice is the perfect browny nude. "
So there you have it: the perfect nude lipstick to look like you made some effort on your Zoom call.
Fiona Embleton is a multi-award-winning beauty editor who has tested over 10,000 products in her 10 years + of writing and shooting beauty stories. For the past four years, she was the Senior Beauty Editor at Marie Claire, having previously worked in the role of Beauty Editor at both Stylist and Cosmopolitan. She has recently gone freelance and alongside My Imperfect Life, she has written for titles including ELLE UK, ELLE Canada, Buro 247, Harper's Bazaar Arabia, Vogue Scandinavia, and ES Magazine. Beauty journalism allowed her to marry up her first-class degree in English Literature and Language (she's a stickler for grammar and a self-confessed ingredients geek) with a passion for make-up and skincare, photography, and catwalk trends. She loves jumping on the latest internet-breaking beauty news, dissecting the best red carpet looks, and having the crème de la crème of dermatologists, make-up artists, and hairstylists on speed dial so she can tap them for the best advice. She's a discerning beauty shopper and knows it can be confusing trying to navigate what's hype and what really works. So if she really likes something, you can trust that she has reached that opinion by vetting it against everything else she's ever tried. Her career highs? Interviewing Cate Blanchett and winning a Jasmine Award for the deeply personal feature Cancer Stole My Mother's Scent.