Watch Ayanna Williams, the woman with the world's longest nails, cut them after 28 years
Disclaimer: this is about to get a bit gross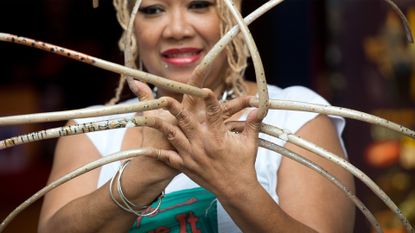 (Image credit: Zak Hussein /Getty Images)
The woman with the world's longest nails, Ayanna Williams, gets them cut after more than 28 years. Yes, you read that right, 28 years.
The Texan, whose talons measured an eye-watering 24ft in total, can finally open a door and do the washing up without fear of breaking them.
Ayanna broke the Guinness World Record for the world's longest fingernails back in 2017, when they measured nearly 19ft long. It took her more than two bottles of nail polish and 20 hours to do her manicure then.
Before getting them cut over the weekend, she got one final measurement – 24 ft 0.7in. The manicure she gave herself prior to the snip took up to four bottles of nail polish over several days.
When asked if she'd encourage others to grow their nails this long, she replied: "Absolutely. Do what you want to do. Let everybody be themselves. If you want to grow your nails long, do it! Why not? It's your life so do it. The main thing is don't worry about what people say because people are going to talk at the end of the day, if you're doing good, if you're doing bad."
Ayanna finally got the snip at a dermatology office in Fort Worth, Texas, where an electric rotary tool had to be used to give her first nail cut since the 90s.
"With or without my nails, I will still be the queen," Williams said, according to Guinness. "My nails don't make me, I make my nails!"
The remains of Ayanna's talons with will be displayed in Ripley's Believe It Or Not Museum in Orlando, Florida, which houses unusual memorabilia. "It's history for my kids and my grandkids," she reflects in the video. She says she now plans to only grow her nails to about six inches.
The record for the longest fingernails ever for a woman still belongs to Lee Redmond, who started to grow them in 1979. They reached a length of 28ft 4.5in. Seems Ayanna almost nailed it.
Fiona Embleton is a multi-award-winning beauty editor who has tested over 10,000 products in her 10 years + of writing and shooting beauty stories. For the past four years, she was the Senior Beauty Editor at Marie Claire, having previously worked in the role of Beauty Editor at both Stylist and Cosmopolitan. She has recently gone freelance and alongside My Imperfect Life, she has written for titles including ELLE UK, ELLE Canada, Buro 247, Harper's Bazaar Arabia, Vogue Scandinavia, and ES Magazine. Beauty journalism allowed her to marry up her first-class degree in English Literature and Language (she's a stickler for grammar and a self-confessed ingredients geek) with a passion for make-up and skincare, photography, and catwalk trends. She loves jumping on the latest internet-breaking beauty news, dissecting the best red carpet looks, and having the crème de la crème of dermatologists, make-up artists, and hairstylists on speed dial so she can tap them for the best advice. She's a discerning beauty shopper and knows it can be confusing trying to navigate what's hype and what really works. So if she really likes something, you can trust that she has reached that opinion by vetting it against everything else she's ever tried. Her career highs? Interviewing Cate Blanchett and winning a Jasmine Award for the deeply personal feature Cancer Stole My Mother's Scent.