We're seriously into Bella Hadid's 'sex' trousers
Bella Hadid wore trousers with the word 'sex' embroidered onto them, so I wore 'sex' trousers with the word 'sex' embroidered onto them...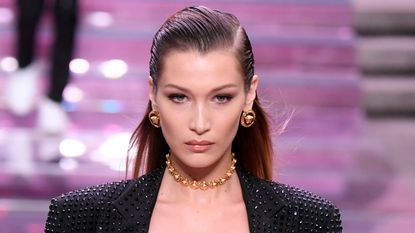 (Image credit: Victor Boyko/Getty Images)
Let's face it, when it comes to style, Bella Hadid never puts a foot wrong. And, there's no one that quite pulls off 90's fashion with such aplomb. Hadid has given us yet another glimpse into her enviable wardrobe as she took to the New York snow and showed off her 'sex' trousers.
The model posted a video this weekend creating snow angels while wearing the white trousers, which had the word sex embroidered down the legs.
Bella wore the '90's inspired' baggy trousers with a maroon Jeff Hamilton leather jacket, a white puffer, and a slogan t-shirt as she played about in the snow.
Bella titled the video 'A Snow angel special' as she enjoyed herself in New York's snow storm this weekend.
The white trousers, called Sex records, were designed in 2018 by LA based illustrator Matt DiGiacomo, when he collaborated with fashion house Chrome Hearts.
The New York model is currently the face of the brand and has been for the last couple of years - but we love her quirky style. And so did her fans, it seemed, as over 1 million people liked the video.
Fans also left heart emojis on the post and some and one even called her 'the cutest snow angel.'
Bella seemed to be enjoying the snow as she posted a further picture of herself in jeans and big teddy bear coat yesterday. However, another post reflected on how the New York snow would have an impact on those who don't have homes.
She said: "The snow has been beautiful but every day, as it gets colder, I can't stop thinking about the people who don't have homes this winter.." After her heartfelt post she went on to admit that she donated some of her old warm clothes to charity. She really is a snow angel!
Freelance lifestyle journalist for @BBCBusiness @Womanandhome @ESlifeandStyle @TheIndyBest / co-host of @getajobpodcast and founder of PR secrets. I specialise in health and wellbeing, travel, business, human interest, beauty, and in-depth features.