Joe Biden and Kamala Harris release inauguration playlist to celebrate the big event
Joe Biden and Kamala Harris have released an inauguration playlist featuring songs from SZA and Beyoncé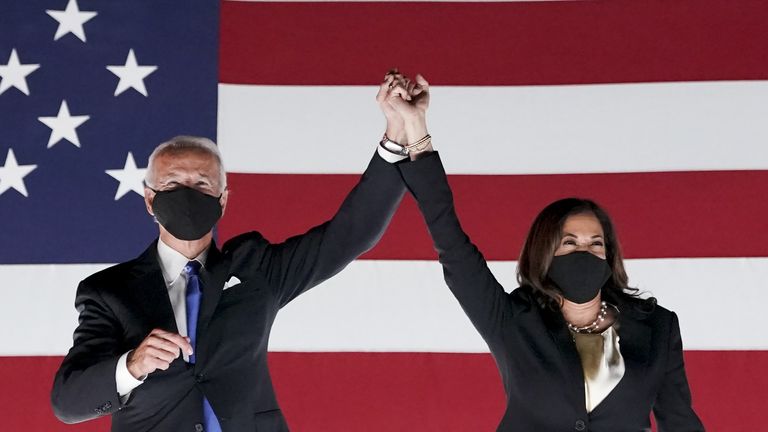 (Image credit: Getty Images / Bloomberg / Contributor)
Joe Biden and Kamala Harris' team have released a 46-song playlist to celebrate the inauguration of the 46th president - see what they did there? After weeks of political unrest and the shock of the Capitol riots, we finally have some lighthearted news. 
The playlist features a wide range of genres covering modern hits to the classic, so there is something for everyone to enjoy.
The playlist was curated The Raedio and D-Nice, and it's aptly named the 'Official playlist for the inauguration of the 46th President and Vice President of the United States". It features songs from Bruce Springsteen, Bob Marley, Kendrick Lamar, Beyoncé, Dua Lipa, and many more. 
As most people will not be able to celebrate the inauguration as we would have wanted, a playlist is just the thing we need to celebrate at home - as well as our Kamala Harris pearls.
In a statement from Joe Biden and Kamala Harris' team, the playlist is described as "representing the diversity of our nation, and our strength and resilience as we look forward to new leadership and a new era in America".
Supporters have taken to Twitter to comment on the song choices, and even SZA has expressed her joy at being featured. She said: "JUST FOUND OUT WE MADE IT TO THE INAUGURATION PLAYLIST WE DID IT JOE Thank you for this honor." A call back to the now iconic phone call between Harris and Biden that swiftly became a meme. 
Another user wrote: "I'll say this. @JoeBiden and @KamalaHarris know how to put a playlist together."
The Chief Executive of the Presidential Inauguration Committee, Tony Allen said: "We are excited to share President-elect Biden's and Vice-President-elect Harris' official inaugural playlist with the nation. These songs and artists reflect the relentless spirit and rich diversity of America."
Here's the full list of Joe Biden and Kamala Harris release inauguration playlist:
The Beatles - Come together
Jason Derulo - Pick up the pieces
Bruce Springsteen - We take care of our won
Daryl Hall and John Oates- You make my dreams come true
The Weeknd- What you need
Mac Miller- Blue World
Heatwave- The Groove line
A Tribe Called Quest -Award Tour
MF Doom - Coffin Nails
Free Nationals- Eternal light
Burna Boy- Destiny
Led Zeppelin- Fool in the rain
Bob Marley & The Wailers - Could You Be Loved
Curtis Mayfield -Move on Up
Jill Scott- Golden
The Impressions -We're a Winner
Dua Lipa - Levitating
The Doobie Brothers- What a Fool Believes
Bill Withers- Lovely Day
Chris Brown- Mirage
Shania Twain- Still the One
Oddisee- That's Love
Anitta, Major Lazer- Make It Hot
Whitney Houston, Kygo- Higher Love
Earth, Wind & Fire- That's the Way of the World
Vampire Weekend- Unbelievers
Beyonce- FIND YOUR WAY BACK
Jackie Wilson - (Your Love Keeps Lifting Me) Higher & Higher
SZA- Good Days
Vampire Weekend- Step