This is the best hairstyle to hide greys
Feel free to ditch the headband.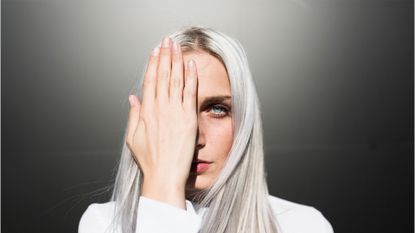 (Image credit: Westend61/Getty Images)
After we brought you the most requested hair cut of 2021 and the best brushes for curly hair, meet the best hairstyle to hide grey hair.
For many of us covering our greys has become nothing short of an obsession over the past few months as Covid safety measures have meant forgoing regular salon color appointments. Mercifully, the best hairstyle to cover greys may just be the fallback that you need right now.
Luke Hersheson, hairstylist to Victoria Beckham, says: "Contrary to what most people think, grey hair isn't actually a color, it is in fact a combination of normal pigmented hair and hair that has lost its pigment entirely, making it appear white."
Nor is it the case that dark hair is more predisposed to greys than blondes. "Actually this is just down to the white strands being more noticeable against darker hair than against paler strands."
Greys can be tricky to dye at home because if you want to cover them completely, you need to opt for a permanent color and that's a commitment. Professional balayage or highlights are also a great way to distract from greys because you can blend away the greys and draw the eye to the fresh, light-reflecting color instead.
Style wise there are some tried and trusted ways to hide grey roots. Switching up your parting to an area where they are less abundant is one; wearing a headband is another.
But did you know that beachy waves also disguise greys because by creating movement, they break up patches of white.
Zoe Irwin, stylist and ghd Ambassador says: "Using your straightening tongs, wrap one section of hair around the barrel and curl it forwards and then curl the next section backwards, alternating as you work around the head. Set this undone style with a blast of cool air from a hairdryer and a fine mist of hair spray."
Hersheson's Almost Everything Cream will help to protect against heat damage, tame frizz and define your curls. While the ghd Platinum+ is the best hair straightener to reach for courtesy of its predictive technology, which assesses every section of your hair for its size, thickness and adjusts the power accordingly.
Fiona Embleton is a multi-award-winning beauty editor who has tested over 10,000 products in her 10 years + of writing and shooting beauty stories. For the past four years, she was the Senior Beauty Editor at Marie Claire, having previously worked in the role of Beauty Editor at both Stylist and Cosmopolitan. She has recently gone freelance and alongside My Imperfect Life, she has written for titles including ELLE UK, ELLE Canada, Buro 247, Harper's Bazaar Arabia, Vogue Scandinavia, and ES Magazine. Beauty journalism allowed her to marry up her first-class degree in English Literature and Language (she's a stickler for grammar and a self-confessed ingredients geek) with a passion for make-up and skincare, photography, and catwalk trends. She loves jumping on the latest internet-breaking beauty news, dissecting the best red carpet looks, and having the crème de la crème of dermatologists, make-up artists, and hairstylists on speed dial so she can tap them for the best advice. She's a discerning beauty shopper and knows it can be confusing trying to navigate what's hype and what really works. So if she really likes something, you can trust that she has reached that opinion by vetting it against everything else she's ever tried. Her career highs? Interviewing Cate Blanchett and winning a Jasmine Award for the deeply personal feature Cancer Stole My Mother's Scent.