This is the best time to shower if you're working from home
Are you working from home? This is the best time to take a shower, according to research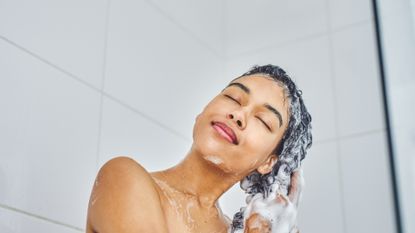 (Image credit: Getty Images)
Working from home has changed our daily routines entirely. From the time we wake up in the morning, to what we do to be more productive at home and how we interact with colleagues (virtually, of course). But what about showering?
Now that many of us have adopted a habit of working in our pyjamas and loungewear all day (changing only the top half for Zoom meetings where you're obliged to turn your camera on), when is the best time to whip out your shampoo bar?
Is it in the morning before you sit down to start your day? Is it after your lunchtime workout? Or do you prefer to do it in the evening, when your day is done and you can unwind? The options are endless.
Best time to shower if you're working from home
But according to research, the best time to take a shower when working from home is midday. This is because that's usually when you start feeling a little restless and your brain may feel a little foggy after a full morning of work.
As you'll know, the shower is a great place to get our creative juices flowing as we're left in solitude with only our thoughts as we wash away any stress or negativity we may be dealing with. Some people sing in the shower, others cry in the shower (some do both - us!) but a lot of the time, we tend to use it as a place to whizz up some great ideas.
"The relaxing, solitary, and non-judgmental shower environment may afford creative thinking by allowing the mind to wander freely, and causing people to be more open to their inner stream of consciousness and daydreams," said Ron Friedman, PhD, founder of Ignite80 and author of The Best Place to Work, in an online summit.
"It's one of those few moments when we're not tied to our devices, so we have that extra space to find connections between ideas. If we're not allowing that to happen in our lives, it's just never going to work."
In other words, your shower can technically act as a solo brainstorming meeting that not only prompts brand spanking new ideas for work but also prevents you from entering that afternoon slump we're all too familiar with.
Sagal is a journalist, specialising in lifestyle, pop culture, fashion and beauty. She has written for a number of publications including Vogue, Glamour, Stylist, Evening Standard, Bustle, You Magazine, Dazed and Wonderland to name a few.