JLo's Hairstylist Chris Appleton just launched the MONEY mask for glossy hair
Hello 'rags to riches' hair.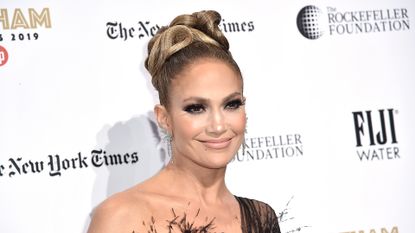 (Image credit: Steven Ferdman / Stringer/ Getty Images)
What do Jennifer Lopez, Kim Kardashian and Ariana Grande have in common? One man: Chris Appleton, their go-to hairstylist for creating bouncy blowouts, sky-high snatched ponytails and the cutest space buns we've seen this side of the 90s. And out today is the Chris Appleton Color Wow MONEY Masque to prove that A-list hair starts in the shower.
You could say that Chris Appleton is best known for creating looks that are always on the money. So it's no wonder this is the moniker for his first product collaboration with Color Wow.
Appleton, who also happens to be Color Wow's Global Creative Director, says: "The foundation to any style starts with the hair texture. To achieve this perfect texture, I've always had to turn to cocktailing different products to get it right." Until now, of course.
What makes Chris Appleton Color Wow MONEY Masque so different?
Why a hair mask, rather than, say, a styling product or even jumping on the increasingly hip best shampoo bar trend?
When Appleton started working with Color Wow's in-house chemist, Dr. Joe Cincotta, he knew he wanted a singular mask that would create his signature 'glass shine' on any hair type - fine, thin, frizzy, coarse, thick. But there was one caveat: it had to do so without adding any weight to strands, which he saw as a pitfall with other masks on the market.
Appleton explains: "What I wanted was one formula that could give optimal texture for styling hair so it always looks and feels amazing in the finished style."
And although you use the MONEY Masque after shampoo, it looks nothing like your traditional hair mask. It's neither a cream nor a gloopy paste but a jelly cream formula that looks more like an expensive pot of moisturizer. It also doesn't work in the same way.
Traditional hair masks tend to be a cocktail of oils and waxes that sit on the surface of strands, ultimately dragging them down. MONEY contains neither, so it's able to penetrate the cortex of hair better.
The mask's nourishing benefits are credited to blue sea kale (binds to damaged keratin to improve hair's elasticity), hydrolyzed vegetable protein (to strengthen the cuticle) and sea kelp and algae (rich in minerals, antioxidants and hydration).
How do you use the MONEY Masque?
Appleton advises using the Money Masque after you've shampooed your hair, and to apply it on both roots and ends. Leave on for about five minutes and rinse - the results should last around three days.
Appleton says: "I've been doing hair since I was 9, and what has always meant the most to me is seeing how great hair completely changes how a woman feels about herself. MONEY Masque is a total game-changer. It totally transforms the hair texture… which makes a woman look - and feel! Like a million bucks."
I've tried the MONEY Masque and all I can say is my comb slid through my hair like a knife through butter after using it. And for me, that type of manageability and smoothness is priceless.
Fiona Embleton is a multi-award-winning beauty editor who has tested over 10,000 products in her 10 years + of writing and shooting beauty stories. For the past four years, she was the Senior Beauty Editor at Marie Claire, having previously worked in the role of Beauty Editor at both Stylist and Cosmopolitan. She has recently gone freelance and alongside My Imperfect Life, she has written for titles including ELLE UK, ELLE Canada, Buro 247, Harper's Bazaar Arabia, Vogue Scandinavia, and ES Magazine. Beauty journalism allowed her to marry up her first-class degree in English Literature and Language (she's a stickler for grammar and a self-confessed ingredients geek) with a passion for make-up and skincare, photography, and catwalk trends. She loves jumping on the latest internet-breaking beauty news, dissecting the best red carpet looks, and having the crème de la crème of dermatologists, make-up artists, and hairstylists on speed dial so she can tap them for the best advice. She's a discerning beauty shopper and knows it can be confusing trying to navigate what's hype and what really works. So if she really likes something, you can trust that she has reached that opinion by vetting it against everything else she's ever tried. Her career highs? Interviewing Cate Blanchett and winning a Jasmine Award for the deeply personal feature Cancer Stole My Mother's Scent.