Netflix's Dash & Lily is here to spread the love this festive season
Dash & Lily has arrived just in time to put us in the holiday mood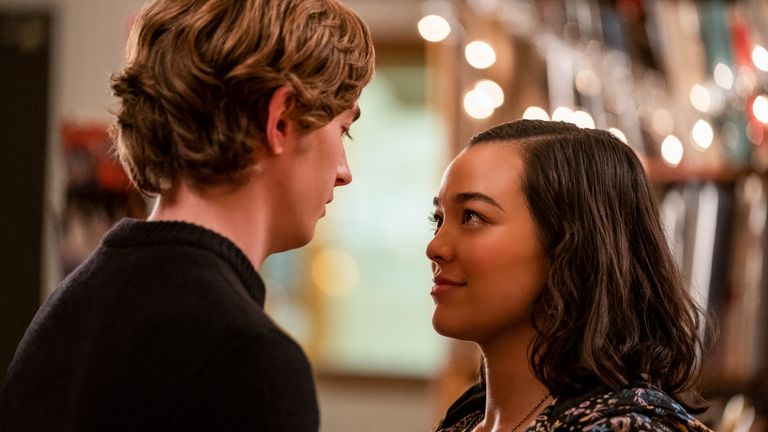 (Image credit: Cr. ALISON COHEN ROSA/NETFLIX © 2020)
Netflix has long been ahead of the pack when it comes to feel-good festive movies. With classics like The Princess Switch and Holidate, they know how to make us laugh and cry. And now we no longer have to wait and wonder what's coming to Netflix next that will get us in the holiday spirit. 
They've done it again with their new Christmas series Dash & Lily.
Starring The Walking Dead's Austin Abrams and Good Boys star Midori Francis as the titular roles, this new Christmas rom-com already made its way onto Netflix's top 10 trending list. 
WHAT IS DASH & LILY ABOUT?
Based upon the novel Dash & Lily's Book of Dares by David Levithan and Rachel Cohn, the Netflix series follows New York city dwellers Dash and Lily. The two begin exchanging dares, dreams and desires in a notebook which they pass back and forth across the city.
The two characters couldn't be more different: Dash is cynical, whilst Lily is eternally optimistic. And when it comes to their feelings about the holiday season, they start off as polar opposites too.
However, as the series progresses, it soon becomes clear that the two have far more in common than they first thought. Some viewers might even compare the story of these two souls to those of Joe and Kathleen in You've Got Mail.
It's got all the warmth of this classic, with an extra festive touch that adds to the magic.
HOW HAVE VIEWERS REACTED?
The show may have only just been released, but already it's clear just how much we needed this uplifting festive romance.
This sentiment was shared by another user, who applauded it's classic rom-com elements.
And another user confirmed that the series was just what she was looking for. 
Whilst many elements of this new series are undoubtedly a little cheesy, it seems to be this quintessential rom-com element that is hitting the spot with viewers. 
Coupled with the festive setting, it makes for truly binge-able viewing and is the perfect choice to get you in the holiday spirit.
And with a second book from Levithan and Cohn, Twelve Days of Lily & Dash, there's still extra material yet to be brought to screen, who knows? 
We might even be looking forward to watching a season 2 this time next year.