Wait, was Ryan Gosling in Holidate?
Was Ryan Gosling in Holidate? Fans are convinced that Hollywood actor cameoed in the Netflix film.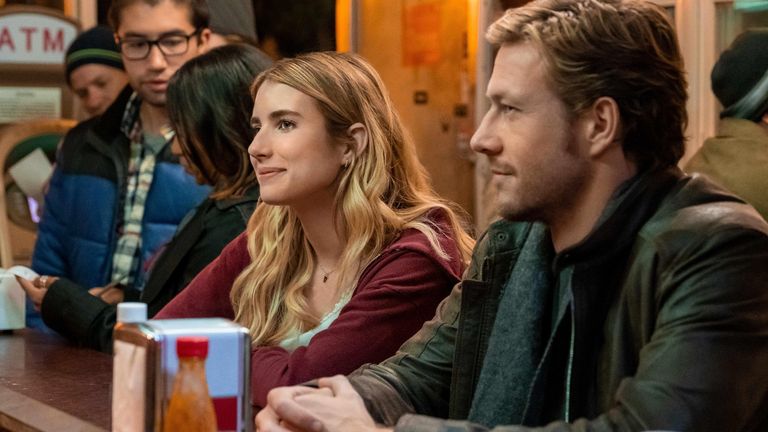 (Image credit: Credit Image: © Netflix/Entertainment Pictures)
If there's two things we love it's Netflix's Holidate and fan theories, so we were delighted when people started to wonder if that was Ryan Gosling we saw in Holidate?!
The (extremely) cheesy film has been the talk of the town since it first hit Netflix on 28 October with its tale of two singletons teaming up to be each other's plus ones for the holiday season. You know, to avoid any unwanted questioning from family members about settling down... We've all been there.
The film stars Emma Roberts as Sloane and Luke Bracey as Jackson. Despite it being the epitome of all things rom-com, its feel-good factor has won us over (we're all looking for things to do in lockdown or to distract us from election anxiety after all). And the cheesiness and rom com cliches do nothing to detract from Emma and Luke's performance.
But it also includes an unexpected Ryan Gosling appearance, as many fans now believe...
Was Ryan Gosling in Holidate?
Many fans are now convinced that there's a celebrity appearance others might not have noticed - until now.
A man spotted in the background of one of Holidate's key scenes looks rather like Hollywood heartthrob Ryan Gosling.
WHERE DOES HE APPEAR?
In this much-watched scene, Jackson accuses Sloane of being afraid to love.
Ryan Gosling himself is referenced, when he says: "If Ryan Gosling waltzed down this frozen food aisle and offered to take you on the ride of your life, you would still say no,"
He goes on to say that she would "be too afraid to get on that train: the Ryan Gosling train."
But Sloane isn't prepared to let Jackson have the last word. She fights back, replying: "You are so wrong. Ryan Gosling would never do his own shopping. He's way too cool for that."
It's at this pivotal moment that the supposed cameo occurs. With perfect timing, Ryan Gosling - or at least someone who looks very like him - peruses frozen goods in the background.
HOW HAVE FANS REACTED TO Ryan Gosling's supposed cameo?
Fans quickly took to Twitter to air their thoughts. One user posted: "SOMEBODY PLS TELL ME THAT THE GUY IN THE BACK IS @RyanGosling!!! @netflix #holidate".
SOMEBODY PLS TELL ME THAT THE GUY IN THE BACK IS @RyanGosling!!! @netflix #holidate pic.twitter.com/1w2QUtXnc8October 29, 2020
See more
Another commented: "Is that @RyanGosling down the freezer aisle in #holidate ???", followed by commenters putting forth their own thoughts.
Is that @RyanGosling down the freezer aisle in #holidate ??? 🤣October 28, 2020
See more
BUT WAS IT REALLY RYAN GOSLING?
However, despite the Twitter frenzy, we finally have the truth. Fans may be slightly disappointed to learn that the Ryan Gosling-looking man was in fact just a man who looks like Ryan Gosling!
Actor and stuntman Chat Zigmund plays Luke's stand in and has solved this mystery.
In an Instagram post this week, he revealed: "I am Chad 'Frozen Food Ryan Gosling' Zigmund".
It might not be quite what we expected, but even we have to agree - fans weren't wrong when they spotted the resemblance.