Everyone is obsessed with Dua Lipa's bikini and we want one too
You're going to want one too...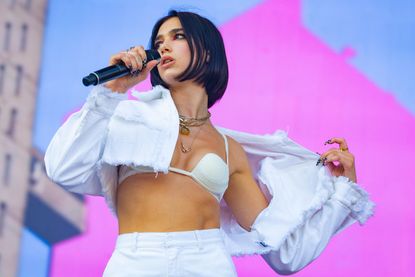 (Image credit: Photo by Mark Horton/Getty Images)
Not only is Dua Lipa one of the biggest pop stars in the world but she's a style icon too—and we don't just mean her glitzy on-stage costumes. Whether she's bringing back 90s slip dresses or pulling out heavy hitters from 2000 fashion trends (you know, a bandeau top and matching skirt combo), there's always something that will fit into our capsule wardrobe perfectly.
This week, everyone has been obsessing over the Future Nostalgia singer's zebra-print bikini and you'll totally understand why when you see it.
The two-piece is from The Attico and we can't wait to get our hands on it to try out the viral TikTok bikini hack. It was featured in Lyst's Q2 Index—the online shopping platform's quarterly report compiling data from the shopping habits of customers around the world. The popular bikini placed sixth on the report's list of the top 10 hottest products for women, much of which we have Dua to thank for.
Rather than the beach, Dua wore the animal-print bikini in her Western-themed music video for 'Love Again', where she paired it with a black cowboy hat and a pair of good old fashion hot pants.
According to Lyst, searches for "zebra-print bikinis" skyrocketed following the release of the music video in June, with an increase of 224%. Plus, other celebrities including Hailey Bieber have also been sporting the trend.
The supermodel recently shared a series of photos on Instagram from a vacation with husband, Justin Bieber, where she is spotted wearing a zebra print bikini in one of the snaps and as always, she looks incredible.
It's no surprise that everyone is loving zebra print bikinis this summer, animal-prints are a trend that always prevail no matter the season. So make sure you invest in yours before you're met with "sold-out" banners. And while we're on the topic of bikinis, these genius TikTok bikini hacks are perfect for summer so if you don't want to splash out on new buys, you can definitely make do with your old ones with a DIY touch.
Sagal is a journalist, specialising in lifestyle, pop culture, fashion and beauty. She has written for a number of publications including Vogue, Glamour, Stylist, Evening Standard, Bustle, You Magazine, Dazed and Wonderland to name a few.